• Destin, Stradivari wrap up G1 Belmont preparations • Belmont-bound Cherry Wine, Brody's Cause gallop ahead of Saturday breezes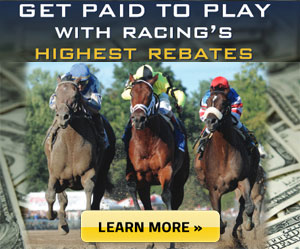 • Governor Malibu turns in 'strong work' for Belmont • Exaggerator gallops on Big Sandy • Ironicus, Carrumba to represent McGaughey in Manhattan, Ogden Phipps • Maiden Trojan Nation confirmed for Belmont • Twilight Eclipse, Ready for Eye ready for Belmont Stakes Racing Festival spots • Strike Charmer primed for G1 Just A Game • Upstart works for G1 Met Mile
ELMONT, N.Y. - Beating the light rain that began to fall at Belmont Park Friday morning, Todd Pletcher worked both his Grade 1, $1.5 million Belmont Stakes hopefuls, Destin and Stradivari, at 7:45 a.m. on the training track.
The notable news coming out of the breezes is that the status of John Gunther, Susan Magnier, Derrick Smith and Michael Tabor's Stradivari, the fourth-place finisher in the Preakness, was upgraded to confirmed for the June 11 Belmont. Twin Creeks Racing Stables and Eclipse Thoroughbred Partner's Destin had been training with an eye on the 1 1/2-mile final leg of the Triple Crown since his sixth-place finish in the Kentucky Derby.
Destin, with jockey Javier Castellano in the saddle, was the first to work and completed his half-mile breeze in 49.56 seconds while in company with stablemate Awesome Gent. Destin, wearing the blinkers he runs in, was on the outside of Awesome Gent, winner of the Jimmy Winkfield Stakes at Aqueduct earlier this year. They matched each other, stride for stride, throughout the move. The early splits for the work, according to Pletcher's stopwatch, were :13.20 for the opening eighth of a mile and :25.00 for the initial quarter of a mile. Destin's five-furlong gallop-out time was 1:02.40; 1:15.20 for six furlongs; and 1:28.60 for seven furlongs.
Next on deck was Stradivari, with Hall of Fame jockey John Velazquez in the irons. They were joined by Decorated Soldier in the half-mile work, which was recorded in :50.55. The opening splits were :12.80 and :25.20, with gallop-out times of 1:02.80, 1:15.20 and 1:29.40.
Stradivari and Decorated Soldier, the fifth-place finisher in the Peter Pan Stakes, finished on nearly even terms, but the former emerged with a few-length advantage during the gallop-out around the turn.
Two hours after Stradivari's work, Pletcher indicated he had spoken with Stradivari's connections, who gave the green light for the son of Megdaglia d'Oro to start in the Belmont Stakes.
"I was satisfied with this morning's work [from Stradivari] and assuming he comes out of it well, and we're happy with him between now and entry day [Wednesday], yes [to running]," Pletcher said.
Concerning the half-mile workout times for both his Belmont hopefuls, Pletcher said they don't reflect the work as a whole.
"The main thing I wanted was just a nice steady, somewhat relaxed breeze with good steady gallop-outs," Pletcher commented. "I don't think the 49 and change or 50 and change really tells the whole story about what the breeze actually was - a good and strong gallop-out and good steady 12 and change splits."
The jockey pairings in the works - Castellano on Destin and Velazquez on Stradivari - are the confirmed race-day assignments.
Destin and Stradivari will jog Saturday - Pletcher's custom after breeze days - and visit the starting gate on the training track. Sunday will be a walk day in the shedrow for both horses. The trainer said he may opt to gallop Destin and Stradivari "a time or two" on the main track next week provided the "conditions are favorable." Both horses are expected to paddock school at 11 a.m. on Wednesday.
Pletcher's record in the Belmont Stakes is 2-4-1 from 20 starters. Only his mentor, D. Wayne Lukas, and Nick Zito have saddled more Belmont starters, 24 and 25, respectively. Pletcher's Belmont winners are Rags to Riches in 2007, and Palace Malice in 2013.
* * *
Dale Romans' newly arrived Belmont prospects Cherry Wine and Brody's Cause got a handle for Big Sandy on Friday morning, galloping a respective lap around Belmont Park's main track shortly after the renovation break.
"They look good and they're training great," said Romans, on hand from Kentucky for the colts' training. "They both galloped by here as good as a horse can gallop."
Cherry Wine, 3 ½-length runner-up to Exaggerator in the Preakness, and Brody's Cause, seventh last time out in the Kentucky Derby, arrived in New York from Romans' training base at Churchill Downs Wednesday morning and have settled into their new environment in good order, reported Romans.
"If they're good enough they'll win," he said. "They're both doing great. They both act like they want to go a mile and a half and they look ready to. They just have to be talented enough."
Both Cherry Wine and Brody's Cause, who worked a mile in 1:42 and four furlongs in :49 3/5 seconds, respectively, at Churchill last weekend, are scheduled for their final breezes Saturday morning.
"Then we'll take it easy," he added.
Black-Eyed Susan winner Go Maggie Go remains on point for the Grade 1, $700,000 Acorn on Belmont Stakes Day. Overseen by Romans' partner and assistant Tammy Fox at Churchill, Go Maggie Go is expected to breeze Saturday before flying to New York on Tuesday.
"She's phenomenal. She's a machine," Romans said of the Ghostzapper filly, who suffered her only defeat in four career races with a fourth-place finish in the Kentucky Oaks. "I wasn't positive that I was going to run her back but I think I will, depending on what the boss says about how she works tomorrow."
* * *
With jockey Joel Rosario aboard, Belmont Stakes contender Governor Malibu hit the main track at Belmont Park early Friday morning. Breezing in company, the son of Malibu Moon completed five furlongs in just over a minute, according to trainer Christophe Clement.
Encouraged by the work, Clement will weigh his options on whether he would keep things light or give the son of Malibu Moon another maintenance work before next Saturday's race.
"It was a strong work," said Clement. "Five-eighths in a minute and change and three-quarters went in thirteen and change. He looked very fit. Joel was very happy with the work. We've done everything we've had to do on our side, now it's up to him. The only question remaining is if I train him to the race or give him a blowout on Thursday or Friday of next week. I'm not sure, I just have to think about it."
* * *
Likely Belmont favorite Exaggerator galloped 1 1/2 miles on the main track Friday morning at Belmont Park. The Grade 1 Preakness winner is expected to gallop a two-minute lick on Saturday and be hand-walked on Sunday, said Julie Clark, an assistant to trainer Keith Desormeux. Exaggerator is also expected to work on Tuesday, his final major move before the Belmont.
"I was thrilled, I thought he was perfect," Clark said. "I couldn't have asked for any better. He started at a nice, easy pace and picked it up real relaxed. He was well within himself and cooled off by the time he came off the track."
Exaggerator, who finished second in the Grade 1 Kentucky Derby, has been at Belmont since Sunday. He is only one of two horses in the Grade 1 Belmont Stakes field who started the first two legs of the Triple Crown, joining Lani on that short list.
Swipe, who finished second in the Grade 2 Best Pal, Grade 1 Del Mar Futurity and the Grade 1 Breeders' Cup Juvenile, will breeze on Saturday.
* * *
Hall of Fame trainer Shug McGaughey has a pair of planned runners for the Belmont Stakes Racing Festival in multiple graded stakes winner Ironicus, aimed for the Grade 1, $1 million Woodford Reserve Manhattan, and Grade 2 Ruffian runner-up Carrumba, likely to get another shot at Cavorting in the Grade 1, $1 million Ogden Phipps.
Winner of the Grade 2 Bernard Baruch at Saratoga last August, Ironicus returned from an eight-month layoff with a 1 ½-length win in the Grade 3, 1 1/8-mile Fort Marcy on May 7, earning a 100 Beyer Speed Figure. A 5-year-old turf specialist by Distorted Humor, Ironicus boasts a lifetime record of 6-4-1 from 12 starts, with wins from a mile to 1 1/8 miles but has yet to try to the 1 ¼-mile Manhattan distance.
"He's doing fine," said McGaughey "I'm looking forward to stretching Ironicus out to a mile and a quarter and see what happens."
Phipps' Stable homebred Carrumba remains on course for the Ogden Phipps following her second-place finish to Cavorting, the five-length winner of the Ruffian on May 14.
"Cavorting ran a great race the other day, so Carrumba will have to step up a little bit to be competitive with her but we'll see," he said. "She's been training awfully well and I wouldn't run her if I didn't think so."
Grade 3 Beaugay runner-up Tapitry remains in consideration for the Grade 1, $700,000 Just A Game, said McGaughey, adding that the final decision will be made after the 4-year-old Tapit filly breezes this weekend.
* * *
Trojan Nation, whose owners Aaron Sones and wife Julie Gilbert said will start in the Grade 1 Belmont Stakes, will arrive at Belmont either Monday evening or Tuesday, trainer Paddy Gallagher said by phone.
Trojan Nation will breeze one final time at Santa Anita on Saturday morning before shipping to Belmont. The son of 2002 Grade 1 Stephen Foster Handicap winner Street Cry last breezed on Sunday at Santa Anita, when he clocked five furlongs in 1:00.20.
"He's scheduled to work tomorrow and will probably go either five-eighths or three-quarters, somewhere around there," Gallagher said. "Once he's at Belmont, he'll gallop on the track and see the place."
Trojan Nation's only previous start in New York resulted in a career-best effort when he finished second in the Grade 1 Wood Memorial at Aqueduct Racetrack despite going off at 81-1.
* * *
West Point Thoroughbreds' Twilight Eclipse, will look to get back to his winning form when next out heading into the $300,000 Belmont Invitational Gold Cup. Although the now 7-year-old is winless in his lone two starts this year, finishing seventh in the Grade 2 Mac Diamirda Stakes on March 5 at Gulfstream Park and sixth in the Grade 2 Dixiana Elkhorn Stakes at Keeneland, trainer Tom Albertrani is encouraged with the way his multiple graded stakes winning trainee is looking heading into the race.
Working on the Belmont main track this morning, Albertrani was looking forward to stretching Twilight Eclipse out to the two-mile distance in the Gold Cup.
"Unfortunately we ran him last year in the Manhattan which was a little too short," started Albertrani. "I think we learned our lesson, he wants to go a little longer. The timing is right, this race could be a good spot and we can target some of the same races we targeted last year. We're a little disappointed with his first two starts this year but he seems fresh and I'm pretty happy with him."
In the Grade 3, $300,000 Jaipur Albertrani will saddle Chalk Racing's graded stakes winner Ready for Rye. Making a return to turf last out, the 4-year-old son of City Zip finished second on the dirt in the Diablo Stakes on May 8 at Belmont.
"He's doing really well," said Albertrani. We're switching him back to the turf but he's coming off two nice races and he's always been very consistent so hopefully we'll get him there safe and sound."
* * *
Strike Charmer is looking strong heading into the Grade 1, $700,000 Longines Just a Game, trainer Mark Hennig said. The one-mile turf race for fillies and mares 4-year-old and up features a talented field that includes Grade 3 Noble Damsel winner Recepta and Grade 3 Suwannee River-winner Sandiva.
Hennig said Strike Charmer will not breeze before the Just a Game on Belmont Stakes Day, June 11. The Courtlandt Farms-owned bay mare is coming off a victory in the Grade 3 Beaugay over 1 1/16 miles on the turf May 14 at Belmont Park.
"She's doing great," Hennig said. "She puts a lot into her gallops and seems to be running well that way. We're keeping her fresh. We backed off on her this winter and she seems to respond to a lighter training schedule."
* * *
Ralph Evans and WinStar Farm's Upstart turned in his final breeze Friday morning at Belmont Park ahead of the Grade 1, $1.25 million Mohegan Sun Metropolitan Handicap on Belmont Stakes Day for trainer Rick Violette, Jr.
"It was exactly what we wanted to do," Violette reported. "He got a good blow out of it, finished fast, galloped out great and cooled out well."
Upstart, the winner of the Grade 3 Razorback in his seasonal debut in March, worked five furlongs in 1:00 flat, according to his trainer.
Despite Friday's workout without blinkers, Upstart will make his first start with blinkers on in the Met Mile, Violette said. Violette made the equipment change two weeks ago, when the 2015 Fountain of Youth winner breezed a half-mile in :46.06.
"I didn't want to breeze him with blinkers too many times," Violette said. "He went so fast with them the last time that he had them on and we didn't need to do it again."
My Meadowview Farm's Grade 3 Westchester runner-up Samraat also wrapped up major preparations Friday morning ahead of his next start in the Grade 2, $400,000 Brooklyn Invitational.
"He's doing great," said Violette. "He went three-quarters in 13 and galloped out the last eighth in :11 4/5 - which was terrific."