• Gettysburg joins G1 Belmont field • Creator works 'nice and steady' for Belmont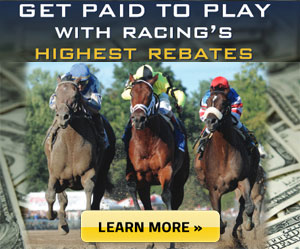 • Belmont-bound Suddenbreakingnews stretches his legs ahead of trip • Desormeaux watches Exaggerator's Monday gallop for G1 Belmont • Gunther family eyes Belmont with homebred Stradivari • Europeans clear quarantine; Sloane Avenue on target for G1 Met Mile • Belmont contenders Brody's Cause, Cherry Wine return to track Monday • Lani team watching weather, could breeze Tuesday
ELMONT, N.Y. - Early Monday afternoon, trainer Steve Asmussen informed New York Racing Association officials that Gettysburg, a horse he recently received from WinStar Farm LLC to train, will be entered in the Grade 1, $1.5 million Belmont Stakes June 11.
Gettysburg, a winner of one race in seven starts, figures to supply the pace that was absent in the 1 1/2-mile Belmont Stakes before he was declared a starter. Asmussen also trains Creator, a closer, for WinStar. Likely Belmont Stakes favorite Exaggerator, another horse who is expected to come from off the pace, also has a connection to WinStar - he will stand stud at the Kentucky farm upon the conclusion of his racing career.
Gettysburg was until recently trained by Todd Pletcher, who has two starters in the Belmont Stakes for connections other than WinStar, Destin and Stradivari. Those horses, until Gettysburg arrived on the scene, looked likely to play a role in the early pace of the Belmont.
Elliott Walden, the president/CEO and racing manager at WinStar, told Daily Racing Form Monday: "When you start talking strategies and a trainer has multiple horses in the race it can get a little confusing sometimes. The fact Steve has Gettysburg and Creator and we're his only owner takes out the conflict of having multiple horses in the race for different owners and Todd was 100 percent behind it."
Paco Lopez is scheduled to ride Gettysburg.
* * *
Creator breezed on the Belmont Park training track on Monday, clocking a half-mile in 50.93 seconds. The Steve Asmussen-trained colt completed his first workout since arriving at Belmont, going four furlongs without company with exercise rider Jesus Vinegas aboard. Irad Ortiz Jr. will be in the irons for Creator for the Grade 1 Belmont Stakes.
"We're very happy, he worked nice and steady with a good rhythm," said Toby Sheets, assistant to Asmussen.
Sheets said Creator will walk on Tuesday. The Grade 1 Arkansas Derby winner went to the training track after Sheets checking both tracks at 4:30 a.m.
Creator, who arrived at Belmont from Churchill late last week, looked comfortable on the training track when he arrived just after 6 a.m. and was energetic in a post-workout roll in the round pen.
"He actually loves it here," Sheets said. "It's much quieter than Churchill, so that makes a big difference. His antics are a little less here."
Creator will be making his first start since a 13th-place showing the Grade 1 Kentucky Derby last month. The son of Tapit is 2-4-1 in nine career starts and will be making his Belmont Park debut.
* * *
Belmont Stakes hopeful Suddenbreakingnews was sent out onto the Churchill Downs strip this morning by Donnie K. Von Hemel for his final breeze and the trainer pronounced him fine, fit and ready to fire on Saturday.
With Joe Rocco, Jr. in the irons, the Grade 3 Southwest Stakes winner covered four furlongs in 49.48 seconds on a fast track.
"Basically, we were just letting him stretch his legs a little before we put him on the plane tomorrow," said Von Hemel, who booked the horse on the Tex Sutton charter scheduled to depart Louisville with some of the other contenders for the Belmont Stakes Racing Festival, arriving at Islip-MacAruthur Airport in the afternoon. "Everything is good and it's all systems go."
Suddenbreakingnews is the first graded stakes winner for owner Samuel Henderson, who has owned horses since the 1970s but had his first Triple Crown runner when the ridgling was a fast-closing fifth in the Kentucky Derby. The maternal grandson of 2005 Belmont Stakes winner Afleet Alex will be Von Hemel's first Belmont entrant as well.
"I haven't thought much about that," Von Hemel said with a laugh, "but I'm excited to bring this horse up there because I think the horse has a real chance. I'm looking forward to Saturday. You always think your horse is peaking at the right time and is the best he can be when you go into a race like this, but we're very happy with the way he's doing. We wouldn't be coming otherwise."
Although Von Hemel will saddle his first Belmont horse Saturday, the trainer of 2011 Grade 1 Breeders' Cup Dirt Mile winner Caleb's Posse has enjoyed graded stakes success in New York. Caleb's Posse won the Grade 1 King's Bishop at Saratoga and Alternation took the Grade 2 Peter Pan and the Grade 2 Amsterdam in 2011. * * *
On his first morning at Belmont Park since arriving from California Sunday night, trainer Keith Desormeaux watched Grade 1 Preakness winner Exaggerator, the expected favorite in Saturday's Belmont Stakes, gallop 1 ½ miles Monday morning.
Following his usual path that takes him through the backstretch and paddock, Exaggerator was led to the main track by assistant trainer Julie Clark shortly after 9 a.m. He paused for a few minutes to watch horses pass before taking one lap around under regular exercise rider Peedy Landry.
It was the first time in nearly two weeks that Desormeaux had seen Exaggerator, who shipped from Baltimore to Long Island May 29, eight days after his 3 ½-length victory over previously undefeated Kentucky Derby winner Nyquist in the Preakness.
"He looks great," Desormeaux said. "I haven't seen him in 12 days. I think he put on a few pounds which is always a positive quality, especially when you're running races that are so close together. To see him gain weight is a big positive. His color also looks good and he also has a nice, calm, confident look in his eye. Julie and his groom tell me he's eating all his meals with vigor. That's all we can ask for."
Grade 1 Santa Anita Derby winner Exaggerator, second in the Kentucky Derby, is scheduled to breeze Tuesday morning following the main track renovation break. Desormeaux said the son of two-time Horse of the Year Curlin will jog over the training track Wednesday, walk and school in the paddock Thursday, gallop Friday and possibly school in the paddock during the races.
"I don't train them typically on race day. Some guys will do that; I prefer not to, especially for horses like him who's got a great, calm demeanor. He doesn't need to go out there and release any energy. He releases his energy in the race," Desormeaux said.
"The track is a little deeper I think than the two that he's come off of, so that's why we got him here as early as possible. Last week he two-minute clipped twice; he's going to breeze tomorrow. That's all done because of what I think I know about the Belmont surface. It's a little different - wider sweeping turns; deeper, sandy surface. I wanted to get him more action over the track. Hopefully, it works."
Training on his own since 1990, Desormeaux's lone career victory at Belmont came last July with the filly Danette, breaking her maiden on her 13th try. Prior to that she had run no worse than fifth in four graded stakes, including third in the 2014 Grade 1 Chandelier Stakes as a 2-year-old.
Desormeaux has had a handful of starts at Belmont, finishing sixth with French Assault in the 2001 Breeders' Cup Juvenile and second with Texas Red in last year's Grade 2 Peter Pan.
"We've had some good success here, but nothing is going to be anywhere close to our experience in the Belmont," he said. "So, we're looking forward to it."
* * *
Kentucky-based breeder John Gunther came very close to knowing what it is like to breed a Classic winner. The Gunther-bred Stay Thirsty was motoring through the stretch of the 2011 Belmont Stakes but couldn't reel in Ruler On Ice, who posted a three-quarter-length victory.
Gunther bred and raised Stay Thirsty at his farm, Glennwood, in Versailles, Ky., before selling him at auction for $160,000 as a yearling.
This year Gunther has the best of both worlds as the breeder and co-owner of a Belmont Stakes hopeful, Stradivari.
Gunther's daughter, Tanya, planned the mating that produced Stradivari. Bending Strings, a stakes-winning homebred who raced for her father, was bred to Medaglia d'Oro, the 2002 Belmont Stakes runner-up.
"You can only do so much [with planning the matings], but then it's up to Mother Nature," Tanya Gunther said on Monday. "You can breed the same mare to the same stallion and not get the same results. When it does happen the way you hope, it's almost a bit like gold dust because it doesn't happen very often. So, it's pretty exciting and very rewarding when it does."
The Todd Pletcher-trained Stradivari enters the Belmont off a fourth-place finish in the Preakness Stakes. The colt was wildly impressive in winning both a maiden race in December at Gulfstream Park and a first-level allowance in April at Keeneland.
John Gunther entered Stradivari in the Keeneland September Yearling Sale, but the colt did not reach his $335,000 reserve. Later Gunther sold an interest in Stradivari to Susan Magnier, Derrick Smith and Michael Tabor.
"I think my dad was happy [about not reaching the reserve]," Gunther said with a chuckle. "He always liked the horse, and he races the horses he doesn't sell. He was probably torn selling him in the first place."
* * *
The formidable contingent of European contenders for the three-day Belmont Stakes Racing Festival cleared quarantine Monday after arriving on Saturday, and although still classified as in isolation, were allowed to get their first look at the track during morning workouts.
Sloane Avenue, who runs in the Grade 1, $1.25 million Mohegan Sun Metropolitan Handicap for renowned British trainer Jeremy Noseda Saturday, looked impressive as he was put through a light jog under regular exercise rider Shaun Murphy.
"It was his first day out of the barn and out onto the track and he took right to it. We went once around and we'll canter into the race," Murphy said of the handsome 5-year-old chestnut horse, who traveled from Noseda's yard in Newmarket, England to Belgium and then boarded a second flight to nearby JFK Airport.
Sloane Avenue, who has three wins in eight starts and has been idle since a fifth-place finish in the Group 2 Godolphin Mile March 26 in Dubai, began his career on the grass but was switched to dirt and all-weather surfaces overseas halfway through his career.
"He's American-bred. He's a dirt horse," assistant trainer Wayne Tanner said of the son of Candy Ride out of the A.P. Indy mare Apt, who was bred in Kentucky by Claiborne Farm and Adele Dilschneider.
Sloane Avenue, who will be partnered for the first time with Florent Geroux in the Metropolitan Handicap and will race with the addition of Lasix, competed at Belmont once before. He finished a well-beaten eighth on soft turf in the Grade 3 Hill Prince Stakes in October 2014 in his final grass race.
"This race has been in the plans since the beginning of the year," said Tanner, who also accompanied the horse on his last trip here. "The plan was a prep race in England, then Dubai, and the Met Mile. We're looking for a big race for him, of course, but it's not going to be easy."
Sloane Avenue very much enjoyed the sweet clover while being grazed behind the isolation fence after his light exercise.
"I might gate school him at some point during the week, but I won't paddock school him. He's got plenty of air miles. He's a straightforward horse and we won't do a great deal between now and the race. He's fit and we just want him to stay healthy," said Tanner, who will be in charge until Noseda jets in from England on Friday evening.
* * *
After a leisurely Sunday of walking following their June 4 breezes for the Belmont Stakes, Brody's Cause and Cherry Wine took turns on the main track Monday morning for trainer Dale Romans.
Preakness runner-up Cherry Wine went out first following the renovation break and was followed shortly afterward by Brody's Cause, a two-time Grade 1 winner making his first start since a seventh-place finish in the Kentucky Derby.
"They just jogged today," Romans said. It will be the seventh time he has started a horse in the Belmont, at 1 ½ miles the last and longest leg of the Triple Crown.
Romans has finished third with four of his six previous starters in the Belmont Stakes: maiden Nolan's Cat in 2005, First Dude in 2010, Medal Count in 2014 and Keen Ice last year. Keen Ice went on to upset Triple Crown champion American Pharoah in the Grade 1 Travers.
"The only thing I ever do different really is I train them longer and I leave them on the racetrack a long time doing something to get it in their head that they have to be out there that long," he said. "The unknown of Big Sandy and the unknown of the mile and a half always plays into this race."
Also on Saturday, Romans will saddle multiple Grade 2 winner Go Maggie Go in the Grade 1, $700,000 Acorn for 3-year-old fillies. Similar to horses on the Triple Crown trail, it will be her third race in five weeks following the Grade 1 Kentucky Oaks May 6, when she finished fourth in her only career loss, and the Grade 2 Black-Eyed Susan May 20.
"She's a tough filly and that's what makes her so great. She's so much different than anything I've had," he said. "She's just very durable."
Romans praised the idea behind the Belmont Stakes Racing Festival, which features 19 stakes (11 graded, six Grade 1) worth $9.6 million in purses from Thursday through Saturday.
"It's going to be a fun weekend. There's a lot going on and I hope the racing fans appreciate it," Romans said. "It's almost refreshing not to have a Triple Crown on the line, so people can realize how special it really was. The average racing fan today, the age group, they got spoiled in the '70s. The new group coming up needs to realize how special what they witnessed [last year] was."
* * *
The connections of Koji Maeda's Japanese invader Lani will keep an eye on the sky overnight as they weigh their options for his final breeze for the Belmont.
Originally planned for early Wednesday morning after the New York arrival of trainer Mikio Matsunaga on Tuesday afternoon, Keita Tanaka, the agent representing Maeda, indicated that the team may call an audible due to the chance of overnight rain into early Wednesday.
"If [it looks like] the ground will be very wet, we will most likely go a day earlier, even though the trainer will miss it," Tanaka said on Monday.
The Kentucky-bred son of Tapit worked last Wednesday with the trainer on hand, getting an official five-furlong time of 1:02.09. Known for his lengthy training regimen, Lani has been out to the track every day since, making several customary laps around the 1 ½-mile oval.
On Sunday, the gray colt posted a three-furlong breeze on the worktab, covering the distance in 38.01 seconds, a move that Tanaka described as part of their training plan.
"He really stretched out the last two furlongs," said Tanaka. "It was not necessarily [meant to be] a timed workout, but we wanted him to pick up his speed."