• Triple Crown hopeful California Chrome emerges from final Belmont Stakes breeze in fine fettle • Belmont contender Ride On Curlin has first work since runner-up finish in Preakness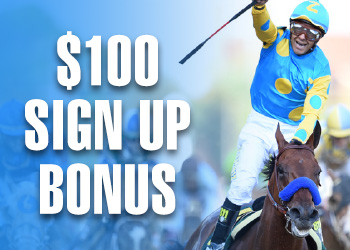 • Wicked Strong turns in quick work over training track • Commanding Curve pleases Stewart with main track breeze • Commissioner, Matterhorn breeze in company for Belmont Stakes; Palace Malice, Princess of Sylmar among other workers for Pletcher • Hall of Famer Bill Mott sends Matuszak out for five-furlong Belmont tune-up • Tonalist emerges from Saturday breeze in good shape
ELMONT, N.Y. - Triple Crown hopeful California Chrome walked the shed row this morning after logging his final breeze before the June 7 Belmont Stakes yesterday in front of a crowd of adoring spectators at Belmont Park.
The son of Lucky Pulpit went four furlongs in 47.69 seconds under regular rider Victor Espinoza, and galloped out monstrously. He was caught in 59.93 for five furlongs by NYRA clockers, 1:12.95 for six, and 1:26.28 for seven over a tightly packed Belmont oval.
"Chrome came out of the work in great shape," said Alan Sherman, son of California Chrome's trainer Art Sherman. "He was pulling [exercise rider] Willie [Delgado] around the shed row this morning. Everything is cold and tight and we're ready for Saturday."
Should he become the first horse in 36 years to win the Kentucky Derby, Preakness and Belmont, California Chrome would join Count Fleet (1943) and Citation (1948) as Triple Crown winners whose name begins with the letter "C." However, the letter "C" is the most popular first initial for Belmont Stakes winners, having taken 20 editions, beginning with Calvin in 1875 and most recently Commendable in 2000.
* * *
Preakness runner-up Ride On Curlin put in his first timed breeze since arriving at Belmont Park on May 20, a seven-furlong work in 1:28.03 this morning under regular exercise rider Bryan Beccia.
Trained by Billy Gowan for owner Daniel J. Dougherty, the Belmont Stakes contender also went seven-eighths in his final tune-up prior to the Kentucky Derby, where he finished seventh behind California Chrome following a rough trip.
"I thought he went super," Gowan said. "He went just like I told him. I told him to go slow the first quarter, and he went in 27 [seconds]. He went the last quarter in 24. It was just what we wanted, mainly to just get some air into him. If I work him a half-mile, he may get too speed crazy. As long as he was going slow, that's all we needed."
Watching the work with Gowan was Hall of Fame jockey John Velazquez, who will be aboard Ride On Curlin for the first time in the Belmont. Velazquez has ridden two Belmont winners: the filly Rags to Riches in 2007 and Union Rags in 2012.
"One good thing about the horse is that he's easy to ride. He relaxes when he gets around horses, and he doesn't get speed crazy or anything," Gowan said. "He can pretty much ride him any way he wants to. I've told all his riders that. He's probably the easiest horse you've ever ridden in your life. He showed that today. He was nice and relaxed. He doesn't get too worked up about anything, but when you ask him he's still full of run."
Gowan said Ride On Curlin will walk the shed row on Monday morning and go back to the track on Tuesday. His sire, two-time Horse of the Year Curlin, was second to Rags to Riches in the 2007 Belmont.
"We'll just gallop him easy. He doesn't need much," Gowan said. "We'll probably take him slow every day, and just keep him happy. I'm just happy with the way my horse is going. We come in every morning, and he's hollering for his feed. He's just a tough horse."
* * *
With 2013 Belmont Stakes winner Palace Malice in front of him, Wicked Strong breezed five furlongs in 59.10 seconds, the quickest of 12 workouts at the distance over the Belmont training track on Sunday.
Wicked Strong began his work several lengths behind Palace Malice and his workmate Celebrator and was eager to catch the Pletcher pair, but exercise rider Kelvin Pahal kept Wicked Strong in check.
"I thought he went real good," said Jimmy Jerkens, who trains Wicked Strong for Centennial Farm. "It was a little fast, but [Pahal] saw me put my hand up to slow down, and he did. He didn't pull him back, but he didn't urge him any. It looked like he saw [Palace Malice and Celebrator] ahead of him and really got into gear around the turn and was approaching them fast, which is why I slowed him down. Sometimes they [catch horses ahead of them]. You don't mind them doing it if [the other horses] are only a few lengths in front, but when they are six lengths in front it's a different story. But it was good. I'm happy with it."
Wicked Strong, who won the Grade 1 TwinSpires.com Wood Memorial in May, finished fourth, 5 ¾ lengths behind California Chrome, in the Grade 1 Kentucky Derby on May 3. The son of Hard Spun had blowout workouts before the Wood and the Derby but will not have a blowout before the Belmont Stakes, according to Jerkens.
"He'll probably just gallop into the race," said Jerkens. "He gallops pretty steadily. I blew him out at Churchill because he wasn't really getting into the bridle when he galloped. He was really distracted, which is why we gave him a little something."
* * *
West Point Thoroughbreds' Commanding Curve had his first and only breeze over the Belmont main track before the Belmont Stakes, covering four furlongs in 47.38 seconds on Sunday. It was the third quickest of 25 moves at the distance.
Going in company with Cost Effective from the barn of Tom Albertrani, Commanding Curve was kept under a hold as he finished approximately one length in front of his workmate.
"I thought he worked great," said trainer Dallas Stewart. "I've never seen him work any better. It was easy, and he was calm and perfect. He came back not blowing. That's the thing about him: he never gets tired. It was just a great day for him. We'll take it."
Commanding Curve, who has one win in seven starts, enters the Belmont Stakes off a runner-up finish in the Kentucky Derby. After lagging 12 lengths behind the leader in 18th, Commanding Curve made a steady run to finish 1 ¾ lengths behind California Chrome.
Also on the worktab for Stewart were Unbridled Forever (four furlongs in 48.59 seconds), aiming for the Grade 1 TVG Acorn, and Golden Soul (four furlongs in 47.15 seconds), who is targeting the Grade 2 Brooklyn Invitational. Both the TVG Acorn and Brooklyn Invitational will be contested on Belmont Stakes Day.
* * *
Trainer Todd Pletcher sent out a string of stakes-bound horses to work on Sunday morning, most notably Palace Malice, Princess of Sylmar, and Belmont Stakes probables Commissioner and Matterhorn .
Palace Malice, who is targeting the Grade 1, $1.25 million Met Mile, nearly had his work disrupted when a horse got loose just as he was beginning his run on the Belmont training track.
"It's one of the benefits of having radio on your riders," said Pletcher, "because if that work gets underway there's no way to undo it. Fortunately, we were able to stop it before it really got started. Had we not had the radios, at least the gallop out would have been compromised."
After the horse was successfully corralled by an outrider and escorted off the track, Palace Malice was able to work successfully, going four furlongs in 47.38 seconds in company with Celebrator. .
"Typical impressive breeze from him; he's doing unbelievable," said Pletcher.
Last year's Kentucky Oaks winner, Princess of Sylmar, went five furlongs in 1:01.31 in preparation of the Grade 1, $1 million Ogden Phipps, that will feature 2013 Champion Three-Year-Old Filly Beholder, as well as the abundantly talented Close Hatches.
"It was a very good breeze," said Pletcher. "She was very relaxed and happy and moving well, so we're excited about the race. I have a lot of respect for how good Beholder and Close Hatches are, so I'm excited about the race and how our filly is doing, but it's going to be a very difficult task."
Commissioner and Matterhorn, Pletcher's Belmont Stakes hopefuls, went in company on the Belmont training track. The former was clocked in 49.86 seconds for four furlongs, while the latter turned in a move of 49.90 for a half-mile.
"I thought they worked very well; it was a good, well-executed breeze. Both horses seemed very comfortable and relaxed and galloped out well. I thought [Matterhorn] breezed well enough to continue to consider it; we'll see how he comes out of it and make a final decision, but I did like the breeze."
The Pletcher brigade also saw some action on the turf, as Unlimited Budget and Boisterous took to the grass in advance of the Grade 1, $750,000 Longines Just A Game and the Grade 1, $1 million Knob Creek Manhattan, respectively.
"[Unlimited Budget] handled it well," said Pletcher. "She went :47 and 4/5 and seemed to be excited about being [on the turf]. She went with a Grade 1 winner and handled her own."
Boisterous was timed in 47.91 for a half-mile, equaling Unlimited Budget's time for the distance.
* * *
George J. Prussin's Matuszak breezed five furlongs in 1:00.94 over the main track this morning in his final serious work for Saturday's Belmont Stakes.
The son of Bernardini went in company with fellow 3-year-old colt Maximus Mike for Hall of Fame trainer Bill Mott. A maiden winner in April at Aqueduct, Maximus Mike was clocked in 1:02.14.
"He just needed some company, that's all; anything to get him started," Mott said. "It was great. He came home very well. I might be wrong, but I got him coming home in under 23 seconds. He went very well."
Sunday marked the fourth straight five-eighths work around Belmont's 1 ½-mile oval for Matuszak, who fired bullets of 59.88 on May 12 and 59.70 on May 19. He was also timed in 1:01.56 on May 26.
Mott has been thrilled with the late spring development of Matuszak, who the trainer said is not ordinarily an eye-catching work horse.
"He's been working quite well. The last three works have been pretty good," Mott said. "I realize we're kind of a long shot and we're reaching, but the horse is actually coming around at the right time, whatever that may mean."
Mott captured the 2010 Belmont with Drosselmeyer at odds of 13-1 and has had five previous starters in the race, including Vision and Verse, who finished sixth behind Lemon Drop Kid in 1999 when Charismatic was vying for a Triple Crown.
Stabled in the barn next to Mott is Kentucky Derby and Preakness winner California Chrome, who will try to become the 12th Triple Crown champion and first since 1978 on Saturday.
"If California Chrome wins, I'll be excited just because we'll have another Triple Crown winner," Mott said. "In the meantime, we'll do our best to try and beat every horse in the race that we can."
* * *
Belmont Stakes contenderTonalist put in his final serious work before the June 7 "Test of the Champion" on Saturday morning at Belmont Park. The bay colt was clocked in 1:00.11 for five furlongs, working in company with stablemate Life In Shambles.
"He came out of his work in good order," said Tonalist's trainer, Christophe Clement. "He looked great this morning. He jogged a mile and a half and went to the gate, standing in it and going back out, just regular schooling that we always do the day after the work. He will be back tomorrow and be back to his normal routine."
The likely second or third choice in the betting behind California Chrome, Tonalist enters the Belmont Stakes off a four-length score in the Grade 2 Peter Pan. He has made only four starts in his career, with two wins and a second-place finish to his credit.