• Enduring Twilight Eclipse targets G1 Turf Classic • McLaughlin fires with a pair of first-out winners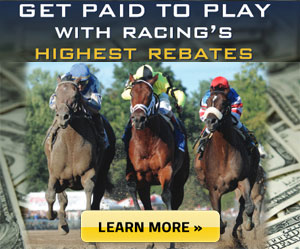 • Perfect Title seeks graded stakes score in Turf Classic • Bob Le Beau wins G1 Lonesome Glory 'Chase, Overwhelming takes Entenmann
ELMONT, N.Y. - Since the summer of his 2-year-old year, West Point Thoroughbreds' Twilight Eclipse has been the enduring star of trainer Tom Albertrani's barn. Now 6, the Purim gelding will make his 28th career start in Saturday's Grade 1, $600,000 Joe Hirsch Turf Classic.
Albertrani has seen no decline in form of Twilight Eclipse, the world record-holder at the Turf Classic's 1 ½-mile distance, established in the 2013 Grade 2 Pan American at Gulfstream Park.
"I don't think there's been any change in him. He might be better this year than he was even last year, who knows," Albertrani said. "I think another year ahead, why not? He could still be a pretty nice horse."
Purchased for $1,000 at Keeneland's horses of all ages sale in January 2010, Twilight Eclipse has gone on to finish in the top three in 18 of 27 lifetime starts with seven wins and more than $1.7 million in purse earnings.
Fifth in the 2013 Turf Classic and second by a neck to multiple Eclipse Award winner Main Sequence last year, Twilight Eclipse has been worse than third only three times in his last 14 starts since finishing 12th in the Group 1 Dubai Sheema Classic in March 2014.
He returned from the Middle East with seven straight graded stakes placings, including his first Grade 1 victory in the May 9 Man o' War at Belmont Park.
"He's just been a great horse to have around. He always manages to be in the frame," Albertrani said. "Even after his trip to Dubai, where most horses might be a little depressed from the long trip, this horse came back from that trip in a matter of weeks. He rebounded so well. He's just that kind of horse. Races don't take a lot out of him."
Twilight Eclipse enters the Turf Classic off successive show finishes in the Grade 1 United Nations July 5 at Monmouth Park and the Grade 1 Sword Dancer August 29 at Saratoga Race Course. In between, Albertrani skipped Saratoga's Grade 2 Bowling Green Handicap August 1.
"It's just business as usual with him. He comes out of his races so well, it's just a matter of maintenance in between," Albertrani said. "That's what we did between the U.N. and the Sword Dancer. We thought we'd keep him a little fresher. We had the option of going in the Bowling Green, but said he's been running so well and it probably wouldn't hurt to give him a little time off. We just decided to give him a little break. I don't see why he wouldn't be as strong next year. As long as he's healthy, absolutely."
* * *
While Kiaran McLaughlin's biggest win of the month came with Grade 1 Twinspires.com Wood Memorial winner Frosted in last weekend's Pennsylvania Derby, the trainer proved that his local hot streak is alive and well, saddling a pair of first-time starters, Marking and Trappe Play, to victory on Wednesday's card at Belmont Park.
Marking, a 3-year-old Bernardini colt McLaughlin trains for Godolphin Racing, had missed his scheduled debut when he acted up in the Saratoga starting gate and was scratched on August 21. In the four weeks since, Marking had been subjected to a patient, and seemingly successful, schooling regimen.
"We had gate issues for a month or two but we thought we were OK to run when we had him up there," McLaughlin said about the race at Saratoga. "He just reared up at the last minute and then sat down and had to be scratched. So then after that, we took him to Bob Duncan at the Oklahoma track and he worked with him every day, so he got him over his fears."
McLaughlin's patience appeared to pay off on Wednesday, as Marking easily swept past his maiden special weight competition to win the third race by 2 ¾ lengths.
"He didn't break great, but it didn't matter. It's just getting him in [the gate] to get him out of there," said McLaughlin. "He's that talented. So it was a great win. He's never been outworked, that's why he was 4-5. He's a really nice horse."
Two races later, the New York-bred Trappe Play posted the same margin of victory against state-breds. Largely overlooked in the win pool at odds of 13-1, Trappe Play is a 2-year-old daughter of 2011 Grade 2 True North winner Trappe Shot and 2010 Only Queens runner-up Play With Me owned and bred by NYKY Thoroughbreds.
"We had her mother and her father, so that was neat," McLaughlin said. "We're really happy she ran so well. We'll probably run her back in a stakes for New York-breds on October 24th."
Marking, meanwhile, will target an allowance race likely at the beginning of the Aqueduct meet this fall, McLaughlin said.
McLaughlin, who finished sixth in the trainer's standings at Saratoga with 13 wins from 54 starters, has fired at a 44 percent clip since the beginning of the fall meet, picking up four wins from only nine starters, including first-out winner, the $2.2 million yearling purchase Mohayman, as well as the Grade 2 Sands Point with Sentiero Italia on opening weekend.
* * *
Already having nearly doubled his purchase price, Matthew Schera's Perfect Title goes after his first graded stakes victory in the 1 ½-mile, Grade 1 Joe Hirsch Turf Classic.
Sold for $50,000 out of Fasig-Tipton Kentucky's winter mixed sale in February, the 5-year-old son of Perfect Soul was acquired to run long on the grass. His trainer, Fair Hill (Md.) Training Center-based James L. "Chuck" Lawrence is a former jockey who won the Grade 1 New York Turf Writers Cup steeplechase twice, in 1987 and 1993.
"We bought him with the mindset that we thought he was going to do well on the turf and going a mile and three-eighths, a mile and a half. With his form, we thought he was screaming for that," Lawrence said. "I hate to talk about it, but the horse has just gotten better and better and better with each race and each work."
Perfect Title has run four times for his new connections, who gave him 4 ½ months off before a pair of runner-up finishes in off-the-turf allowances at Delaware Park. This summer, he won back-to-back grass starts at Saratoga Race Course 15 days apart, each under jockey Kendrick Carmouche: a 1 1/16-mile event for a $50,000 tag, and an optional claiming allowance going 1 3/16 miles. To date, he has earned $99,000 for his new connections.
"We were surprised when he won the $50,000 race. I thought he was good enough, but we think it's almost too short for him. He came in and won the second start fairly easily, and Kendrick said he had plenty of horse," Lawrence said.
"When we got him he really needed the time off, and he seemed to thrive from that and from the training center life, being able to train out back. He seemed to really do well over the synthetic track," he added. "He's really come around, developmental-wise and soundness-wise. Hopefully, we get lucky. We're taking a shot, but the horse racing game is a funny game. You can't win it if you're not in it."
Perfect Title was seventh in the Grade 2 Jim Dandy on dirt at Saratoga in 2013 in his only previous graded stakes attempt. His late-running style is reminiscent of the Lawrence-trained Great Dancer, who finished fourth by 1 ¼ lengths at 9-1 in the Grade 2 Commonwealth Derby, beaten two heads for second, last weekend at Laurel Park.
"Turf racing is all about the pace, all about the trip. We should have been second or won a Grade 2 at Laurel. We had a little bit of trouble, a slow pace, and a closer," Lawrence said. "We almost got there but it's all about the trip and the pace and I think it's going to have to set up well for him. If it comes down to a sprint at the end, from his past two races you would think he would fit with the best of them according to his finishing time. We'll see."
* * *
Bob Le Beau split rivals in midstretch and held off a late challenge from Hinterland to win Thursday's $150,000 Lonesome Glory Steeplechase by a half-length and notch his second straight Grade 1 victory.
Trained by Elizabeth Voss for The Fields Stable, Bob Le Beau was content to run second-to-last as Syros opened up a big early lead in the 2 ½-mile race over national fences. Given his cue from jockey Jack Doyle as the field of eight straightened for home, Bob Le Beau responded with a solid closing kick to gain the lead with 100 yards to and had just enough left to fend off the runner-up.
His winning time was 4:41.27 for the course, which was run minus the final two jumps and with the stretch drive consisting of a flat run in its entirety.
"Getting him to settle was my biggest concern but he conserved good energy today," said winning jockey Jack Doyle. "He has so much speed coming off the flat, all he needs is half a gap and he'd be gone. Two jumps out in the straight probably helped me more than it helped anyone else because I could use his flat speed a little more, but I think he would've won even if they were there."
Sent off as the 3-5 favorite following his 7 ¼-length win in the New York Turf Writers' Cup on August 27 at Saratoga Race Course, Bob Le Beau returned $3.50 for a $2 win bet. The victory was the 8-year-old gelding's fourth in five starts this year, including a win in the Grade 3 National Hunt Cup in May, and was worth $90,000, boosting his career bankroll to $523,457.
Checking in third was Dawalan, who was followed across the finish line by Charmister, All Together, Syros, Diplomat and Alajmal.
In the afternoon's first race, Woodslane Farm's Overwhelming kicked into high gear rounding the turn to take command a furlong out and go on to a 2 ½-length victory in the $75,000William Entenmann Memorial. It was the first stakes victory over fences for the Phipps Stable-bred son of Hard Spun, who won an allowance in July at Saratoga.
Trained by Jack Fisher and ridden by Sean McDermott, the 5-year-old gelding returned $14.40 for a $2 win bet.