• Triple Crown hopeful American Pharoah finalizes preparations for G1 Belmont • Pletcher reflects on past Belmont winners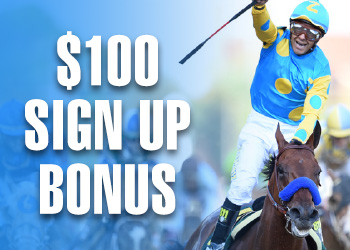 • McLaughlin brings Frosted to Belmont in midst of hot streak • Belmont contender Tale of Verve goes for last gallop over track • Frammento will be Zito's modern-day record 25th Belmont starter
ELMONT, N.Y. - After the final screws were tightened on Triple Crown hopeful American Pharoah on Friday morning, the colt's connections were eagerly anticipating Saturday's Grade 1, $1.5 million Belmont Stakes while trying to keep their emotions in check.
The Belmont will be contested by eight 3-year-olds at the distance of 1 1/2 miles during the Belmont Stakes Racing Festival presented by DraftKings, and it is the highlight of an extraordinary four-day weekend of racing offering 17 graded stakes races and six Grade 1 affairs alone on Saturday's card.
"Once the gates open, the weight will be off my shoulders," said Hall of Fame trainer Bob Baffert, who brought Silver Charm, Real Quiet and War Emblem to a similar date with destiny before they were defeated in the "Test of the Champion", the Triple Crown's final and most elusive jewel.
"All the work is done now. From here on, we'll try to relax a little. We need to make sure the horse is content and continues to eat well, and to stick to the same routine. And now we need to keep people away from him," said Baffert.
After returning from the track for a routine morning gallop under regular exercise rider Jorge Alvarez in his final public appearance before the walkover on Saturday evening, the Kentucky Derby and Preakness winner was tucked into his stall in Barn 1.
"Today's morning gallop was the last hurdle. It was a strong gallop and he floated over the track. He looks the same as he did out on the track before the Derby and the Preakness," Baffert said. "He looked like a monster out there. I am really happy with the way he went. He's still sharp."
Baffert, arguably the most recognizable personality in the sport of Thoroughbred racing, has won 11 Classics, including the 2001 Belmont with Point Given, and 11 Breeders' Cup races. Eleven times his charges have earned year-end championships and he has been the Eclipse Award-winning trainer three times (1997-99).
Nevertheless, he reiterated on Friday morning that American Pharoah is the most talented horse he has ever had in the barn. Despite mising the 2014 Breeders' Cup Juvenile due to a foot injury suffered only days before the race, the Zayat Stables homebred son of Pioneerof the Nile still earned the Eclipse Award as 2-year-old Male Champion.
"He's the best horse I've trained and he's my best hope for the Triple Crown," he said. "He was the champion last year and this year he has gone on and shown himself to be a superior horse. He has performed brilliantly."
Owner Ahmed Zayat is also high on the beautifully conformed bay colt. Not only is American Pharoah the picture of health, he has gained weight during the grueling Triple Crown campaign that normally wears down and lightens up a Thoroughbred.
"Look at him," said an admiring Zayat, who was on hand for the colt's morning exercise, just as he has been every morning since Baffert's contingent of Festival horses arrived from California on Tuesday afternoon. "This will be his fourth race (including victories in the Grade 2 Rebel Stakes and Grade 1 Arkansas Derby) in eight weeks. That usually takes a toll on a horse but he's coming in to the race the best he can be. We're coming in feeling that he has a real shot to win the Triple Crown."
Baffert concurred.
"I think I'm responsible for the (37-year) drought," he joked. "I probably should have won the Triple Crown a couple more times. This fourth time will be different because I'm much older and mellower and I know what I have to deal with so I'm not so overwhelmed. This horse has a different vibe than the others. He's shown that he's a superior horse. He just needs to bring it one more time."
American Pharoah, the 3-5 prohibitive early favorite in the field of eight, must outlast and out run the rest in the grueling 1 1/2 mile race. Grade 1 Florida Derby winner Materiality is gifted with early speed like American Pharoah and Grade 1 Twinspires Wood Memorial hero Frosted can rate off the pace. Mubtaahij and Tale of Verve figure to be closing late.
"Frosted and Materiality are the key horses to contend with, but I can't worry about Materiality pushing us. When we're going a mile and a half, I just want a clean break," Baffert said.
After California Chrome came up short and missed the Triple Crown last year, his disgruntled owner charged that Tonalist, the Belmont winner, got a lucky break because he and others in the field had skipped the Kentucky Derby and/or Preakness to come into the race fresh, so the rules that have remained in effect since Sir Barton became the first Triple Crown winner in 1919 ought to be revised.
In a far more sporting gesture, Zayat would have none of that. He said he holds the 11 previous winners in the highest regard and the rules should stand as written.
"You've got to earn it," he said adamantly.
* * *
On the eve of the 147th Belmont Stakes, Madefromlucky and Materiality's trainer, Todd Pletcher, reflected on the two horses, Rags to Riches and Palace Malice, that brought him into the winner's circle following "The Test of the Champion."
The filly Rags to Riches was responsible for Pletcher's first Classic win in the 2007 Belmont. The stretch-long battle produced that day by Rags to Riches and the eventual runner-up, Curlin, was one of the most electrifying in the history of the Belmont Stakes, or any race for that matter. Just a head separated the warriors at the finish of the 1 1/2-mile race.
The decision to run Michael Tabor and Derrick Smith's Rags to Riches, whose half-brother, Jazil, won the Belmont Stakes a year before for different connections, was not one taken lightly by Pletcher. The 3-year-old crop of 2007 was one of the best in years. Among the filly's rivals was Kentucky Derby winner Street Sense and Preakness victor Curlin. Hard Spun, second in the Derby and third in the Preakness, was also part of the seven-horse field.
With his heart in his throat, Pletcher watched Rags to Riches, who was ridden by John Velazquez, stumble sharply coming out the starting gate. In that moment, the conditioner believed the Kentucky Oaks winner had lost all chance.
"The first decision was whether or not it was the right thing to run her in the Belmont," Pletcher recalled on Friday morning. "Her pedigree suggested it was, and she was doing well. But it also was kind of a really strong group of colts that year with Street Sense and Hard Spun and Curlin. We monitored how she was doing and how the field shaped up and then we decided to run.
"After spending a lot of time thinking about it she fell on her head at the start, and I thought, 'Great, all this thought goes into whether we are doing the right thing or not, and the race is over in the first stride.' Then when she was able to recover and put herself in position, it was like, this can really happen."
In 2013, Pletcher won the Belmont with Palace Malice for Dogwood Stable, the popular syndicate group headed by Cot Campbell who was one of the trainer's first clients when he launched his career in December of 1995.
"I got a lot of enjoyment out of Palace Malice winning because of the connections and I knew how much it meant to them," Pletcher said. "Palace Malice was a horse we felt was at the top level, but I don't think anybody else really did because he hadn't really done anything to prove it at that point. So that made it gratifying."
Both Madefromlucky and Materiality galloped on the training track Friday morning. They will both walk the shedrow on race day, the trainer said.
In another note from the Pletcher barn, the trainer said that Tonasah, who unseated rider Javier Castellano before the running of yesterday's Astoria Stakes and was scratched, escaped injury following her nearly 10-minute riderless romp around Belmont's main track. Castellano was uninjured.
* * *
If trainer Kiaran McLaughlin's Frosted upsets American Pharoah in the Belmont, it won't come as much of a surprise to those who follow racing beyond the Triple Crown series.
Putting aside Frosted's merits, McLaughlin is currently one of the hottest trainers in the country, winning at a staggering 35 percent clip over the past three months. The run has been so good that after Easy Living notched a particularly fortuitous win, McLaughlin's assistant, Art Magnuson, quipped to the Kentucky-born trainer that they should enter the barn's pony in a race. During the same win, Easy Living's groom, thinking she was beaten, changed the channel and didn't find out until the next day that she had won.
"We've had a great run. There's always a few surprises, a few photo finishes that you get lucky and win, but we've been on an unusually good run," said McLaughlin. "The thing is we were pointing for races in the spring, both at Keeneland and in New York, and it's nice that the races were going. When you can point for races, and don't have to say, 'let's hurry up and run this one,' you often bat at a higher batting average."
It's probably no coincidence that Frosted himself helped set the streak in motion. Following the 3-year-old colt's confounding fourth-place finish in the Grade 2 Fountain of Youth, in which he cruised to the lead leaving the far turn but faded rapidly in the stretch, McLaughlin was forced to hit the drawing board for Frosted's next start, the Grade 1 TwinSpires.com Wood Memorial.
"We changed everything for the Wood; it was a great achievement for our whole team. It was very satisfying because of how many times we watched the replay of the Fountain of Youth and tried to figure out what went wrong; I'd put it in the top five of my career," said McLaughlin.
Frosted, listed as the 5-1 morning-line second choice in the Belmont, had a gallop over the main track on Friday and will do the same on Saturday due to the late post time, according to McLaughlin, who won the race in 2006 with Jazil.
* * *
Preakness runner-up Tale of Verve went out for his final gallop on the Belmont main track Friday morning in advance of Saturday's Belmont Stakes.
The bay colt, who enters the Belmont with only a maiden win to his credit, has impressed his trainer, Dallas Stewart, since arriving in New York.
"He's trained great," said Stewart, who finished second in a Triple Crown race for the third consecutive year. "He's good and healthy, knock on wood, now we just have to go over there and run."
A Charles Fipke-homebred, Tale of Verve finished seven lengths behind American Pharoah in the Preakness over a sloppy track at Pimlico. The 1 ½-mile distance of the Belmont will be crucial to turning the tables on the Triple Crown aspirant, according to Stewart.
"[American Pharoah] always looks great; he's wonderful to watch train. We just have to go out and flat out-run him. That's what it comes down to," said Stewart. "I've always felt [Tale of Verve] wanted to go long. The distance should be fine."
Stewart has saddled four runners in the "Test of the Champion," with his best finish coming with Dollar Bill, who finished fourth in 2001. Most recently, the Kentucky-based horseman sent out Commanding Curve to a ninth-place finish last year. On the eve of the race, Stewart is at peace with his colt's preparation.
"We just do our job - fed him, grazed him, walked him - and we'll do the same thing tomorrow," he said. "I don't think there's anything we can improve on - I've thought about it and thought about it - it all looks good to me at this point. This is our job, we have to go make some money."
* * *
Twice in the last and longest leg of horse racing's Triple Crown, Nick Zito has changed history. On Saturday, the 67-year-old Hall of Fame trainer will be making some history of his own in the Belmont Stakes.
Back in the Belmont for the first time since 2010, Zito will send out his modern-day record 25th horse in the 1 ½-mile 'Test of the Champion' in Mossarosa's Grade 2-placed Frammento, who galloped over Belmont Park's training track for the third straight morning on Friday.
Overall, Zito has finished in the top five with 16 of his first 24 starters, including two wins, seven seconds and three thirds. Both his victories spoiled bids for the Triple Crown that Kentucky Derby and Preakness winner American Pharoah is seeking, as well.
"I think the one thing that we're proud of is our Belmont record is good," Zito said. "This horse is a live longshot and I think he'll get a good piece; that's all you can ask for. If anything crazy happens, that's what you think. I'm in the race because I've got a mile-and-a half-horse. He's got the pedigree, and you can see how cool he is.
"He has improved a lot, that's why I'm feeling good about everything," he said. "You look at the form, and you get scared yourself. You see American Pharoah and you say, 'Who's going to beat this horse?' and there's other nice horses in there, too. They're all good horses."
Zito knows how to beat horses that looked unbeatable in their quest for the Triple Crown. In 2004, he sent out Birdstone to run past Smarty Jones in the last 70 yards and win by a length at odds of 36-1. Four years later, 38-1 Da' Tara wired the Belmont field for a 5 ¼-length victory as Big Brown was eased.
"At the end of the day you look at it and say, 'How could you beat those horses?' Again, it's racing," Zito said. "You've got to play the game and anything can happen in a race. That's why they have a word called 'longshot.' I don't understand why people can't get that in their head, but I'm glad I never listen to them. I'm glad I went forward. At least you made some history, you know? I like training horses for distance and this is a mile and a half. I think we've got a live longshot and I think we'll get a good piece of it. I'm hoping to get a good piece of it."
Though their odds were similar, Zito said he was more surprised with Da' Tara's victory than he was with Birdstone, who went on to win the Grade 1 Travers for owner Marylou Whitney and her husband, John Hendrickson.
"Birdstone had won the [Grade 1] Champagne as a 2-year-old. A lot of people didn't want me to go forward, but I'm glad I did," Zito said. "I'm glad Marylou and John OK'd it. A lot of people, even people that worked for me, were saying, 'You're really going to run that horse?' And I'm like, 'Yeah, I'm going to run the horse.' They were worried about how good Smarty Jones was. If you remember, it looked like he was going to win, but that last quarter mile ..."
Zito has great respect for fellow Hall of Fame trainer Bob Baffert and 3-5 program favorite American Pharoah, who will break from post 5 in the eight-horse Belmont, one spot outside of Frammento, listed at 30-1 on the morning line.
Hall of Fame jockey Mike Smith, a two-time Belmont winner with Drosselmeyer (2010) and Palace Malice (2013), will ride Frammento for the first time.
"[American Pharoah] is a tremendous horse," Zito said. "I hope it'll be a dry track, because it is ridiculous the way he runs on an off track. It's a little scary. I've had horses win major races, one was the Kentucky Derby, on off tracks, but this horse is superior on a wet track. Superior. There's no question."
Zito and Baffert are the only trainers in the Belmont field to win each Triple Crown race at least once. Zito captured the Kentucky Derby with Strike the Gold (1991) and Go for Gin (1994) and the Preakness with Louis Quatorze (1996).
American Pharoah can become the 12th Triple Crown winner and first since Affirmed in 1978 with a Belmont victory. Affirmed was the third horse to sweep the series in six years, following Secretariat (1973) and the undefeated Seattle Slew (1977).
"I know they're comparing him to 'Slew' and horses like that, but that's a long way off yet," Zito said. "Still, if you win the Triple Crown, I guess it's not."