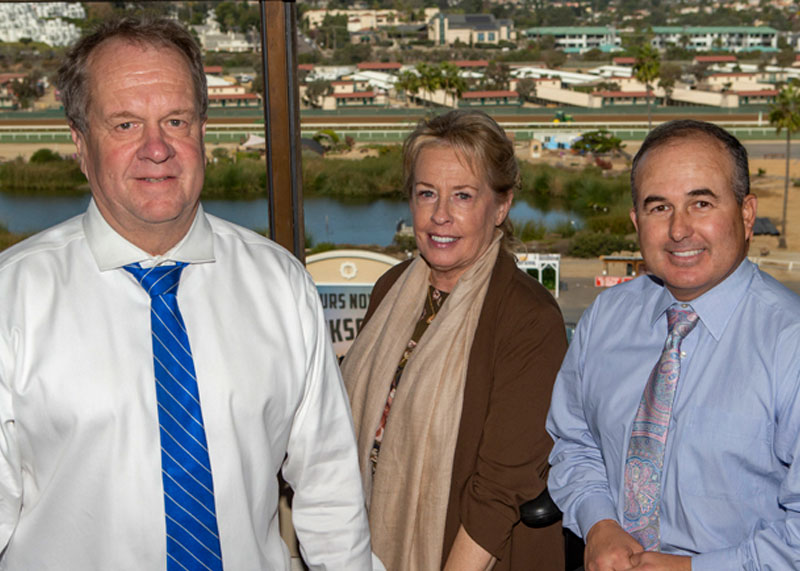 (Left to right) Grant Baker, Kim Sawyer and Luis Jauregui © Benoit Photo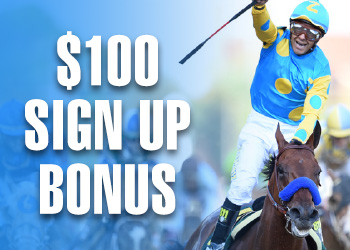 By Hank Wesch
Talk to the three stewards for the Del Mar fall racing season separately and some things they have in common become as glaringly obvious as the INQUIRY sign they light up when duty requires at the end of a race.
They all were either born to Thoroughbred racing or drawn to it at a young age.
They each have hands-on experience in a variety of racetrack jobs encompassing several aspects of the sport.
They all express appreciation and enthusiasm for the jobs they've been called upon to do now.
They're striving to make the correct calls, according to the rules as they interpret them in all cases.
They're not inclined to pay attention to, or stew about, inevitable criticism by trolls on the forums that social media provides.
A look, in alphabetical order, at the specifics in the cases of stewards Grant Baker, Luis Jauregui and Kim Sawyer.
Baker, 62, was born in Oakland, raised in Redding and introduced to racing by his grandparents, Norris and Helen Letsom. They owned horses and Helen worked for the Horsemen's Benevolent and Protective Association.
He attended junior college in the Bay Area for awhile before the lure of the track took hold and he got a job as a hot walker for Dwayne Offield, who's still training in Northern California.
Baker cites six different jobs around the track before he obtained his racing officials license in 1988. He concedes that his grandparents may have had some influence in one of the first ones, working the parking lot at Bay Meadows. "Those were union jobs, good jobs that a lot of people wanted," he says. Beyond that, there was a lot of individual initiative involved.
Officials license in hand, Baker worked jobs such as patrol judge and paddock assistant for several years, then took the California stewards' test and passed in 1997. In order to acquire the experience necessary to work as a steward in California, however, he took positions in Idaho from 1997-2000 and got his first job as a steward in California in 2001.
Baker's assignments have been mostly in the Bay Area or on the Northern California Fair circuit. He worked Del Mar summers in 2006-07 and, after nearly a decade away, has been in the booth here for the last three summer and fall sessions.
"The horses, riders and trainers here are as good as it gets," Baker said. "I've had a fondness for horses from a young age and I love sports in general, all sports. So to be making a living in a sports-related field, especially horse racing, I feel very fortunate."
Fortunate, but also aware of the responsibilities of the job.
"You're in the middle of everything but somebody has to do it, and I'm confident that I have the ability to do it well," Baker said. "Nothing I read outside of work influences anything I do. We are assigned on a yearly basis and my goal is to be rehired next year. As long as I put in a good day's work every day, listen to the licensees and enforce the rules evenly and fairly, I should have a good chance of that happening."
Jauregui, 49, is the son of an exercise rider and his orientation to Southern California tracks and the racing life started at around age three. He embarked on a jockey career in 1988 that lasted nearly two decades and included the highs of nearly 750 wins – some over Hall of Fame riders Laffit Pincay Jr., Chris McCarron and Eddie Delahoussaye whom he regularly competed against – and the lows like a 2005 accident in which he broke his back.
As a way to stay in the game, he took the stewards' exam and passed it while still actively riding and got the call to go to work – if he could do so the next day – while preparing to ride a Friday night program at Hollywood Park on December 15, 2006. He rode the surprise final race of his career that night on a filly named Charmin Dot for trainer Roger Stein. Jauregui got the filly up at the wire for a swansong score that paid $162.60 for a $2 win bet.
Jauregui was a pioneer in the safety steward program, which designates an individual to focus solely on the safety of racing surfaces and riders' use of safety equipment and proper techniques on the track, when it was inaugurated in 2009. He served in that capacity, while sometimes filling in for stewards on race days, for several seasons. It was excellent preparation for the regular role in the booth he first assumed at Del Mar in 2014.
"I can use my expertise from being a jockey to determine whether a fine or suspension is warranted," Jauregui said. "There's a little more stress than being a safety steward, obviously, because things are determined by how you see the rule and how you apply it to the situation. But I'm confident in my ability to do that.
"The feedback I receive from riders, even the ones that come in from out of state, leaves me with the opinion California is stricter with its rules than many other places. The goal is to have good, safe races for the horses and riders and if we apply the rules to assure that happens, we're doing our job.
"It's a tough job. Not everybody is going to agree with our decisions, but we do the best we can. You don't take this job to make friends and get Christmas cards. You do it to protect the horses, horsemen and the betting public."
Sawyer, in her 10th year as a Del Mar steward, started riding horses at the tender age of three, got her jockey's license at 18 and was in the vanguard of female riders breaching a male stronghold from 1970-72.
Her mother, Pat Sawyer, became a trainer and her sister followed in the 1960s, a time "when women weren't allowed in the stable after dark," she recalled. "When my mother got her license, she had to wear a dress in the paddock and she was not allowed to saddle her own horses. That's how times have changed."
Sawyer is the only female steward in a Thoroughbred racing booth in California. There are a smattering of others across the country, but she doesn't consider it to be an issue.
"There's not that many job opportunities like this across the country, especially with racetracks shutting down like they have," Sawyer said. She resides in Redondo Beach and, with the 2013 demise of Hollywood Park what was a short commute during a good portion of the year is a 1 ½-hour crosstown trip, one way, to Santa Anita during the nearly nine months a year of racing there.
But she says of the job: "I still love it."
The rules of racing get changed or tweaked. The rule book is always at hand in the booth. The public is informed whether decisions made after the Inquiry sign is posted are unanimous or not and track announcers provide explanations while the race replay shows on screens around the track.
Times and rules change and stewards must adjust. But the basics remain.
"You always try to treat everyone the same, whether the guy has two horses or 200," Sawyer said.