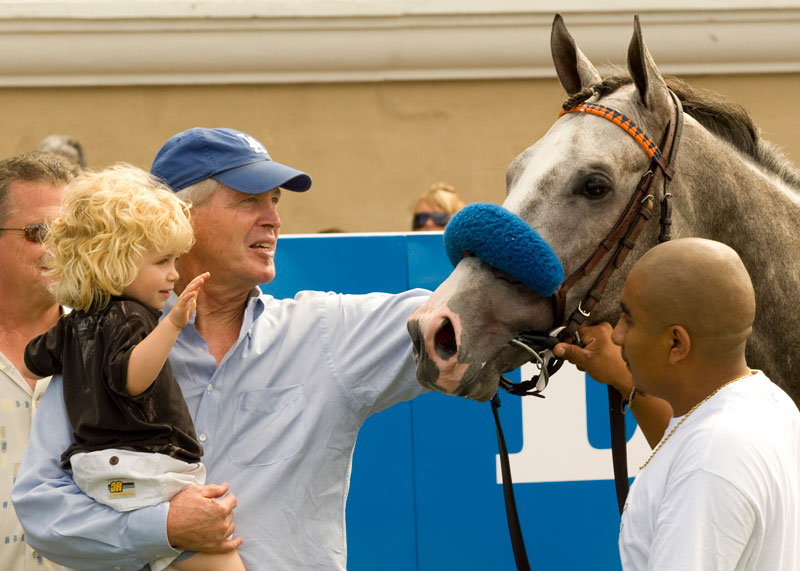 Nick Alexander with Grazen at Del Mar © Benoit Photo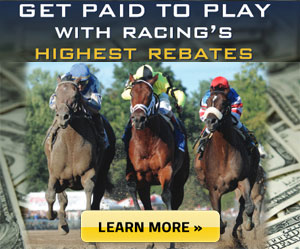 By Hank Wesch
Del Mar is just one of several racetracks in the Golden State with which Thoroughbred Owners of California chairman Nick Alexander must concern himself.
But as the man who would be high on any list of candidates for the title of "Mr. California Racing" reminisces about his past experiences "where the turf meets the surf," and discusses the fall race meeting, the impression given is that the concerns are minimal.
Born and raised in Pasadena, Alexander spent part of the summers of his youth at Del Mar where his parents would rent a beach house and spend racing afternoons at the track.
"I'm not a formal person and the fact you could go to the races in shorts and tennis shoes was appealing to me," Alexander said. "My parents usually wanted to dress up and go to the Turf Club, and sometimes I would go with them. But there were times when we'd go our separate ways."
The trips did ingrain an affinity for racing and a fondness for jockey George Taniguchi, even though there was Bill Shoemaker and other big-name riders to follow.
Alexander, 76, graduated from Pasadena High School and attended USC for two years, but left school to sell Fords, Volkswagens and BMWs before opening his own BMW dealership in 1979 and adding Mini Cooper in 2002.
In what could be considered the Golden Age of radio-TV advertising by auto dealers ("Go See Cal"), Alexander became known through the Los Angeles area for radio campaigns with the catchphrase "Nick Can't Say No."
By coincidence, at the same time his car business was taking off, Alexander decided to get involved in Thoroughbred ownership, buying a quarter-interest in his first horse in 1978.
The first trainer Alexander worked with was Chay Knight, but he was soon introduced to Mike Mitchell, who would include Alexander in partnerships with other clients.
"Mike and I hit it off right away," Alexander said. "I wanted to get into the instant action of the claiming game, which he was very much into and very good at. Mike and I had a couple divorces (break-ups) through the years, but we always got back together."
Mitchell, who died in April of 2015, was Del Mar's all-time leading trainer for wins from 2011-2017 until being passed by Bob Baffert in the summer of 2017. Mitchell still ranks second with 476 wins.
When Mitchell turned over his stable to Phil D'Amato in 2014, Alexander kept his stock with D'Amato or another former Mitchell assistant, Steve Miyadi.
Alexander retired from the auto business, turning it over to his son Nick and daughter Elizabeth, and now concerns himself with the horse business. A 280-acre ranch in Santa Ynez is home to a band of 28 broodmares and their offspring and his primary stallion Grazen.
Grazen, trained by Mitchell, provided Alexander with his first Del Mar stakes win, the 2009 El Cajon. Other stakes winners at Del Mar carrying the Alexander colors have been Sunday Rules (2013 Generous Portion), Enola Gray (2016 Fleet Treat) and Just Grazed Me (2018 Fleet Treat).
"Over the years there has been a transition from claiming to breeding and now 100 percent of the stable is bred on the ranch," Alexander said.
He was sold on the California-bred program when he studied it regarding the first filly he decided to keep for breeding purposes. "It made sense when you consider the bonus money available through it," Alexander said. "It's hard enough to break even in the business, let alone make money, but through it you get checks while giving the horse a chance to develop before going up against open company."
Alexander homebred Enola Gray, the California champion 3-year-old filly of 2016, and Pee Wee Reese are recent graded stakes winners the program has produced. Alexander was the state's No. 2 breeder by money won in 2017.
Enola Gray and Pee Wee Reese are examples of the creativity and cleverness in naming horses that Alexander has engaged in recently.
"Some of it was because it was getting harder and harder to find names that weren't already used or spoken for," Alexander said. "I'm a dyed-in-the-wool baseball fan and if (according to Thoroughbred naming rules) the player had passed away, you didn't have to have permission to use the name."
Hence horses named after Dodger greats Pee Wee Reese and Van Lingle Mungo, among others. "I've quit naming horses after first basemen," Alexander said. "First basemen are notoriously slow runners."
His father was a soldier in World War II and, to honor what has been described as the "Greatest Generation," Alexander has gone to names of people and things associated with the conflict. The biggest attention-grabber from the genre so far has been the fast filly Enola Gray, a twist on the name of the plane that carried the first atomic bomb dropped on Hiroshima that led to a hastened end to the war.
"We tried Enola Gay, but that wasn't accepted, but since she was a gray horse, we submitted Enola Gray, and that was approved," Alexander said.
Alexander has served on the TOC board for six years and is completing his second year as chairman, having succeeded Mike Pegram in December of 2016. The TOC's two main goals, as stated on the website, are to "maximize purses at California tracks and insure the long term stability and growth of racing in our state to give California owners the best possible chance to succeed."
And Del Mar, and the fall meeting in particular, plays a role and is an integral part of the pursuit of those goals.
"Personally, I look forward to it," Alexander said. "The atmosphere is more laid back than in the summer. The lines to the windows are shorter.
"The horsemen like it because there's not as much traffic on the track for morning workouts and the track has been incredibly safe, especially the last couple years.
"A lot of the people who work there, it seems to me, have been there a long time. They enjoy their work, are friendly and outgoing and try their best to make it a good experience for anybody who goes there."
For Nick Alexander at Del Mar, life has come full circle. There's a beach house where he can go with Mary, his wife of 50 years, their children and four grandchildren.
"I can watch the surfers in the morning and my horses in the afternoon," Alexander said. "It doesn't get much better than that."