Materiality Following Familiar Path to Florida Derby Florida Derby Performance to Decide Ami's Flatter's Stakes Future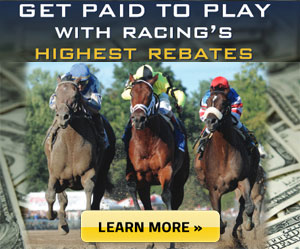 Romans Fillies Facing Off in Gulfstream Park Oaks $500,000 Late Pick,$300,000 Pick 5 Florida Derby Day
HALLANDALE BEACH, FL - Last March, trainer Todd Pletcher showed up in the $1 million Besilu Stables Florida Derby (G1) with a bay colt that was light on experience but heavy on talent. Constitution emerged from a protracted stretch battle with a neck victory in Gulfstream Park's signature race.
Pletcher returns to defend his title on Saturday with a pair of undefeated contenders in Itsaknockout, winner by disqualification of the Feb. 21 Fountain of Youth (G2), and Materiality.
Alto Racing's Materiality has drawn comparisons to Constitution, each being undefeated and neither having raced at 2, making their graded stakes debut in the Derby in just their third lifetime start. Both colts even had their unveiling on the same date – Jan. 11 – one year apart.
A son of Grade 1 winner Tapit, Constitution went from a seven-furlong maiden win to a 1 1/16-mile allowance score prior to the 1 1/8-mile Derby. Materiality, by Preakness (G1) and Belmont Stakes (G1) winner Afleet Alex, debuted at six furlongs then stretched out to nine furlongs to win the March 6 Islamorada Handicap.
"They're both lightly raced, talented horses," Pletcher said. "Materiality got what I thought was a very good race going a mile and an eighth. The time was very solid, so you just hope he has enough seasoning to take that step up into a race like this."
In the $75,000 Islamorada, Materiality sat behind pacesetting Stanford, his favored stablemate, before taking over at the top of the stretch and drawing away to a 5 ¾-length victory over Stanford in 1:49.32.
"For his second start, stretching out to a mile and an eighth and running as fast as he did, I wasn't surprised necessarily that he won, but the convincing fashion that he did and the time of the race," Pletcher said, "I thought it was a 'wow' performance."
Unlike Constitution, who had five weeks between his second start and the Florida Derby, Materiality wheels back in 22 days for Pletcher, who also won the race in 2007 with Scat Daddy.
"It's just kind of the way things unfolded for him," Pletcher said. "We were trying to figure out if we would be better off to wait another week and ship to New York and possibly lose your jockey. Seven days is substantial in one way and yet in another not that big a deal when you factor in the shipping and some other factors."
Thus far, Materiality and Itsaknockout, a nose winner of his Dec. 7 debut, have raced exclusively at Gulfstream Park. Pletcher also has horses pointed to other Triple Crown preps in Kentucky, Louisiana and New York.
"Had we chosen not to run one of these two here, they were going to have to run against a stablemate in one of the other preps," Pletcher said. "It's kind of hard to want to move two horses that are undefeated over a particular surface and look to ship."
Florida Derby Performance to Decide Ami's Flatter's Stakes Future
Heading into Saturday's $1 million Besilu Stable's Florida Derby (G1), Ivan Dalos' Ami's Flatter is sitting 14th with 20 qualifying points for a place in the 20-horse field for the Kentucky Derby.
The Josie Carroll-trained colt would be virtually assured of a Derby berth with a 1-2-3 finish in Gulfstream's signature race, which has produced 57 winners of Triple Crown events.
Even if the son of Flatter holds his own against the likes of Upstart, Itsaknockout and Materiality Saturday, Dalos and Carroll will still take a long hard look at their Ontario-bred prospect's stakes future.
"Mr. Dalos and I talked about it. Of course, we have a horse that's also eligible for the Queen's Plate, which is a million dollars in Canada. His comment to me was: 'We need to decide if he's good enough to be a competitor, as opposed to just showing up (in the Derby).' He said, 'I'd love to see my colors there, but I'd like to see them there with a competitor, not just to be there,'" Carroll said.
Ami's Flatter, who captured his debut at Woodbine last fall, has shown a lot of promise in Florida during the winter, finishing second in the Mucho Macho Man at Gulfstream Park on Jan. 3 before finishing fourth in the Sam Davis (G3) on Jan. 31 and second behind Carpe Diem when equipped with blinkers for the first time in the Tampa Bay Derby (G2) at Tampa Bay Downs on March 7.
Carroll is hopeful that her colt will be suited to the 1 1/8-mile distance of the Florida Derby.
"He's certainly acts like that kind of horse. He's out of a Victory Gallop mare, and Victory Gallop was a Belmont winner," she said. "You hope that means something."
Ami's Flatter is rated fourth in the Florida Derby morning line at 8-1 and is scheduled to be ridden for the first time by Javier Castellano, Gulfstream's reigning three-time champion who captured last year's Florida Derby aboard Constitution.
"From Day 1 we thought he was a decent horse," Carroll said. "Now, we'll find out how decent."
Romans Fillies Facing Off in Gulfstream Park Oaks
Led by 2011 Preakness (G1) winner Shackleford, trainer Dale Romans has had his share of talented 3-year-old males in recent years. In 2010, First Dude ran second in the Preakness and third in the Belmont Stakes (G1).
Multiple Grade 1 winner Dullahan in 2012 and Paddy O'Prado in 2010 both finished third in the first leg of the Triple Crown. Last year, Romans saddled Grade 3 winner Medal Count to a third-place finish in the Belmont.
Though Romans has another solid 3-year-old prospect in Keen Ice, the 2012 Eclipse Award-winning trainer has been blessed this year with several promising sophomore fillies including Birdatthewire, Cristina's Journey and Sweet Swingin, each making their next start in Saturday's $250,000 Gulfstream Park Oaks (G2).
"I've had a bunch of good ones, but this year it's the filly year," Romans said. "That's all right. As long as we've got good ones, I don't care what they are. I've got a good colt, too. I'm just very fortunate right now to have a slew of good fillies. We've got an exciting spring coming up."
Forum Racing's Birdatthewire kicked off her 3-year-old year by winning the Forward Gal (G2) Jan. 24 at Gulfstream in her stakes debut. The bay daughter of Belmont and Travers winner Summer Bird returned to be beaten a neck by long shot Ekati's Phateon in the Davona Dale (G2).
"Her last two races have been unbelievable. She's plenty strong, feeling good," Romans said. "She can be a one-run sprinter or she can run all day. She'll do whatever we ask her to do. She's still developing and coming into her own."
GSN Racing's Cristina's Journey was battle-tested at 2, winning the Pocahontas (G2) in her second lifetime start before finishing off the board in the Breeders' Cup Juvenile Fillies (G1) and Golden Rod (G2). The Oaks will be her first race since Nov. 29.
"We just gave her a freshening," Romans said. "She had a good 2-year-old year. She's a Grade 2 winner. She looks good and is ready to run."
Sweet Swingin is making her fourth start of the Championship Meet. She broke her maiden Jan. 10, was second as the favorite to Dogwood Trail in a Feb. 8 optional claiming allowance, and was a distant but decisive runner-up to Devine Aida in the Herecomesthebride 20 days later, a race originally carded for the turf.
$500,000 Late Pick, $300,000 Pick 5 Florida Derby Day
Florida Derby Day will offer a plethora of wagering options, including guaranteed pools in the Late Pick 4 and Pick 5.
The all graded stakes Late Pick 4, which includes the Besilu Stables Florida Derby (G1), Gulfstream Park Oaks (G2), Orchid (G3) and Pan American (G3), will have a guaranteed pool of $500,000 while the all graded stakes Pick 5, which kicks off with the Honey Fox (G2), will have a guaranteed pool of $300,000.
Gulfstream will also offer a Dubai World Cup-Florida Derby double with a $1 minimum. The Dubai World Cup features Kentucky Derby (G1) and Preakness (G1) winner California Chrome.
Gulfstream will opens Silks simulcast room at 8 a.m. Saturday so fans can watch and wager on the Dubai World Cup program. Gulfstream will offer advance wagering on Saturday's entire program Friday beginning at noon.