Eminencia to Make United States Debut in Miss Patty Gulfstream To Offer Two Lasix-Free Races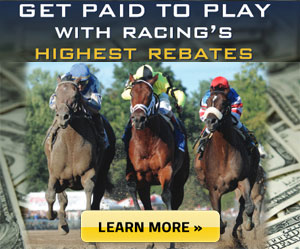 Speechify Sidelined For Summer
HALLANDALE BEACH, FL – A Grade 3 winner in Panama, Eminencia will look to prove herself on American soil in Saturday's $60,000 Miss Patty Handicap at Gulfstream Park.
The 3-year-old daughter of Big Brown joined trainer Phil Gleaves' barn this spring after making 10 starts in Panama, including a 7 ¾-length triumph in the Cuerpo de Bomberos (Pan-G3) last November and a second-place finish in the Jose Antonio Remon Cantera (Pan-G3). A Kentucky-bred, she will return to her American roots Saturday, but she will do so on a new surface, as she will also make her turf debut in the 1 1/16-mile contest for Bartolome Mafla Herrera.
"She came in about six weeks ago," Gleaves said. "We'd had known about her imminent arrival for quite some time, so we've been watching her races closely in Panama. She's a great big filly and looks like a filly that wants distance, and I had a sense that with her action and her pedigree that she might relish turf. I suggested that to the owners, and they were in agreement, and she will make her turf debut here on Saturday, because there's no turf racing in Panama."
Eminencia will face six rivals in the Miss Patty, including the top four finishers from a competitive turf allowance on May 23: the Jose Pinchin-trained Cosmic Harmony, who scored a two length, wire-to-wire victory; The 3 Marias Racing Stable's Afleet Mary; the lightly-race Susie Bee, owned by Calumet Farm and trained by Mike Maker; and Like a Queen, who, like Afleet Mary, is trained by Antonio Sano.
The field also includes Great Majestic, who will debut for trainer Jose Garoffalo after winning two straight starts in Louisiana. Recent maiden winner Westminister Road rounds out the field.
Gulfstream To Offer Two Lasix-Free Races
Gulfstream Park will offer horsemen two Lasix-free races in its next condition book.
The races, one for 2-year-old colts and one for 2-year-old fillies, will be contested at 4 1/2 furlongs and are scheduled for July 18 and 19.
Gulfstream's July schedule also includes the $1.175 million Summit of Speed on Sunday, July 5. The nine-race program includes four graded stakes including two Breeders' Cup Challenge Win and You're In races, the $250,000 Princess Rooney (G2) for fillies and mares at six furlongs and the $250,000 Smile Sprint (G2) for 3-year-olds and up at six furlongs.
Speechify Sidelined For Summer
Team Valor International's Speechify, winner of Gulfstream's Mr. Prospector Stakes (G3) during the 2014-2015 Championship Meeting, has been sidelined after suffering a suspensory injury, according to trainer Ralph Nicks.
"He's got a little suspensory tag," Nicks said, "so he's out for the summer."
A 5-year-old son of Harlan's Holiday, Speechify has become popular for his diet of "soup," as the dark bay has a restricted esophagus and cannot eat solid foods. The Kentucky-bred hasn't let his debilitation slow him down, as the tenacious sprinter has sped off to victories in five of 10 starts, earning more than $200,000. He's also shown an affinity for both surfaces. Although his lone graded stakes triumph came on dirt, Speechify had been pointing toward a summer campaign in turf sprints after finishing a strong second in a turf allowance at Gulfstream on April 16, when he was beaten just ¾-length despite encountering a troubled trip.
"He'll miss 60 days and then he'll be back in training. It's nothing major, nothing career ending, just a little setback," Nicks said.
In addition to his Mr. Prospector victory, Speechify also won the Kenny Noe Jr. Stakes last fall at Gulfstream Park West and finished third in the Gulfstream Park Sprint Stakes (G3) in February. He has hit the board in eight of 10 starts, all of which have come at Gulfstream or Gulfstream Park West.