Castellano Looks for First Florida Derby Jerkens Sends Out House Rules In Oaks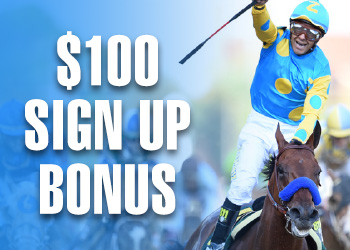 Velazquez Does Homework for Wildcat Red
HALLANDALE BEACH, FL - Javier Castellano has had a pretty good winter. He captured his first Eclipse Award as champion jockey, set a North American record for single-season purse earnings, and broke his own record in becoming just the second rider to claim three consecutive Champions meet titles at Gulfstream Park.
On Saturday, the 36-year-old Venezuelan goes after the biggest prize that has eluded him in South Florida, where he kicked off his career in 1999 – the $1 million Besilu Stables Florida Derby (G1), Gulfstream's signature race.
Castellano debuted in the Florida Derby in 2002, running sixth on the Shug McGaughey-trained D'Coach. He is winless in five tries since, the most recent being his best finish, a fourth-place effort on El Padrino in 2012.
"I have never won the Florida Derby and this is where I started, in Florida," Castellano said. "One thing I want to get done is the Florida Derby, and I think I have the opportunity this year to win the race. I can't wait. I'm looking forward to that moment, and I think I have a big chance to win the race."
Castellano will be aboard unbeaten but lightly raced Constitution in the 1 1/8-mile Florida Derby. Trained by Todd Pletcher, Constitution has won both his career starts this winter, each at Gulfstream, most recently an 8 ½-furlong optional claiming allowance on Feb. 22. In each of his races, the Tapit colt has raced on or near the lead.
"Of course experience helps, but you never know," Castellano said. "There's a lot of speed in the race and to me it looks like they are going to go a little bit fast and he's going to settle off. One thing you need to do is try to be smart and in the right place to make your move."
One of two Florida Derby horses making his stakes debut, along with long shot Allstar, Constitution will break from post four in a field of eight that includes graded stakes winners Cairo Prince, Wildcat Red, Spot and Gulfstream Park Derby winner General a Rod.
"I think it is a great post," Castellano said. "I have a lot of confidence in my horse. I know he's only run two times but he's a young, developing horse and I really liked the way he did it last time. We stretched him out two turns and he handled it so well. I think he's got a lot of potential. I know you have to compare him with those Grade 2, Grade 3 horses, but I have a lot of confidence. I believe in my horse. I think it's going to set up perfectly for him. They're all very competitive horses and I think he can put himself in good position."
Perhaps the most unique perspective on the Florida Derby field belongs to Castellano, who has ridden half the contenders. In addition to Constitution, he piloted Wildcat Red to a head victory over General a Rod in the Hutcheson (G3) on Feb. 1, and was second by the same margin to Wildcat Red aboard General a Rod in the Besilu Stables Fountain of Youth (G2) on Feb. 22.
Castellano also was aboard Allstar for his second lifetime start, a maiden claiming race on the Gulfstream turf on Jan. 4, and was the regular rider for injured Honor Code, who handed Cairo Prince his only career defeat by a nose in the Remsen (G2) at Aqueduct on Nov. 30.
"That's going to be a huge advantage for myself in how I need to make any decision in the race as soon as they open the gate," Castellano said. "I know most of the horses, even Cairo Prince. We hooked up a couple times together in New York and I know his style and how he likes to run and his best place to move. I think it's going to help give me more of an idea of when I have to make a good decision in the race."
Jerkens Sends Out House Rules In Oaks
Among the chief contenders in the $300,000 Gulfstream Park Oaks (G2) is House Rules, who will be making her fifth start of the Champions Meet for owner Joseph V. Shields Jr. and trainer Allen Jerkens. The daughter of Distorted Humor has progressed strongly since arriving in South Florida, finishing second to subsequent stakes winner Please Explain in an 8 1/2-furlong maiden on Dec. 19 before trumping another talented filly in Lucky for You by 5 3/4 lengths in a one-mile maiden at Gulfstream on Jan. 17.
"She's improved steadily and we're hoping she can keep it up on Saturday," Jerkens said.
House Rules stepped up in company for the Davona Dale Stakes (G2) on Feb. 22 and chased home the brilliant Onlyforyou on her way to a runner-up finish. The Davona Dale was run at 8 1/2 furlongs, and Jerkens has sent his charge out for a pair of stamina-building breezes in anticipation of the the nine-furlong Oaks. House Rules worked six furlongs in 1:13 3/5 on Mar. 16 and came back to go seven panels this past Monday.
"She ran a mile-and-a-sixteenth pretty well last time," Jerkens confirmed. "I think with that race behind her and (the fact that) we worked her long a few times, she should be able to go the distance."
Jerkens and Shields have teamed up with several successful runners in the past, including 1998 Jockey Club Gold Cup (G1) hero Wagon Limit and the 2003 Personal Ensign Handicap (G1) winner Passing Shot. The New York natives also fielded Any Limit, a two-time winner of the Hurricane Bertie Stakes (G3) at Gulfstream Park.
Jerkens became involved with Shields, an investment banker, while participating in another equine activity.
"We were playing polo together at the time at Meadowbrook Club (on Long Island)," Jerkens recalled. "He had horses with other people before. I've been training for him for about 25 years."
Shields purchased House Rules through his friend and advisor Leverett Miller for $90,000 as a yearling at Keeneland. The 3-year-old filly is the first foal from Teamgeist, who won several stakes races in her native Argentina before finishing third in the Spinster Stakes (G1).
Jockey Alex Solis has ridden House Rules in each of her last three outings and will be aboard once more in the Gulfstream Park Oaks. She is 3-1 on the morning line.
Velazquez Does Homework for Wildcat Red
On the morning of the post position draw for Saturday's $1 million Besilu Stables Florida Derby, trainer Jose Garoffalo and Hall of Fame jockey John Velazquez had their first conversation about Wildcat Red.
Velazquez will ride the multiple Grade 2 winner for the first time in the Florida Derby, Wildcat Red's seventh lifetime start – all at Gulfstream Park.
"He impressed me because he was very happy, very optimistic about the horse," Garoffalo said. "He already saw videos of the horse, and he knows how to ride a horse. We haven't talked yet after the draw, but post position isn't going to be an issue. It could be in favor of us. I'm going to talk to him before the race, but I don't have too much to tell him. He knows what to do."
Entering Thursday's card, the 42-year-old Velazquez had 19 wins and purses of nearly $1 million from 94 starts at the Champions meet since returning from injury in late January. He underwent emergency surgery to remove his spleen following a spill in the Breeders' Cup Juvenile Fillies on Nov. 2.
"It's a lot of homework. You have to do the homework first," Velazquez said. "You talk to the trainer and see what they want to do in the race, but for the most part you have to put in your own input, as well. In these big races, you have to meet in the middle with the trainer and the instructions and hope everything works out. You can't just throw Plan A out there and if it doesn't work, then you have to change it. You have to meet in the middle, because it doesn't always work out."
Wildcat Red will break from the rail in the eight-horse field. Through March 25, post one produced the second-most winners in dirt route races at the meet at 16 percent (25-for-165). The most successful post is No. 2 (35-165, 21 percent), which will be occupied by Matator in the Florida Derby.
"He's quick enough; I just hope that he behaves well in the gate and breaks good enough to be in a comfortable position," Velazquez said. "If nobody goes, he's probably going to be on the lead, anyway. If somebody goes crazy, I can sit second or third. That would be the best-case scenario, that I can save him for the end and have something to fight with."
Wildcat Red has shown a tenacity to match his talent, evidenced by a head victory over General a Rod in the Besilu Stables Fountain of Youth (G2) on Feb. 22 where he also broke from the rail, and a head loss to General a Rod in the Gulfstream Park Derby on Jan. 1.
"You see the statistics, the one is a very good post position," Garoffalo said. "We'll see what happens. He proved that he likes the inside. The last race he went inside all the way and he made it. When you get post position one, you depend on the break. That's going to be the key of the race. But he always breaks good and he's got speed, so I don't think it's going to be a big deal."
Velazquez has won the Florida Derby twice, with eventual Kentucky Derby winner Orb last year and Quality Road in 2009.
"It's a great prep going to the Triple Crown, a very important race," he said. "A lot of good horses come from here. I just hope that I am the one that wins it again."