Garoffalo's Budget Just Right for Wildcat Red East Hall Looking to Rebound in Besilu Stables Florida Derby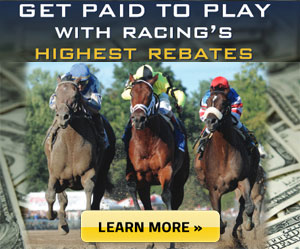 Maker to Rosario: "Get to the Wire First"
HALLANDALE BEACH, FL - Given a strict budget for the Ocala Breeders Sales Co. 2-year-old in training sale last March, trainer Jose Garoffalo wasn't sure what he would be able to afford.
Husband-and-wife owners Salvatore Delfino and Josie Martino of Honors Stable Corp. wanted Garoffalo to find them a colt to race, having already had success with the filly Trippi Honor.
It wasn't long before Garoffalo found the horse he wanted, but didn't think his maximum allowance of $30,000 was going to be enough to get him.
"I was worried about that. I was thinking we couldn't buy the horse because we had a very limited budget, but we got lucky," he said. "Things happen for a reason."
The hammer went down at exactly $30,000, and Garoffalo had a son of Grade 1-winning sprinter D'wildcat with what he felt was a bright future. His foresight has proven correct, as Wildcat Red has won back-to-back graded stakes at Gulfstream Park and earned $490,850.
On Saturday, Wildcat Red will be one of the favorites for Gulfstream's signature race, the 63rd running of the $1 million Besilu Stables Florida Derby (G1). He is second choice in the program at 3-1 behind 9-5 favorite Cairo Prince.
"The first thing that I saw was his attitude," Garoffalo said. "He was a very, very calm horse, a very focused horse. Despite being around a lot of horses and a lot of noise because of the sale, he kept his attitude, his calm. He was very smart, looking at everything. He had a good-looking body, very muscular, very athletic. I saw the video and that caught my attention, too. He was very straightforward."
Wildcat Red has run exclusively at Gulfstream, winning his unveiling by eight lengths on Sept. 14. He beat winners at first asking the next month and finished first in the Juvenile Sprint Stakes on Nov. 9, but was disqualified for interference in the stretch and placed second.
Second by a head to Florida Derby rival General a Rod in the Gulfstream Park Derby on Jan. 1, Wildcat Red swept the seven-furlong Hutcheson (G3) and 1 1/16-mile Besilu Stables Fountain of Youth (G2) 21 days apart in February.
"From day one he always showed the class, the quality, since his first time on the track," Garoffalo said. "We just had to educate him a little bit, relax him a little and teach him how to be a racehorse. But he did everything right and he is the horse he is now."
East Hall Looking to Rebound in Besilu Stables Florida Derby
East Hall finished a never-threatening eighth in the Tampa Bay Derby (G2) while turning in the only bad performance on dirt since the son of Graeme Hall broke his maiden by 4 ½ lengths at Gulfstream Park last October. The poor showing at Tampa on March 8 will likely cause some handicappers to quickly dismiss him as a contender in Saturday's $1 million Besilu Stables Florida Derby, but they should be aware that the Florida-bred colt came out of that race with an issue.
"We weren't planning on going because we encountered a minor injury in Tampa that turned into an infection in a little cut in his ankle. He got bounced sideways in Tampa and that's why he ran so poorly there," offered trainer Bill Kaplan, who trains East Hall for Jack Hendricks and Roger Justice. "We doctored that and he healed real quickly and he breezed really good. He's doing great. We're throwing out Tampa, legitimately, because he encountered a problem in the Tampa Bay Derby. We're giving him another chance here."
After breaking his maiden impressively in October, East Hall finished off the board in the $100,000 Juvenile Turf before winning an entry-level allowance by disqualification after being impeded in the stretch. The 3-year-old gelding came right back to finish third behind General a Rod and Wildcat Red in the one-mile Gulfstream Park Derby on Jan. 1 before running in the $100,000 OBS Championship, in which he closed with a rush to finish third, a neck behind the winner, after racing extremely wide.
On. Feb. 22, East Hall closed from last to finish fourth behind Wildcat Red, General a Rod and Top Billing in the $400,000 Besilu Stables Fountain of Youth (G2).
"He was in an outside post in a large field. We had to take all the way back to last. We were last from the middle of the backstretch and he moved steadily from the half-mile pole and was finishing best of all at the end," Kaplan said. "He showed his tremendous capabilities. He has great endurance and he is a great finishing horse."
Following his subpar showing at Tampa Bay Downs, Kaplan had planned to point East Hall to the Blue Grass Stakes (G1) at Keeneland April 12. After East Hall's ankle issue healed quickly, his trainer opted for the Florida Derby.
"It was coming up a shorter field and it's his home course that he loves. He's won here. He ran well in both of his last two races; he ran third in the Gulfstream Derby and fourth in the Fountain of Youth," Kaplan said. "We decided this was his best spot for Derby qualifying."
Juan Leyva has the return mount.
Maker to Rosario: "Get to the Wire First" Though Joel Rosario will have never been aboard General a Rod prior to Saturday's $1 million Besilu Stables Florida Derby (G1), trainer Mike Maker won't have much in the way of instruction for the most successful Dominican jockey in history.
Rosario will be the fifth rider in as many starts for General a Rod, who will break from post six in the eight-horse field. Most recently, he finished second in the Besilu Stables Fountain of Youth (G2) under Javier Castellano, who is committed to ride Constitution in the Florida Derby.
"Joel's ridden plenty for me, so I'll give him a leg up and say, 'Good luck,'" Maker said. "He'll say, 'Any instructions?' and I'll tell him, 'Get to the wire first.'"
Rosario is coming off a 2013 where he became the first jockey to win the Kentucky Derby (G1) and Dubai World Cup (G1) in the same year. He won 275 races, 30 graded stakes and a career-high $21.5 million in purses, and was a finalist behind winner Castellano for the Eclipse Award. At the current Champions meet, Rosario is second with nearly $2.7 million in purses and fourth with 54 wins from 356 mounts.
General a Rod has two wins and two second in four lifetime starts, beating Wildcat Red by a head in the Gulfstream Park Derby on Jan. 1. He broke his maiden on Keeneland's Polytrack in his debut last October, and was second in an entry-level allowance at Churchill Downs on Nov. 30.
"He's never shown that quick turn of foot. He's shown a lot of grit and he's grinding, grinding, grinding. When the distances increase, I think that's only going to help him," Maker said. "He has been a little bit (under the radar). He hasn't had much attention up to this point, but hopefully after this race he gets a lot of attention."