Rainbow 6 Carryover Tops $3.5 Million for Friday's Program Super Hi-5 Carryover of $3,766 for Friday's Opener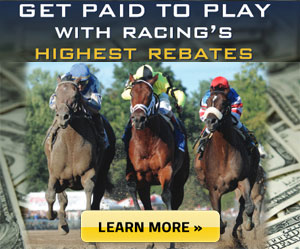 Castellano Reaches 100-Win Mark for Fifth Consecutive Winter Cutler Bay, Sanibel Island Stakes Draw 63 Nominations
HALLANDALE BEACH, FL – There was no unique winner of the 20-cent Rainbow 6 on Thursday, leaving a jackpot carryover of $3,502,617.35 for Friday's 11-race program.
But it wasn't without a few anxious moments.
Four of the 11 horses going into the 11th race finale were live to take down the jackpot including With a Kiss, who was caught in deep stretch by Sweet Madea and finished second.
First race post time is 12:35 p.m.
A total of $469,807 was wagered Thursday into the Rainbow 6, which had no tickets sold with all six winners. Tickets with five of six winners returned $584.54.
Since last being hit for $76,799.38 by one lucky bettor on Jan. 13, the popular multi-race wager has gone unsolved for 46 consecutive programs. The largest payout of the current Championship Meet, which opened Dec. 5, was $262,634.84 on Jan. 7.
Late longtime thoroughbred owner Dan Borislow hit the biggest Pick Six in history when he took down Gulfstream's Rainbow 6 on May 25, 2014 for $6,678,939. The previous Rainbow 6 record of $3,591,245.44 was solved by a New Jersey bettor on Feb. 22, 2013.
The carryover jackpot is only paid out when there is a single unique ticket sold with all six winners. On days when there is no unique ticket, 70 percent of that day's pool goes back to those bettors holding tickets with the most winners, while 30 percent is carried over to the jackpot pool.
If the Rainbow 6 continues to go unsolved, there will be a mandatory payout on March 26.
Castellano Reaches 100-Win Mark for Fifth Consecutive Winter
Three-time defending Eclipse Award-winning jockey Javier Castellano rode his 100th winner of the Championship Meet when he rallied He's Cotton ($5.40) past 7-5 favorite Golden Ray in Thursday's fourth race.
On his way to an unprecedented fifth straight Championship Meet title, the 38-year-old Castellano became the first jockey in Gulfstream history to reach the century mark with 112 in 2012-13. He won 100 races in 2012-13, a record 132 in 2014-15 and 114 last winter.
Paco Lopez is the only other jockey to hit triple digits in wins during the Championship Meet, finishing with 103 in 2013-14.
Castellano finished Thursday with four winners to give him a 102-77 edge over runner-up Luis Saez at the current stand.
"It takes a lot of work, a lot of dedication and a lot of help. Everybody put in a little something to help me get to the level where I am," Castellano said. "I'm very fortunate to be here in South Florida. It's a great meet and I'm very proud to participate with the best jockeys in the country. It's a great colony. It's been a lot of hard work but it pays off. The last few years to be able to win 100 races is amazing. My agent, Matt Muzikar, does a great job to handle the business the way he does. I'm very fortunate. It's a great achievement."
Cutler Bay, Sanibel Island Stakes Draw 63 Nominations
A total of 63 horses were nominated to a pair of one-mile turf stakes, $75,000 Cutler Bay for 3-year-olds and $75,000 Sanibel Island for 3-year-old fillies, to be run March 26 at Gulfstream Park.
Heading the Cutler Bay nominees are Dania Beach (G3) winner Life Imitates Art and Kitten's Joy Stakes winner J R's Holiday, whose victories came earlier at the Championship Meet, as well as With Anticipation (G2) winner Azar , stakes winners Extinct Charm, Oscar Nominated and Two Step Time, and graded stakes-placed Giant Run, Ousby and Unbridled Daddy.
The Sanibel Island attracted 35 nominations led by Grade 3 winner Harmonize; Lira, winner of the Ginger Brew Jan. 2 and Andreya's Reward, who took the Our Dear Peggy Stakes last October, both at Gulfstream Park; multiple stakes winner Pancake; stakes winners Lookout Sister, Shake Down Baby, Trini Brewnette and Vieja Luna; as well as graded stakes-placed Spinamiss, Thrilled and Time and Motion.
Who's Hot: In addition to He's Cotton, Castellano also won with Quiet Force ($4) in the third race, Welcome Speech ($9.80) in the 10th and Sweet Madea ($8.80) in the 11th. Paco Lopez posted a riding double with Offlee Brawn ($5.40) in the fifth and Exchanging Secrets ($10) in the ninth.
Rainbow 6 Carryover: $3,502,617.35
Super Hi-5 Carryover: $3,766.71 (first race)