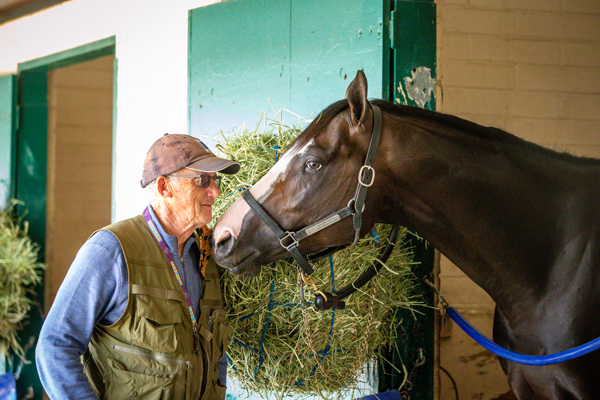 John Shirreffs and Honor A.P. © Zoe Metz Photography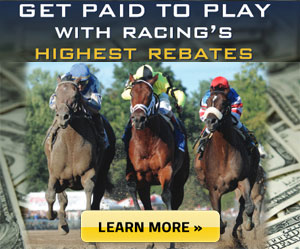 By Hank Wesch
Del Mar will be the venue for a Kentucky Derby prep race Saturday, the $100,000 Shared Belief Stakes.
Weird, right?
"Nothing feels weird this year, weird is the norm," said John Shirreffs, trainer of 8-5 morning line favorite Honor A.P.
Amen to that.
Back on March 30, Churchill Downs announced that, in light of the COVID-19 pandemic, the Run for the Roses – a worldwide sports calendar fixture on the first Saturday in May – would be moved to the first Saturday in September for its 146th running. Likely a somewhat unsettling announcement to many trainers with Derby candidates in their stables. But, of course, not to Shirreffs.
"It didn't require any big adjustment," Shirreffs said matter of factly – his personal preference default attitude on most matters. "We waited for the San Felipe and then the Santa Anita Derby, which was the regular plan."
Honor A.P., a son of Honor Code and grandson of champion A.P. Indy, made his racing debut at 6 furlongs with a fast-closing runner-up finish at Del Mar on August 17 of last year. Stretched to a mile two months later, he was a 5 1/4 –length winner at Santa Anita to end a 2-year-old campaign that, while brief, caught the eye of Derby watchers.
He was second to Authentic in the Grade II, 1 1/16-mile San Felipe on March 20, beaten 2 ¼ lengths, but turned the tables in the COVID-delayed, 1 1/18-mile Santa Anita Derby on June 6, winning by 2 ¾-lengths.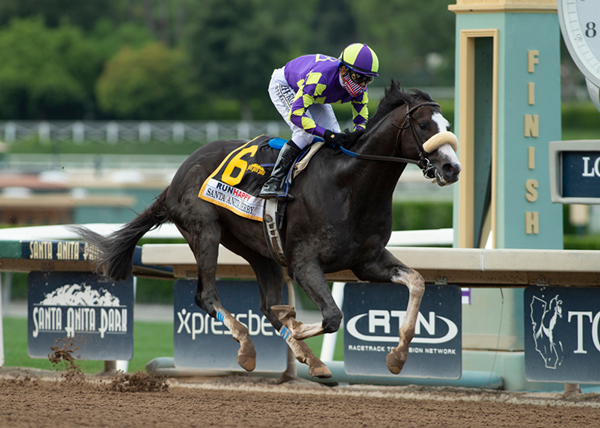 Honor A.P. Wins Runhappy Santa Anita Derby © Benoit Photo
The win elevated Honor A.P. to the top, or near it, on Derby Watch lists. But it necessitated a decision for Shirreffs and owners C R K Stable of Lee and Susan Searing of Arcadia, CA, regarding the next stop on the Derby trail. Go east for one of several large-purse races or stay in Southern California for the Shared Belief?
In anticipation of being a Derby prep -- one that would offer Derby "points" (50-20-10-5 to the first four finishers) -- the Shared Belief had been moved back a few weeks on the Del Mar scheduled and advanced from a mile to 1 1/16 miles in distance. The next race call went to the Shared Belief.
Honor A.P. has worked four times over the Del Mar surface and Shirreffs said: "I think he's coming into this race as well as he was for the Santa Anita Derby."
Hall of Fame jockey Mike Smith, aboard for all four of Honor A.P.'s starts, describes him as a "big, strong, developing colt," who could wind up benefitting from the delay of the Derby with the extra time for maturity and experience.
Shirreffs says: "He's got a great stride on him and he's light on his feet. My job is finding ways to get him to relax; to learn a little more race by race."
Shirreffs trained the colt's dam, Hollywood Story. "That gives me an emotional connection," he said. "But I really benefit from training his sister Hollywood Girl. That helps a lot because they're alike in that they're really competitive and have similar dispositions."
Honor A.P. has reunited Shirreffs and Smith for a third Derby run in the past 15 years. In 2005, they combined for a victory in Louisville on 50-1 Giacomo, to that point the second-biggest longshot winner in Derby history. Giacomo paid $102.60 to win and was the front of a superfecta that returned more than $1.7 million.
Giacomo had finished fourth in the Santa Anita Derby a month earlier and was part of a crop of California 3-year-olds that was largely dismissed as contenders.
"(Giacomo) had run a creditable Santa Anita Derby but he hadn't won any of the preps," Shirreffs recalled. "Mike was the one who encouraged us to go on; he thought he'd do better at the mile and a quarter."
Unlike the betting public, Smith was sold on Giacomo – owned by recording executive Jerry Moss and his wife Anne and named for the son of the musician Sting.
"I really believed going in that he had a good shot," Smith remembered. "I told everyone I knew 'Don't leave him out.' I knew the mile and a quarter would be right up his alley."
A stone closer, Giacomo was 17th of 20 in the early going, well off a blistering pace, but stormed down the stretch to win by a half length and provide Smith with his first Derby victory in his 12th start.
"None of the Southern California races set up for him," Smith said. "He ran in a tough year and didn't get credit for being as good as he was. But he was a really good horse. For him to come back (to Del Mar) the next year and win the San Diego Handicap was really something."
Giacomo went into the 2006 San Diego Handicap winless in four starts following the Kentucky Derby. He was the sixth Derby winner to race at Del Mar, but only fourth choice in a field of eight at 5-1 on the morning line. Reminiscent of the Derby, he made a gritty stretch run and prevailed over Bob Baffert trainee Preachinathebar by a head in the final jump.
"He might have redeemed himself today. And he might have redeemed me too," Smith said after the race.
"It was like the Derby again wasn't it," Shirreffs said. "He won the Derby, so anything (negative) anybody said about him has gone in one ear and out the other."
The win by Giacomo was the 15th of a now 70 total stakes victories in 19 seasons at Del Mar, 10th all time, for Smith. It was the fifth stakes win for Shirreffs, who has added 11 more in subsequent years, three of them coming in consecutive runnings of the Clement L. Hirsch (2008, '09, '10) by his marvelous mare Zenyatta.
What does Smith think of riding in a Kentucky Derby prep at Del Mar?
"It's very different, but this has been a very different kind of year," the rider said.
That makes it unanimous.