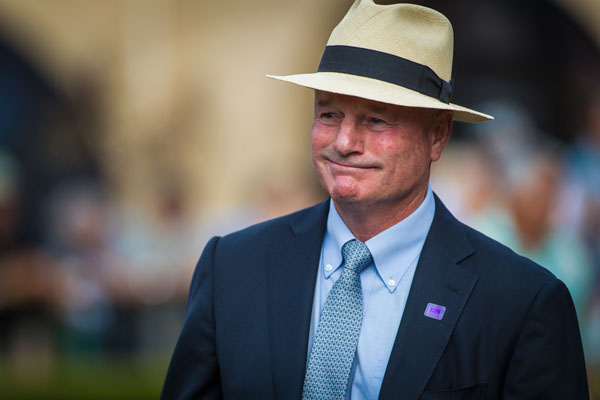 Trainer Richard Mandella © Del Mar Photo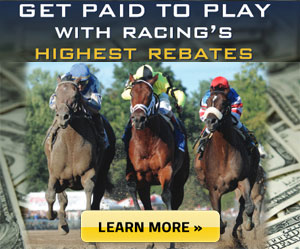 By Mac McBride
"I've got a lot of experience with disappointments. This game will do that to you."
- Mel Stute, retired horse trainer
Mr. Horse Trainer, please sit down. We'd like you to meet Mr. Big Disappointment. You two are going to be running mates – probably for the rest of your lives.
In the very nature of the business of horse racing, no party is pummeled more often, for more extended periods of time, with virtual assurance that adversity will happen again and again, then horse trainers. It comes, as they say, with the turf.
If you're a pessimist and you think you might want to train horses, you had better think again. And even if you're an optimist and you think you might want to train horses, you'd better know that your very core is going to be tested on an assuredly regular basis that doesn't allow for much in the way of reaffirmation of who you really are, or who you'd like to be. If you're a horse trainer, body blows land almost daily. You get to roll with them, or you get to get knocked down and stepped on.
Richard Mandella can tell you something about being a horse trainer. That's been his trade for more than 45 years now and he's better than average at it – way better, in fact. They don't put you in racing's Hall of Fame unless you've put together an exceptional resume and his is as long as a horse's leg – all four of them.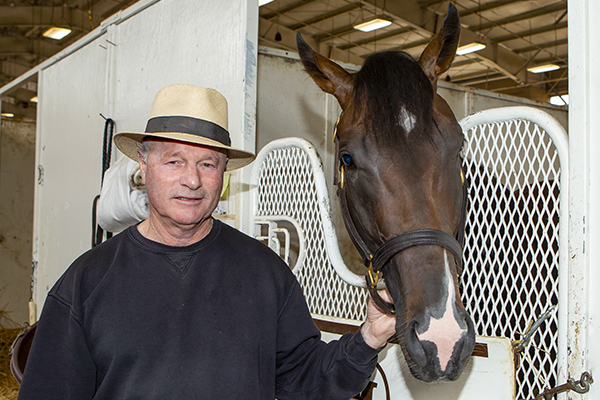 Trainer Richard Mandella and Omaha Beach © Benoit Photo
So, Mr. Mandella and Mr. Big Disappointment have been on a chatting basis for quite some time now, though never more so than this past May in Kentucky. The conditioner took a marvelous racehorse named Omaha Beach to Churchill Downs in hopes of winning racing's ultimate glamour prize – the Kentucky Derby. All indications – especially the telling morning line – said he would. And then disaster – hello there, Mr. B.D. – struck. The discovery of an entrapped epiglottis, of all things, on Wednesday of Derby Week put the kybosh to the bed of roses that seemed assured and Mandella – a strong man with a world of experience dealing with misfortune – admitted, briefly, to being "devastated."
Still, after a hard day and a long night, he stood before a large Media contingent the next morning and went through a heavyhearted press conference with such class and grace – talking primarily about his horse's wellbeing and his concern for his owner and breeder – that even some hard-edged turf scribes were seen shaking their heads in a case of silent awe. Among other things, he evoked the oh-so-true Mel Stute line that started this piece off.
(Further, Mandella displayed his deep and dry wit in the midst of all the unhappiness that morning when he got off a line about "Aw, I just rolled with it,"-- following one of the Media types asking him about how he was able to deal with a blow that hard -- "other than when I tried to jump out of the hotel window last night before Randi (his wife) grabbed my wrist and held me back.")
| | | |
| --- | --- | --- |
| Jeff Mullins | Neil Drysdale | Bob Baffert |
Mr. Big Disappointment has thrown Kentucky Derby mud into the laps of other Del Mar trainers, too. You may recall the race favorite I Want Revenge in 2009 having to be scratched the morning of the classic. His trainer, Jeff Mullins, does – and always will.
"I remember coming up to the barn Derby morning and seeing him getting cold water hosed on his legs and I could see something was wrong," the 38-year-veteran of the training wars recalls. "I got this sick feeling in my stomach. And then it only got worse from there."
I Want Revenge had heat in his left front and had to be withdrawn from the race. Mr. B. D. had scored another one.
In a game where a trainer is doing very well if he's winning at a 20% clip, how does a guy like Mullins deal with typically losing four out of every five races he enters?
"You try to take in all the factors," he says. "Sometimes you'll put your horse in a race – for whatever reason -- that you know he probably won't win. Sometimes things happen during a race that are beyond your control that wind up beating you. Sometimes horses just don't do what you expect them to do and you can't figure out why. You have to learn to accept all those things.
"But in the end, it comes to this: You have to learn how to lose."
Another Hall of Fame trainer from these parts, Neil Drysdale, has been putting horses through their paces for more than 44 years. So, naturally enough, he's seen his share of woe. He surely recalls the 1992 Kentucky Derby and his exceptional horse A.P. Indy, the morning line second betting choice in that edition of the Run for the Roses. What comes back most of all -- despite some heroic efforts -- is having to scratch him the morning of the race.
When Drysdale was asked this week about A.P. Indy's Derby and what he recalls about his mindset that morning, he states:
"My thought process was, quite simply, 'What am I going to do next?'"
(More than a few should recollect that, despite the Derby downer, A.P. Indy did one of the great bounce-backs to win the Belmont Stakes, the Breeders' Cup Classic and both the 3-year-old Eclipse Award and another one as Horse of the Year. Further, he went on to become one of the great sires of our current times. It would appear that Drysdale came up with a pretty good Plan B.)
Generally speaking, though, how does Mr. Drysdale deal with daily troubles in his horse racing domain?
"I don't discuss the negative," he said. And that was that.
Yet one more Hall of Fame conditioner, Bob Baffert, he of the white hair, the dark shades and – most recently and most amazingly – the pair of Triple Crown winners, offered the following when asked about a livelihood that might see a guy work for weeks, months and sometimes years on a project, only to see that project fall flat on its proverbial nose, again and again.
"In this game," said the man who has conditioned runners for over 40 years, "you've got to hope for the best, but expect the worst.
"You look back on each race and evaluate it: Could I have done better with him? Did I miss something? Could I have gone another way? If you're OK with your answers to those type things, then you just shrug your shoulders and move on. You've got to. This game will pound you down into the ground if you let it.
"I'm discouraging my son, Bode, from being a trainer. I just don't think he's got the makeup to deal with disappointment.
"I'll tell you one thing I've learned through all this, though: If you're alive and kicking, you're a winner. My heart attack (in Dubai in 2012) taught me that."
All of which takes us back around to Mandella and Omaha Beach.
In Kentucky, after he'd had 24 hours to recover from the Derby punch in the gut, the trainer said he'd get his horse past his troubles, then "plan another campaign."
So, he did that and devised a new strategy – a second season if you will. He got his horse back up and rolling at Del Mar this summer, then plotted this course: Shared Belief Stakes at a mile, this coming Sunday; followed by the Awesome Again Stakes at Santa Anita at nine furlongs on September 28, culminating in the Breeders' Cup Classic at 10 furlongs on November 2.
A good plan, it seemed, and it appeared he had the horse that could accomplish it. And then – like a dark cloud blocking out the sun – once more here came Mr. Big Disappointment.
This past weekend, Omaha Beach ran a temperature. There'd been a virus working its way through several of the stables on the Del Mar backstretch and – wouldn't you know it – the one horse Mandella really didn't want to get thrown off stride again did. He treated him, lost about a week of training and now goes forward once more.
"You've got to have a Plan B. Then a Plan C. And maybe a Plan D," the conditioner said. "It's just the way it is, whether you like it or not."
Presently, Mandella is looking at a couple of "new" ways to go with his charge. Maybe he'll just train him up to the Awesome Again and then give the B.C. Classic a go. Or maybe he can find a prep race and consider the Breeders' Cup Dirt Mile. He knows he's got a good horse; he's just looking for a way to be allowed to let everyone else see it.
Once more, Mr. B.D. has struck a blow. But once more, a horse trainer has stepped back, only to come forward again.
"You've got to do it," Mandella says. "You've just got to do it, no matter what."
"Besides," says the conditioner echoing a refrain heard from many a trainer of racehorses, "I wouldn't want to have to go out and get a real job."