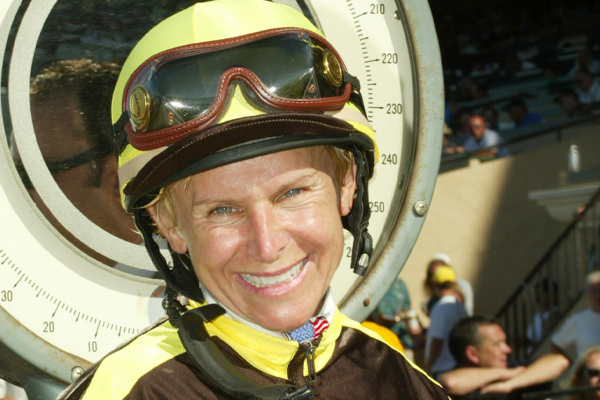 Julie Krone at Del Mar in 2003 © Benoit Photo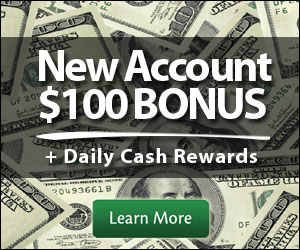 Julie Krone, a record setter and a record breaker who made an indelible mark on Thoroughbred racing during a stellar 20-year career in the saddle, will be honored at Del Mar on Saturday, August 17 when she will be recognized as the 16th winner of the Laffit Pincay, Jr. Award in ceremonies during the TVG Pacific Classic Day program.
The Pincay Award, named for and presented by the Hall of Fame rider, goes to those who have served the sport "with integrity, extraordinary dedication, determination and distinction."
"Julie Krone fits the criterion for this award perfectly," noted Pincay, who is looking forward to presenting the handsome Pincay Award trophy to his fellow rider and "Hall" member. "She broke barriers in our game by showing again and again that skill and determination are the real keys to being a success when it comes to riding horses. And she has gone on to represent racing in a positive light on many occasions. She richly deserves this award."
Krone's exceptional career contained a series of "firsts" that single her out in the annals of the game. She was the first woman to be leading rider at major race meets such as Belmont Park, Gulfstream Park, Monmouth Park and The Meadowlands. She became the first female rider to win a Triple Crown race. She became the first female rider to win a Breeders' Cup race. And, of course, she became the first female jockey inducted in the Hall of Fame.
Krone, who lives in nearby Carlsbad, CA, said she was pleased to be singled out for Pincay Award distinction.
"This is one of those moments when you shake your head and are just so grateful to be honored with an industry award that bears the name of Laffit Pincay," Krone said. "Every jockey who rode with him was better for the experience, and everything about Laffit has brought nothing but credit to the sport."
Krone, an accomplished show horse rider as a young girl in Michigan, found inspiration and encouragement to try race riding from the early career of Steve Cauthen, who, like her, went on to earn Hall of Fame honors. She made her riding debut in 1981 at Tampa Bay Downs in Florida and was soon off and running on a career that would make her a national celebrity.
Besides her many racetrack accolades, she has been awarded such noteworthy honors as being named the best U. S. Female Athlete in 1994 by ESPN, being selected for the Wilma Rudolph Courage Award by the Woman's Sports Foundation, being named to the Cowgirl Hall of Fame in Texas, the Michigan Sports Hall of Fame and the National Women's Hall of Fame in New York.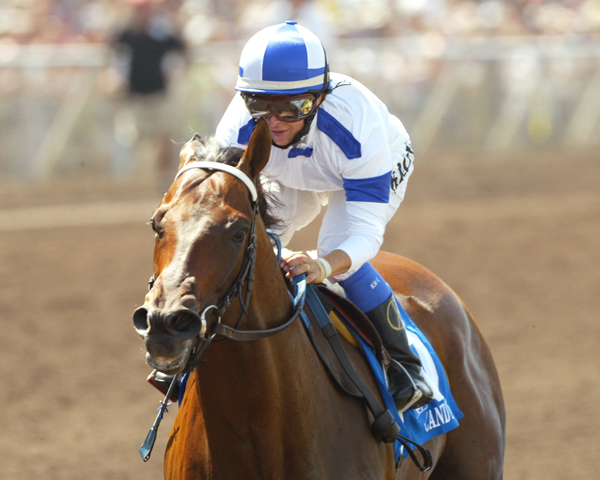 Candy Rise and Krone © Benoit Photo
She overcame a series of injuries to ride at Del Mar for the 2003 season and had great success, nearly winning the riding title, while finishing first in both purses won and winning percentage. She also became the first female to capture the track's most prestigious race that year when she was aboard for a stirring tally on Sid and Jenny Craig's Candy Ride in the $1-million Pacific Classic.
She finished her riding career with 3,704 victories – far and away the most by any female rider – and more than $90-million in purse earnings by her mounts.
The effervescent Krone has taken turns as a TV racing commentator, a motivational speaker and an equine consultant. Currently she has launched a Junior Jockey Camp in upstate New York in order to allow youngsters between the ages of 12 and 17 to obtain a first-hand look into the world of Thoroughbred horsemanship, horse health and safety.
Krone is married to turf writer Jay Hovdey and they have a 14-year-old daughter, Lorelei. Hovdey has penned a book – titled "One Sweet Ride" --about his wife's career, keyed around her summer at Del Mar and her victory aboard Candy Ride, that will be unveiled on August 17 at Del Mar.
Pincay was at one point the world's winningest jockey with 9,530 victories. He rode for 39 seasons, including 27 summers at Del Mar, where he is still the leading rider with 1,011 firsts. The Panamanian native was voted five Eclipse Awards as the nation's foremost rider and led the country in earnings seven times. Now 72-years-old, he lives in Arcadia near Santa Anita Park and maintains a close connection to the game.
The list of previous Pincay Award winners follows:
| | | |
| --- | --- | --- |
| 2018 – Martine Bellocq | 2017 – Mike Smith | 2016 – Chris McCarron |
| 2015 – Victor Espinoza | 2014 – Art Sherman | 2013 – Eddie Delahoussaye |
| 2012 – John Harris | 2011 – Jerry/Ann Moss | 2010 – Oak Tree Racing Assn. |
| 2009 – Merlin Volzke | 2008 – Pete Pedersen | 2007 – Elwood (Bud) Johnston |
| 2006 – Mel/Warren Stute | 2005 – Noble Threewitt | 2004 – Bob Benoit |