Chad Brown, winning trainer of Real Solution (No. 8): "It's fair because he had to go by a horse in the lane. He might have a little bit of hang in him, but ... circumstances might have made him tired in certain races. I might have been running him too far. He might have got a wide trip. All those things may contribute to a horse hanging. They're tired. When Javier got off after the Man 'o War, he said, "This horse is a cinch in the Manhattan.' I said, 'Why?' He said, 'I screwed up leaving the gate.' He said, 'I told him [Real Solution] to follow Amira's Prince. I was trying to ride what you said and he missed the break, and I outbroke him. Then I took him behind him and he stopped right in front of me.' He said, 'If I just left out of there and didn't care who I was following, I would have won. Put me back on in the Manhattan and he'll win.'"

"He left out of the gate [today] and got a spot. A mile and a quarter probably is his distance. If I run him farther, he might want to hang."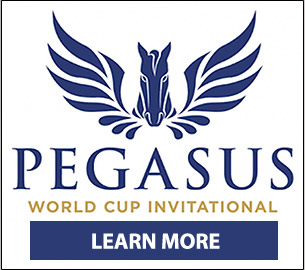 "That horse [Five Iron] is a free-running horse. I'll tell you what, he's dangerous. I was worried about that horse. He's a class horse, but it all worked out terrific. I couldn't be more pleased. Javier gave [Real Solution] a terrific ride. He's been training well, and he put his nose in front officially on the wire because he deserves to win a Grade 1 in front of everybody."
Javier Castellano, winning jockey aboard Real Solution (No. 8): "I had a beautiful trip. I think the last time the way I rode the horse, I rode too patient, and he just came up short. I should have put him more in the game last time, and it paid off this time. Mr. Brown gave me the confidence to ride the horse back and make my own decisions in the race. We spoke to each other before the race, and he gave me the opportunity to use my best judgement. I let him find a place in the race and get in a good position early and sit still. He gave me a good kick today and I'm very satisfied with the way he did it. I give all the credit to the horse, and Mr. Brown gave me the confidence to let me ride the horse the way I did today."
Mark Casse (reached by phone), trainer of runner-up Kaigun (No. 9): "I thought he ran his butt off. I thought we had a good trip and he was just second best. It was a great race."
Alan Garcia, jockey aboard runner-up Kaigun (No. 9): "He ran huge. I have no excuse. He got beat."
Bill Mott, trainer of third-place finisher Seek Again (No. 6): "My colt ran well. It was a weird race since it was one horse loose on the front end and we were laying second. It was an odd setup."
Joel Rosario, rider aboard third-place finisher Seek Again (No. 6): "That one horse on the lead was going really fast, so on the first turn I took my position. When that horse came to me on the outside, he just stayed there. He ran steady, that's all I can say."