Todd Pletcher (winning trainer of Carpe Diem)

"The horse had trained really, really well. We were excited coming into (the race) and happy to see him deliver.

"I've got respect for Ocho Ocho Ocho, and I think all the California horses are strong. We kind of anticipated (Ocho Ocho Ocho) might be the pacesetter. He set a :24 (first quarter-mile) and :48 (half-mile) and you don't expect to put a horse away easily with those kind of fractions. But I liked what I saw (from my horse) the last eighth of a mile."

On ranking his Derby horses on a depth chart "I think you have to put Carpe Diem and Materiality at the top, with Materiality being three for three and a Florida Derby (G1) win, and this horse is perfect this year."

John Velazquez (winning rider)

"There wasn't much speed in the race. It was a nice slow pace and I didn't want to fight him very much. He was doing it pretty easy. Like Todd (Pletcher) said, 'Don't fight him, just let him do it.' Down the lane, I asked him and he responded right away. Once he gets to the lead, he wants to wait, so I have to make sure I keep his mind on running."

Barbara Banke (of Stonestreet Stables, partner with WinStar Farm, owner of Carpe Diem)

"It was awesome. We knew we had a great horse. Todd (Pletcher) had him in great shape. I was happy to see that he loaded into the gate nicely. He broke well. And then, it was just a matter of Johnny (Velazquez) telling him to go at the right time and he went. It was really nice race.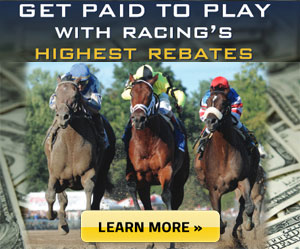 "Like some of the other great horses I have had, he is a fighter and a contender." Julien Leparoux (rider of runner-up Danzig Moon)
"He made a big run from the three-eighths pole and he galloped out great, so that's a good sign. It was a good race."   On whether Danzig Moon is a Kentucky Derby-caliber horse "Yes and he proved it today by running a big second here."
Norman Casse (assistant to his father, Mark, trainer of Danzig Moon)
"He ran a big race and with a better trip we might have been even closer. I'm just glad the real Danzig Moon showed up today and showed that he's a serious racehorse. This race is redeeming because we thought he had a big shot at Tampa (in the Grade 2 Tampa Bay Derby) and he ran a bad fourth (behind winner Carpe Diem). But I think he just didn't handle the track that day and today is a better indication of his ability."
On whether Danzig Moon will go on to the Kentucky Derby "Yeah, I'm sure we'll take him over to Churchill and see where he stands and how he's doing."
Jim Cassidy (trainer of third-place finisher Ocho Ocho Ocho)
"His effort was fine. I knew (Carpe Diem) was going to go with us. I'm sure Pletcher wasn't going to change his style, but he knew we were going to go and he didn't want us to open up too much on him. It was a hell of a match race there for a bit. We'll see what happens after this. I don't think I have any big plans right at the moment."
Gary Stevens (rider of fourth-place finisher Frammento)
"He broke well but then he kind of came off the bridle and I was having to niggle at him to keep him in the race the whole way. He lengthened his stride at the three-eighths pole and he came home strong, but he just had too much to make up. We needed to run at least second to get points to get in the Derby, so I'm disappointed for (trainer Nick Zito), but not disappointed in the horse. He's a nice little horse. He's got a lot of room to grow."
Junior Alvarado (rider of fifth-place finisher Classy Class)
"I had a great trip. I was laying third or fourth right behind the winner the whole time. When we turned for home, I asked my horse and he responded. But the competition was very tough today. I have no excuses."
Brian J. Hernandez Jr. (rider of sixth-place finisher Gorgeous Bird)
"(I had) a great trip, but when we turned for home they quickened and our horse just kind of stayed there. He's still kind of learning and figuring it out. He's lightly raced. Hopefully later in the year he'll show up and show how good he really is."
Robby Albarado (rider of seventh-place finisher Unrivaled)
"He ran good. I thought he made a nice little run around the turn. He just didn't accelerate to the wire like I needed him to."   Miguel Mena (rider of eighth-place finisher Pepper Roani)
"He had a good trip, ran even. No excuse. He made a little move, just not enough."