Dallas Stewart, trainer of Commanding Curve (No. 1, 15-1): About his reputation as a stretch runner: "That's his style. He's got the one hole. He's doing very well. I got my main man, Pedro Velez. He's a little different of an exercise rider than the last guy who was galloping him. He's more of a tougher-type exercise boy. He puts the horse on the bit. He challenges the horse a little more. So, we changed it up a little bit. I hope it doesn't backfire. I don't think it will. We just need to be seven or eight lengths better than we were the last time.

About his last workout: "It was a great work for him. He's not a good work horse. We've been pushing him a little bit. When he comes back looking for water, we know we are getting to him. We'll have to see if it works out."

As for the post position: "That's what Terry [Finley, president of West Point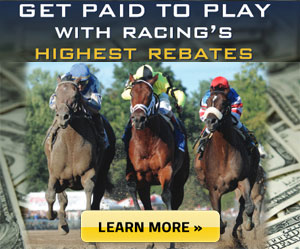 Thoroughbreds] wanted, and that's what we got."
Jimmy Jerkens, trainer of V.E. Day (No. 4, 15-1) and Wicked Strong (No. 7, 7-2): "Jose [Lezcano] wasn't available [for V. E. Day] because he's riding Mr Speaker. I didn't make a decision and then Javier Castellano and his agent came up to me and asked if they could ride and I said, 'Let me think about it. Yes.' Javier rode Afleet Express [to win the 2010 Travers] perfect that day. He saved every inch of ground possible and got through. And he's riding incredible. The way he's riding right now, we're thrilled to have him on him."
"V. E. Day is really bred top-heavy for turf on both the sire and dam side, but he worked so good on the dirt, I thought I had to give him a good shot on the dirt. That's why I ran him in the Curlin [Stakes on July 25]."
On Wicked Strong adding blinkers: "It definitely made him get on the bit. [Jockey] Rajiv [Maragh] sent him away from there a little bit, too, so I think it was a little bit of both. I don't think they made him rank by any means. It was a combination of blinkers and Rajiv sending him from there because he wanted to get a nice spot going into the turn that made him close to the pace. I don't think it's going to make him rank by any means. I can't deny that he does seem to run straighter and truer with them on, no question."
Rajiv Maragh, jockey aboard Wicked Strong (No. 7, 7-2): "I think it's a great post. It gives us some options. We're posted outside most of the speed horses, and it seems like a very ideal situation. I would think that Tonalist might show a little more speed; he was pretty close to the lead in the Belmont. The No. 7 post gives me a lot of options to see how the race unfolds and pick a good spot. We'll play it by ear and see how the race is going. The great thing with Wicked Strong is you can adjust with him; he doesn't have one specific running style. He's won close to the lead like last time and also has won from pretty much off the pace. Our hands aren't tied to doing anything specific."
Ian Wilkes, trainer of Viva Majorca (No. 5, 20-1) and Ulanbator (No. 9, 30-1): "In his last race, I got the ride I wanted, but my horse [Ulanbator] doesn't like to be up that close. We'll take him back and make one run with him. [Viva Majorca] has been running in sprints; we couldn't get a race and I didn't want to leave him in the barn. I think he can run all day."
"With Viva we've given up a lot of seasoning for this race, but he's a very talented horse. And with Ulanbator, he's a little more seasoned but I need to change his tactics. I put him in the race too much last time [in the Jim Dandy]. I just need to change it a little bit. I think he wants to be a little more patient and come from a bit out of it."
Christophe Lorieul, assistant trainer of Tonalist (No. 6, 3-1): "From [post] 5 on up, that was good for us. We didn't want to get stuck on the inside. He has tactical speed, but it really is his game being close up and behind horses. He wants to be in the clear. He has a very long stride. The No. 6 is a pretty good post.
"[Bayern] probably will go for it. We've got Wicked Strong outside of us, and he might go a little bit, too. It could be a good set-up. We don't want to be as wide as we were in the Jim Dandy, so [jockey Joel Rosario] will have to tuck him in a bit more. It's an extra furlong [compared to the Jim Dandy], but I think the horse needed the race last time. He's had two good works since then."
Linda Rice, trainer of Kid Cruz (No. 8, 12-1): "This is my first Travers and I'm very excited just to be here. We are under 30-1, so I'm excited. Kid Cruz is a bit lazy and when I claimed him he had a shadow roll and blinkers and a lot of equipment and I was like, 'What's going on here?' That's just his personality. He's a bit lazy and a stretch runner so I hope we have a pace in front of him to make it work. [Jockey] Irad [Ortiz, Jr.] was on the horse earlier at Aqueduct and when we came back to New York and needed a rider he was there, and he had done such a great job on him. I'd rather have things turn out poorly in the Jim Dandy than the Travers, so we hope it works out better this race.
"Irad had chased the favorite in the Dwyer and we were aggressive in the race and it worked beautifully. It was a fabulous move. We tried to take the same approach in the Jim Dandy and it didn't work out that well. It was pretty ugly. He got pushed out in the first turn and we thought it might be bad on the backside, but he pulled himself together and finished third."
Shug McGaughey, trainer of Mr Speaker (No. 10, 10-1): "I'm fine with the outside. The speed is on the inside of him. Bayern being in the No. 2, Tonalist and Wicked Strong in the middle, it's fine. It will be interesting to see what they do. Bayern is a speed horse and someone has to go with him, so I'm fine with it. We can break and keep him outside of trouble, get him back and go from there."