• Mr Speaker breezes, definite for G1 Travers • Mott gets opportunity to run Charge Now at 1 ¼ miles in Travers; Crown Queen emerges from G2 Knob Creek Lake Placid in good shape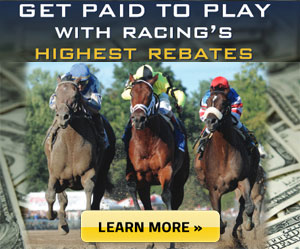 • Ulanbator, Viva Majorca work for G1 Travers • All systems go for The Big Beast in G1 Ketel One King's Bishop • Stopchargingmaria exits G1 Alabama win in good shape; Palace Malice to work sans blinkers next week • Zito to send out C. Zee in G1 Ketel One King's Bishop • Natalie Victoria narrow favorite in Monday's Summer Colony • Dream Saturday impressive in allowance score
SARATOGA SPRINGS, N.Y. - Phipps Stable's Mr Speaker, winner of the Grade 1 Belmont Derby Invitational on the turf in his most recent start, has been confirmed for the Grade 1 Travers on the dirt after breezing four furlongs in 48.67 seconds Sunday on the main track at Saratoga Race Course.
The $1.25 million Travers for 3-year-olds will be contested this Saturday at 1 ¼ miles on the dirt.
Going in company with Ragtime, Mr Speaker began the work racing one length behind and to the outside of his workmate before drawing on even terms inside the three-eighths pole. The two ran in tandem down the stretch and hit the wire as one before Mr Speaker powered clear under exercise rider Lena Lorieul during the gallop-out.
"I thought he worked very well this morning, exactly the way I wanted him to go," said Hall of Fame trainer Shug McGaughey. "He did it very easily and galloped out very strong. If he comes out of it good and has a good week, then I guess we'll go [to the Travers]."
Mr Speaker, a son of Pulpit and a grandson of Hall of Famer Personal Ensign, won the Belmont Derby, a 1 ¼-mile turf race on July 5, by a neck over Adelaide, who on Saturday won the Grade 1 Secretariat at Arlington Park. On Friday, Belmont Derby fourth-place finisher Gailo Chop won a Group 2 race at Deauville in France.
Mr Speaker also won the Grade 3 Lexington on a synthetic surface in April at Keeneland. In his lone dirt start, he was seventh in the Grade 2 Holy Bull in January at Gulfstream Park. He has been training on dirt at Saratoga since the Belmont Derby.
"I just wanted to see him repeat what he's done up here all summer [in his workout today]," said McGaughey. "I think he repeated it. I thought he worked very well, finished up well, did it all within himself."
McGaughey said he knows Mr Speaker has the class to be competitive in the Travers and that his performance primarily will depend on how he handles the dirt.
"It's just a matter of whether he takes to the dirt or not," said McGaughey. "He'll be fine if he takes to the dirt. You never know on the dirt when you turn their head loose and ask them run what they're going to do or if the dirt gets to hitting him. I don't think that will be a problem, but sometimes horses that like the grass when you turn their head loose get to scrambling a little bit. If he takes to it and does fine, I think we'll be in the ballgame."
* * *
Hall of Fame trainer Bill Mott has patiently waited for the opportunity to run Charge Now, a son of two-time Breeders' Cup Classic winner Tiznow and a half-brother to Kentucky Derby winner Super Saver, at 1 ¼ miles. On Saturday, the Curlin Stakes runner-up will get his chance in the Grade 1 Travers. Like Super Saver, Charge Now is owned by WinStar Farm.
Charge Now won a pair of 1 1/16-mile races - a maiden special weight in March at Gulfstream Park and an entry-level allowance in May at Belmont Park - before finishing seventh at that distance in a sloppy edition of the Grade 3 Iowa Derby in June at Prairie Meadows. Back on a dry surface for the 1 1/8-mile Curlin on July 26 at Saratoga, he rallied from sixth and was part of a three-way photo finish. V. E. Day prevailed by a head over Charge Now, who finished a nose ahead of Protonico.
"I thought about the Travers six months ago," said Mott. "That's what I had in mind then, and that's what I'm still thinking. I think he has a lot of stamina. He keeps coming. There are some good horses in there and I'm sure there are some that get the distance as well, but I think he ran well enough the other day [in the Curlin]. He's one that just keeps coming. I'd like to give him a try, anyway."
Charge Now completed his major preparations for the Travers by breezing five furlongs on the Oklahoma training track in 1:01.45 on Saturday. It was the quickest of 18 moves at the distance that day.
"He had a good work yesterday, very pleased with it," said Mott. "He looked good today and looked like he came out of it in good order."
Mott also said Besilu Stables' Crown Queen, who won the Grade 2 Knob Creek Lake Placid by a half-length on Saturday, exited the race in good shape and will be pointed toward the Grade 1 Queen Elizabeth II Challenge Cup on October 11 at Keeneland.
* * *
Marylou Whitney's Viva Majorca and Mary Ann Charlston's Ulanbator, both being pointed to the Grade 1 Travers, each breezed on the main track Sunday morning. Viva Majorca was clocked in 1:00.52, the third-fastest work of 30 horses at five furlongs, while Ulanbator went the same distance in 1:01.77 under jockey Brian Hernandez Jr. Jockey Julien Leparoux is the regular rider for both horses. Leparoux was up for Viva Majorca's work and will ride back in the Travers, while Hernandez has the call on Ulanbator. A bay Tiago colt, Viva Majorca most recently was fourth, beaten a length, in the 1 1/8 Curlin Stakes at Saratoga on July 25. Unraced at 2, he broke his maiden in March at Gulfstream Park and captured an entry-level allowance at Belmont Park on July 2. "Everything went to schedule this morning. No problems. Everything was perfect," trainer Ian Wilkes said. "The horse finished up well and galloped out strong. It was just a nice maintenance five-eighths. The horse came off the track very happy and is just very content in what he's doing." Ulanbator is a son of Offlee Wild whose lone career victory came against older horses in a one-mile maiden race at Gulfstream on March 20. He was second in the Grade 3 Matt Winn and third in the Grade 3 Dwyer before running fifth of six in the Grade 2 Jim Dandy at Saratoga on July 26. "It was a nice, solid work. Nothing spectacular, just a nice, solid work," Wilkes said. "I think I rode him bad last time. Julien did what I wanted, but I just think I need to adjust the tactics on him." * * *
All systems are go for impressive Saratoga allowance winner The Big Beast heading into his stakes debut in the Grade 1, $500,000 Ketel One King's Bishop.
With exercise rider Carol Fisher up, the 3-year-old son of Yes It's True breezed a half-mile in 48.60 seconds on the main track Sunday morning for trainer Tony Dutrow.
"We feel The Big Beast is all there and he's ready," Dutrow said. "We're real happy with the horse. We couldn't be much happier with him. [The work] was nothing exciting. We just let him run around there a little bit. All is very good with him."
Last week, The Big Beast went five furlongs in 58.92 seconds, also on the main track, a move Dutrow said "may have been the most impressive workout that I have ever seen in my whole life."
"My horse is doing fantastic and I have lots of confidence in my horse," he said. "I know it's going to be a tough race, but I'm going to leave it at that. My horse is doing great, and I'm really confident he's going to go over there and run good. And, I respect the competition."
Unraced at 2, The Big Beast has won his last two starts, both in front-running fashion and each at six furlongs. He broke his maiden by 4 ¼ lengths at Belmont Park on June 8, and followed up with a 6 ¼-length romp on July 26, one race before the Grade 2 Amsterdam.
"He's really, in my opinion, pulled it together tremendously in the last two months," Dutrow said. "He's very confident in himself. I think he feels like he's the real thing. I'm feeling really good about the horse coming together right at the right time for the King's Bishop.
"Man, my horse is good," he added. "Let's get them out there and see who's going to win. I feel like my horse is going to go out there and run great. I learned this a long time ago; you just have to pay attention to your horse and give your horse a chance, if you're believing in your horse."
* * *
Stopchargingmaria came back in good shape following her definitive three-quarter-length score in the 134th running of the Grade 1 Alabama for 3-year-old fillies, trainer Todd Pletcher said Sunday morning.
The Mike Repole-owned daughter of Tale of the Cat won her second straight Grade 1 stakes, following her victory last month in the Coaching Club American Oaks. In her race prior to that, she took down the Grade 2 Black-Eyed Susan on May 16 at Pimlico.
Stopchargingmaria, ridden by Hall of Famer John Velazquez, attacked three wide on the far turn, inched away from long shot Miss Besilu and held off the late run of Joint Return to score in a time of 2:05.14 for the 1 ¼-mile race.
"She came back very well; she deserves a rest," Pletcher said while Stopchargingmaria napped in her stall. "She kind of had a wide trip around there and was able to overcome that. It was a good effort."
Pletcher said he and Repole will "have many lengthy conversations" about Stopchargingmaria's next start as they map a path to a possible divisional championship. The options, Pletcher said, are the Grade 1, $400,000 Beldame against older runners on September 27 at Belmont Park, the Grade 1, $300,000 Zenyatta against older runners September 27 at Santa Anita, or to race against straight 3-year-old fillies in the Grade 1, $1 million Cotillion on September 20 at Parx Racing.
Pletcher said Stopchargingmaria stamped her quality when she won the Grade 3 Tempted by 10 ¾ lengths last November at Aqueduct, but taking the two Grade 1's for 3-year-old fillies at Saratoga was a pleasant surprise.
"When you look at a race like that as a 2-year-old, it gives you hope she might be able to accomplish the big things as a 3-year-old," he said. "Once she won the Black-Eyed Susan [after off-the-board finishes in stakes at Gulfstream Park and Oaklawn to open her 2014 campaign], we felt like we were back on track. We didn't necessarily project we could win both of these Grade 1's at Saratoga, but it's pretty cool we could do that.
"She's always been a filly that has a great disposition, a great mind. I think to go along with the talent she has, to have the right mindset to go along with it, has allowed her to stretch her abilities all the way out to a mile and a quarter. That's one of her greatest assets."
Pletcher said Palace Malice, working toward a run in the Grade 1, $600,000 Woodward on August 30, will not work in blinkers next weekend when he has his final tune-up for the race.
Palace Malice, sixth as the favorite last time out in the Grade 1 Whitney on August 2, worked four furlongs in 48.90 seconds Saturday morning on the main track. It was the first time he had worn them since the Kentucky Derby.
"I'm not committed to running him in blinkers," Pletcher said. "He'll work without blinkers on Saturday or Sunday. He worked the same as he did without them. I didn't see a big change in his personality."
Princess of Sylmar, who is being pointed toward the Grade 1, $500,000 Personal Ensign Invitational on Friday, will run in blinkers for the first time.
"She's doing really well," Pletcher said.
* * *
For just the fourth time since 2000 and second in as many years, Nick Zito doesn't have a horse to run in Saturday's Grade 1 Travers. Instead, the Hall of Fame trainer will send out a prime contender in another prestigious race for 3-year-olds on the undercard.
Fred Brei's Florida homebred C. Zee goes after his first graded stakes victory in the Grade 1 Ketel One King's Bishop for sophomore sprinters going seven furlongs.
The bay son of Elusive Bluff joined Zito's string in Saratoga in mid-July after racing and training exclusively in Florida with Stanley Gold. C. Zee has thrived since heading north, firing a pair of bullet half-mile works on the main track following his runner-up finish in the Grade 2 Amsterdam on July 26.
On August 9, C. Zee was clocked in 47.02 seconds, ranking first of 70 horses, and came back on August 16 with a sparkling move of 46.58, the fastest of 106 horses.
"I think what happens is the weather is cooler than Florida and [horses] seem to really do well when they get up here," Zito said. "For some reason, he's got a lot of speed up here; a lot of speed. I'm looking forward to it. It's going to be a very tough race. The King's Bishop every year is getting tougher and tougher. It's a great race. I hope everything goes good. We're looking forward to it. He's a very good horse."
C. Zee has been worse than third only once in eight starts this year, including wins in the 6 ½-furlong Cherokee Run and one-mile Sir Bear stakes at Gulfstream Park. He was also second to King's Bishop contender Wildcat Red in the Grade 3 Hutcheson on February 1.
Zito ran second in the 2012 King's Bishop with Fort Loudon, a half-length behind Willy Beamin. Fort Loudon was also owned and bred by Brei's Jacks or Better Farm, as was multiple Grade 1 winner Jackson Bend, who captured the 2011 Forego and 2012 Carter handicaps for Zito.
"Fred is one of the most unique guys I ever met. He has a breeding operation that's second to none," Zito said. 'You say, 'What do I mean by that?' The guy sent me three horses: Jackson Bend, Grade 1 winner. Fort Loudon, just got beat in a Grade 1. Now this horse, he's in a Grade 1 race. Look at the stallions they're by. They're not Bernardini. What I'm trying to say is that the guy really knows what he is doing, no question, and this particular horse is legitimate."
Zito said Joel Rosario will ride C. Zee in the King's Bishop, where he hopes to draw outside after breaking from post 1 in the 6 ½-furlong Amsterdam.
* * *
Monmouth Beach Stakes winner Natalie Victoria headlines a field of six entered for Monday's $100,000 Summer Colony, a 1 1/8-mile main track event for females 4 and up.
Trained by Michelle Nevin for James Riccio, the 6-year-old daughter of Indian Ocean earned her first stakes victory in the Monmouth Beach, going gate to wire to win by 3 ½ lengths in 1:41.41 for a mile and 70 yards.
Natalie Victoria drew post 5 and will carry jockey Jose Ortiz and co-topweight of 121 pounds as the 9-5 program favorite in the Summer Colony, which will be her 34 th career start. Most recently seventh in the Grade 2 Molly Pitcher at Monmouth Park on July 27, she has a record of 10-5-6 and purses of $412,027.
Second choice on the morning line at 5-2 is Endless Chatter, who has strung together two straight wins at Parx Racing for trainer and Mechanicville native Chad Brown. The 4-year-old First Samurai filly won an entry-level allowance at a mile on May 27 and returned to take an optional claiming allowance at a mile and 70 yards, both as the favorite. Joel Rosario will ride from post 1.
Also entered in the Summer Colony are 2013 Monmouth Beach winner Zucchini Flower (7-2) who was second to Natalie Victoria in this year's race; Ambusher (4-1), most recently fourth in the Grade 3 Shuvee at Saratoga on July 27; South Andros (10-1), winner of the Justakiss Stakes at Delaware Park in June; and Made Up (15-1).
* * *
In an entry-level allowance field stocked with promising runners, Dream Saturday got away at odds of 13-1 in the eighth race but scored with speed and authority, winning the seven-furlong test by 1 ½ lengths in a sharp 1:22.60.
The 3-year-old son of Any Given Saturday was making his first start for trainer Michelle Nevin after running the first five races of his career for Agustin Bezara at Gulfstream Park. The colt's lone win prior to Saturday came in a 6 ½-furlong maiden race on May 3.
"I've had him for about two months," Nevin said. "[The owners in Top Racing LLC] felt that the horse deserved a chance in New York. It's tougher racing here, but the purses are better and they wanted to take a shot, and that worked out for them."
Dream Saturday is licensed to be a good one. He is a half-brother to stakes winner Willa on the Move, and his grand-dam was the standout producer Willamae, who produced Will's Way, the winner of the 1996 Travers and 1997 Whitney, among other standouts.
"I don't want to get crazy just yet, so we'll see how he comes out of the race," Nevin said. "If it looks like he's improving and going forward again, I'll keep my options open. We'll try to get the next allowance condition or see if there's any kind of little overnight stakes for him."