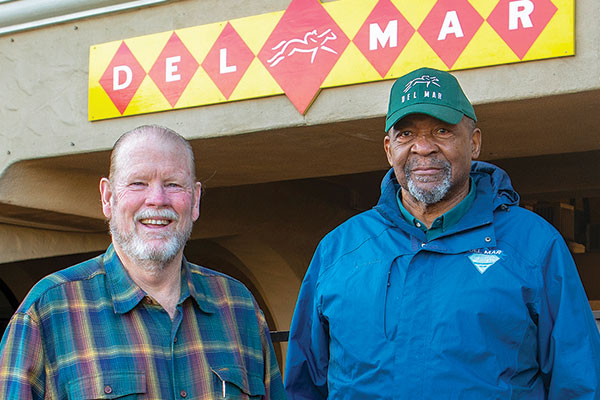 Tim Read and Leon Davis © Benoit Photo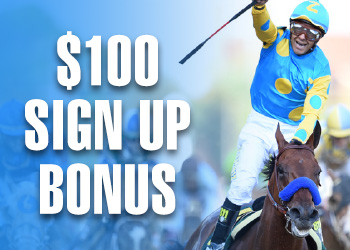 By Mac McBride
Del Mar has a reputation as the kind of place that once you come give it a try, you're not likely to leave. Tim Read and Leon Davis will testify to that, though they might tweak the thought slightly to say you're not likely to leave for a – very – long – time.
These two Del Mar stalwarts have decided to hang up their racetrack shoes at the end of this year, after having made the track, its lifestyle and its people part of their daily routine for the past 50 years. Yes, as in five decades. As in added together a century. As in a whole lot of Del Mar.
Read's history at Del Mar goes as far back as you can go – all the way to its founding by Bing Crosby and his Hollywood pals in 1937. Read's father was Eddie Read, the track's first publicist, who can be seen as a 21-year-old in one of the track's historical photos standing on the new track's roof just a short distance from Crosby as he posed for a picture.
Davis' connection to the seaside track doesn't trace back quite that far. He grew up in Oklahoma, then did eight years of enlistment in the U.S. Army, most of it overseas in Germany, before he found his way to San Diego in the 1960s.
Both Read and Davis arrived at Del Mar in 1969 – and each did the classic "start at the bottom and work your way up." They began shoulder-to-shoulder with a nodding friendship on the 4 a.m. janitorial shift, making sure things looked spiffy when the racing fans would come out later for a day's action in Crosby's original grandstand. All these years later, they just give a chuckle when they reflect on their version of dancing in the dark.
Read went on to hold more jobs than you can shake the proverbial stick at – concessions, usher, gateman, several roles in the admissions department, as well as admissions manager at Del Mar. He remembers the day when he refused to allow a dashing gentleman in a blue jean outfit to enter the Turf Club because of the dress code. That didn't go over too well with bandleader and TV star Desi Arnaz, but things got worked out.
Read didn't limit his roles to Del Mar alone. In the '70s, '80s and into the '90s, he worked at Santa Anita, Pomona and the late, great Hollywood Park, running the show at the last-named track as their Operations manager. Then in 1996 he got a call from Joe Harper that said "come on home" and return he did, taking on his current role as Del Mar's Operations bossman.
Conversely, Davis found a home doing the track's janitorial work and he parlayed his exceptional people skills and his towering presence into heading up that 4 a.m. shift instead of just working on it. Subsequently, he moved over to running the whole department, a role he's held for almost 30 years.
(Davis' towering presence is further understood by his nickname – "Tank" – along with his substantial constitution – north of 200 pounds and counting -- and the fact that he was a heavyweight boxer in his youth. He claims to have had between 50 and 100 fights while he was in the Army and says he was never beaten. Nobody has been willing to fight him about that.)
Over the years Davis put in place a series of updates and renovations to the track's janitorial facilities and has kept his various crews humming along on the work of keeping both the frontside and backside of the sprawling racetrack facility on Del Mar's 350-acre Fairgrounds in shipshape order.
Those who know Read give him great credit for being an Operations guy who knows and understands it all -- the legacy, no doubt, of all the racetrack roles he's played along the way. He's the guy who deals with just about one of everything at Del Mar – the facilities, frontside and backside, the staff, parking….and on and on. He's also the track's point man in dealing with its unions – there are a half-dozen of them – and the 10 different bargaining agreements that comes with them. He has, as they say, many balls in the air. And he's proven to be a helluva juggler.
Those who know Davis know that the best part of working for him is that he goes out of his way to make things light and fun. He's adapted into the role of an easy-going and quick-with-a-smile boss, one who would rather use honey than vinegar. The trick they say for dealing with the storyteller-deluxe Davis is to ask him something about sports just before your break time is up. It's a guaranteed extension.
Read, 66, says he isn't real sure what's going to come next in his life. He knows there are a lot of fish out there to be caught and he'll be doing something in that regard. But other than that, he's just going to see what comes next.
Davis, 81, says he isn't planning on putting his feet up in a rocking chair. He wants to go back to school, perhaps starting in a junior college and see what sort of program he might find to follow. Maybe he'll get a degree in Affability.
For sure, Del Mar has become a better place over the past 50 years thanks to guys like Read and Davis. And it certainly will carry on even as they go. It's just that you know it will be just a tad bit lesser without Tim and Tank doing their things.
Here's hoping they'll find time to come back and visit – and tell us a story or two about what a special place Del Mar is.