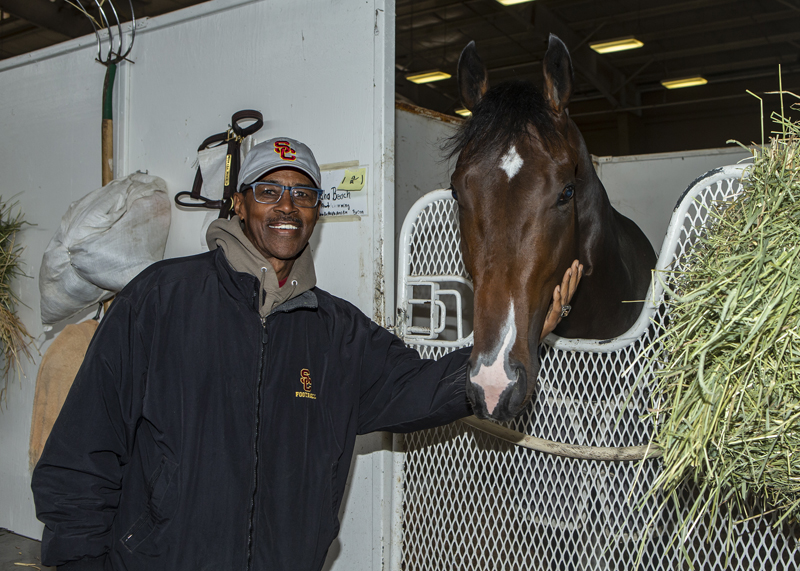 Terrell Ray and Omaha Beach © Benoit Photo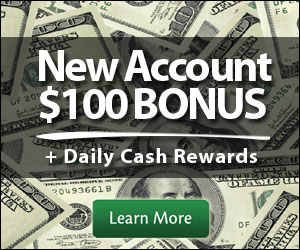 By Hank Wesch
If you stopped by the barn of Hall of Fame trainer Richard Mandella during fall racing at Del Mar, the chances are good you'd run into a man with University of Southern California logo gear draped somewhere over his slim frame and a smile on his face.
Meet Terrell Ray, or T-Ray to his friends, which is just about anybody who knows him for a few minutes or more.
He doesn't look 72-years-old, but he is. And he's seen and done some interesting things over the years.
T-Ray helped L.A. Valley College defeat the O.J. Simpson-led San Francisco City College in 1966, then helped recruit O.J. to USC. Ray lettered on the 1968 Trojan team on which Simpson ran to a Heisman Trophy.
Though undrafted, Ray earned brief stints on taxi squads with the NFL's Atlanta Falcons and Washington Redskins.
And when his playing career was over, he had many years teaching and/or coaching at levels from high schools to the pros.
So, with that background, why's he at Mandella's barn these days? Because, he says, it's the place he wants to be.
"I've had a passion for horses since I was little," Ray said. "My grandfather had a big spread in Memphis. He had pecan trees and had hounds and horses. He bought me a golden Palomino named Princess. I've said all my life that at some point I'm going to deal with horses in some particular way."
At USC, he met B. Wayne Hughes, a major alumnus and supporter of the school who now is the head of Spendthrift Farm in Kentucky. Among Hughes' best horses was multiple Eclipse Award-winning champion Beholder, who thrilled Del Mar fans in 2015 by winning the Clement L. Hirsch Stakes and then becoming the first female runner to win the $1 million TVG Pacific Classic later that summer.
"(Hughes) knew I liked horses and through him I spent two weeks at Spendthrift Farm. And after that, I didn't as much want to be around coaches as I did horses," Ray recalled. "I went to see Beholder win and Mr. Hughes introduced me to Richard Mandella and told him I was interested in horses. Richard said, 'I'll see you tomorrow morning at 6 o'clock -- no wait, that might be too early, I'll see you at 8 o'clock."
Initially, T-Ray was simply an interested party to the goings on at Mandella's stable. As neophytes to the game do, Ray learned about hot walking, grooming and other aspects of the day-to-day workings of a major stable. He has been with Mandella "off and on" for around five years now and is the day, and sometimes night, watchman.
"He's a terrific person, a good guy," Mandella said. "I'm sure he could do anything he put his mind to do. He's old enough that we don't put any big requirements on him. But he's great to have around the barn. Somebody shows up, he presents himself well and speaks well."
Ray said he's applying lessons learned in his previous athletic endeavors to the sport he's come to late in life.
"Just like coaching, I encourage and motivate and try to do anything I can to help out," Ray said. "I watch the breezes and workouts. I need to learn more about the history of racing, but I'll definitely do that. And I want to try to help others get interested in horse racing.
"I'd love to be an owner and breeder, but if I'm not the one to do that, I hope it will be somebody else that I got interested in the game."
It seems Ray embarked on a self-immersion program and has come out an ambassador for the sport.
"I really love the breeding aspect of racing, the buying and selling and the care that is taken with these horses that are all really good athletes," Ray said. "It's unbelievable how hard the people in this industry work. Every day, not just three or five days a week. They're getting up early and staying late doing things right and doing what it takes to make things happen.
"I marvel at the exercise riders and the jockeys. I think they're the best athletes in the world and I've been around some good athletes in other sports. I love the horses, they have their own individual personalities and DNA."
Ray attended Daniel Murphy High in Los Angeles and went on to L.A. Valley College where he starred as a wide receiver and cornerback. He was inducted into the school's Hall of Fame in 2012.
He recalls scoring "two or three touchdowns" against San Francisco City College and afterward recommending to Simpson that he go to USC – where Ray was headed.
At USC, Ray pulled a hamstring in his first track meet, then had a knee injury which limited his success. His success off the field, however, was limitless according to author and investigative journalist Paul Morantz, who wrote of his USC contemporary in a blog:
"For me the guy who stood out –the special one – was one who did not often see the playing field – Terrell Ray, aka T-Ray…You see, walking down campus he turned more heads than O.J…Always upbeat, the smile was eternal and infectious. Charm and class was what he had."
When an NFL career wasn't in the offing, Ray decided he "Wanted to do something for the (L.A.) community."
He had roles as a teacher and coached football, track or both at Fairfax and Crenshaw high schools, Santa Monica, Pasadena, West L.A. and Harbor Community Colleges. Brad Pegram, agent for Hall of Fame jockey Mike Smith, played for him at one of the stops and greeted Ray warmly when they met, by chance, in the stable area.
He was a special assistant in the USC football program during the Pete Carroll era.
Having played for a Hall of Fame coach in the late John McKay, and now being employed by a Hall of Fame trainer in Mandella, Ray was asked if there were similarities.
He spoke of both in the present tense.
"They're both very dedicated to their business," Ray said. "They're very good at taking care of their people. They're both very astute at what they do. And they're constantly learning. They definitely both have a quirky side. McKay could come up with jokes and witty things and Mr. Mandella can definitely do the same.
"They both have a certain look that you know when they are serious or you know that 'Hey, let's have some fun.' And they're not going to beat around the bush. They'll tell you straight, one way or another."
"It's quite an experience, being around men like them."
It's a safe bet those men would say the same about T-Ray.