SAN FELIPE GR. II, $400,000

JOCKEY QUOTES

MIKE SMITH, MASTERY, WINNER: Regarding Mastery, who was pulled up after the wire and taken back to the barn via horse ambulance after being evaluated by track vet, Dr. Dana Stead – "He seemed to just go off in the left hind. I don't know why. Nothing happened that made me think, 'Oh, something just happened.' He just all of the sudden went off and wouldn't put weight on it.

"I got off real quick and nothing seemed dislocated or anything. After he moved for a little bit he started walking fine on it so I'm hoping that maybe he just tweaked it or rolled it. I'm hoping it's not that serious because he's an incredible horse.

"I felt it about 10 jumps after the wire. All of a sudden he just picked up his back leg. At that point I couldn't tell what it was. After a minute or so and he started walking, he seemed fine.

"This is a really talented horse. The power…it's endless with this guy. He's some kind of strong. He was hitting gears every time I asked him to. Gear down one, gear up two, gear down one…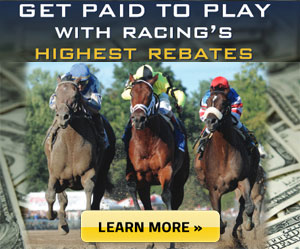 "Everything seemed to come easy for him. That was a pretty impressive race. I'm just hoping everything is ok."
(Update – While being interviewed in the Winner's Circle, Bob Baffert received a call from assistant Jimmy Barnes reporting that Mastery had arrived at the barn and walked off the van seemingly in good order.)
FLAVIEN PRAT, ILIAD, SECOND: "Between the three eighths and the quarter pole, I thought I could catch him. This was his first time around two turns and he ran really well. He should improve off of this race."
VICTOR ESPINOZA, GORMLEY, FOURTH: "You know, Gormley was good all the way around. He kind of surprised me at the three-eighths pole where he kind of dropped the bridle and just kept moving along with the winner and I thought he'd finish second. It seems like he's okay but these young horses, they're still figuring it out. Race by race, they're seeing what exactly they like and some little thing may not being going their way and they won't race at their best but he'll recover and do better in the next one."
TRAINER QUOTES
BOB BAFFERT, MASTERY, WINNER: "Mike just said that when he was pulling him up on the turn, he felt something behind, like he took a funny step. So he pulled him up, and he was favoring his left hind. As soon as he took the saddle off, then he was perfect. He was walking good. We'll take him back and see.
"It's left hind, whatever it is. Jimmy (Barnes) said he didn't see anything obvious, and he went out of the trailer fine (back at the barn.)
"We've been so high on this horse, and you see what he did today was just incredible and puts him as the best 3-year-old in the nation. I'm walking down and I hear a fan say 'I hope your horse is all right.' I said 'What?!' and he said 'I hear they're unsaddling him.' We went from the highest of the highs to somber. Hopefully it's nothing obvious or really serious. We'll have to get back there and find out what's going on.
"The way he moves – he's just a beautiful moving horse. He was just doing it easy. It's very rare to get one like that. You go from seeing the next coming, and then something like that happens. I've never dealt with anything like that. I thought maybe it was heat or something."
DOUG O'NEILL, ILIAD, SECOND: "He just got a little tired. Flavien said that between the three eighths and the quarter pole, he thought he could win it. Obviously, Mastery is a very special horse, but I'm really happy with the way my horse ran first time around two turns. If he stays healthy, we'll shoot for the Santa Anita Derby (Grade I, $1 million on April 8)."
NOTES: The winning owner is Everett Dobson of Oklahoma City, OK who races as Cheyenne Stable, LLC.