• CLOCKER WEIGHS CHAMPIONS' CHANCES IN DISTAFF • KING OF MOUNTAIN CHROME MUST HURDLE ARROGATE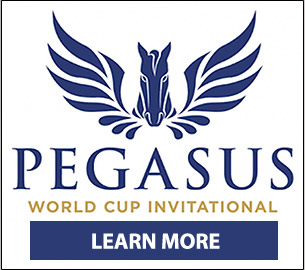 • STELLAR WIND IN LAST MAJOR DRILL FOR THE DISTAFF • ALL IN THE FAMILY FOR STEVENS IN BREEDERS' CUP • SPRINT CHAMP RUNHAPPY TO BREEZE FOR DIRT MILE
DISTAFF LURES THREE CHAMPIONS
Perhaps the most anticipated race in the 33-year history of the Breeders' Cup takes center stage next Friday, Nov. 4, when champions Beholder, Songbird and Stellar Wind meet in the $2 million Longines Distaff for fillies and mares, three and up, at 1 1/8 miles.
Gary Young, the respected private clocker and bloodstock agent who wears his opinions on his sleeve and usually has them at the ready, has been watching the three queens racing and working at their home base of Santa Anita all season in advance of the Distaff, and while post positions won't be drawn until Monday, he provided his insight based on what he has observed to date and his 38 years of experience.
If the words "politically incorrect" were in the dictionary, Gary Young's picture would be next to them.
"Beholder seems to have come out of her race (the Zenyatta, second to Stellar Wind on Oct. 1) well," he said. "Her work prior to yesterday was kind of an atypical Mandella work (Oct. 20, five furlongs in 59.20) in that she went pretty quick early, and after she passed her company, Gary (Stevens) kind of just cruised in with her. She worked well. I couldn't knock it.
"She went decent" yesterday, six furlongs in 1:14.40.
"Stellar Wind is kind of the opposite of Beholder and Songbird. Stellar Wind is a horse that just does OK in the morning. She saves her best for the afternoon. Her work last Friday was good. I didn't mind it at all.
"She's not a big, imposing filly, doesn't carry a lot of weight to her, but obviously she has a lot of try in her. For an average work horse, she looked very, very good this morning (six furlongs in 1:13.60).
"This is a whole different swimming pool Songbird is jumping into. I have the utmost respect for Carina Mia (second by nearly six lengths to Songbird in the Cotillion). I think she's distance limited, and I think Catherina Sophia (third in the Cotillion, 9 ½ lengths behind Songbird) is, too, so consequently it's open for debate as to what Songbird has been beating.
"Can you knock her wins? Not really. I thought it was kind of interesting, although the races were run on different days, that when she and Arrogate both ran a mile and a quarter at Saratoga, Arrogate ran four seconds faster. (Arrogate won the Travers in 1:59.20 on Aug. 27; Songbird won the Alabama in 2:03 on Aug. 20). Songbird went easy throughout (yesterday, five furlongs in 1:01, breezing).
"I can't knock any of the three of them, and there are also some very nice fillies coming in from the East Coast."
As to Classic favorite California Chrome, Young has been an observer from afar, so to speak, since the 2014 Horse of the Year does the vast majority of his training at his home base of Los Alamitos.
"I've only seen videos of his works at Los Alamitos," Young said, "and he's King of the Mountain now. The one hurdle that he hasn't cleared yet is Arrogate.
"With all due respect to the older horse division and other places around the country, including New York, I don't think they're close to what Chrome is, and I think the only hurdle he has left to keep him from having a perfect season is Arrogate, and we're going to see what happens on Nov. 5."
STELLAR WIND IN 'SMOOTH' BREEZE FOR DISTAFF
Stellar Wind, who will seek her third straight win over three-time Eclipse Award winner Beholder in the Longines Distaff next Friday, worked six furlongs in company with Marathon-bound Hard Aces Friday morning in 1:13.20. Hard Aces was clocked in 1:13.60.
"It was her usual work, smooth, no problems, so we're right where we're supposed to be," said John Sadler, who trains the four-year-old daughter of Curlin for owners Kosta and Peter Hronis. Exercise rider Jose Contreras was aboard Stellar Wind, who defeated Beholder by a half-length in the Grade I Clement L. Hirsch at Del Mar July 30 and by a neck in the Grade I Zenyatta at Santa Anita on Oct. 1.
STEVENS' SEVEN-YEAR-OLD DAUGHTER TO HOST BC INTERVIEWS
Maddie Stevens, seven-year old daughter of 10-time Breeders' Cup champion jockey and acclaimed actor Gary Stevens, will host a series of all-access Breeders' Cup interviews with several of racing's most influential figures.
A horseracing aficionado, Maddie has spent her life deeply involved in the racing community. Ahead of and during the 2016 Breeders' Cup World Championships, Maddie will conduct interviews with some of the sport's most influential names, including leading Breeders' Cup jockeys, partners, executives and horses.
Maddie will meet with famed jockeys Victor Espinoza, winner of the first-ever Grand Slam title, and Mike Smith, winner of more Breeders' Cup races than any jockey, to get their insight on this year's Breeders' Cup World Championships. Maddie will also meet with Goodie Girls Cupcakes to exclusively unveil the Breeders' Cupcake and visit California Chrome, Tepin, Songbird, Beholder, and Stellar Wind, five of this year's leading contenders.
Maddie also will be on-site at several of the most exciting events, including the post position draw for both the Classic and the Longines Distaff and the highly anticipated Taste of the World event at Warner Bros. Studios. Additionally, she will conduct a one-on-one interview with Bob Baffert, one of racing's most renowned trainers who conditioned 2015 Triple Crown winner and Horse of the Year American Pharaoh.
"We are excited that Maddie will be joining the Breeders' Cup team this year," said Peter Rotondo, Vice President of Content for Breeders' Cup. "Maddie has more horse racing knowledge than many in the industry and is the perfect person for the job; her subjects better be ready for any and all questions!"
To follow Maddie and stay current with news from the 2016 Breeders' Cup World Championships, click here and here.
In other Breeders' Cup news: • Runhappy (Dirt Mile), the 2015 Eclipse Award-winning sprinter, works five furlongs at 5 a.m. Saturday with exercise rider Marcus O'Donnell up for trainer Laura Wohlers. • Tara's Tango (Filly & Mare Sprint) worked five furlongs with Rafael Bejarano up in 59.80. "Very nice," said trainer Jerry Hollendorfer. "She's doing great and had a good gallop out." • Kitkat, the Filly from Chile, worked five furlongs Friday for the Mile in 59.60 for trainer Sebastian Silva. • Masochistic, a favorite for the Sprint, works Saturday at 9 a.m. for Ron Ellis. • At 7:45 a.m., FrontRunner winner Gormley works under either Chantal Sutherland or regular rider Victor Espinoza for John Shirreffs. • Horses entered in the Juvenile have won a combined 29 races from 41 starts, and six are unbeaten, including Gormley. • Super agent Ron Anderson has Joel Rosario booked on 12 of the 13 Breeders' Cup races. • NBC Sports Group's Mike Tirico will host NBC's primetime coverage of the Breeders' Cup World Championships Saturday, Nov. 5, marking his first career horse racing assignment. "What a great event and venue for my maiden voyage with our incredibly talented horse racing team," Tirico said. "I look forward to working with them at one of the premiere events on the Thoroughbred calendar. I've always enjoyed watching the Breeders' Cup cap the year and set the storylines for the following spring. Now I can't wait to experience that in person for the first time." Since joining NBC Sports Group in July, Tirico has served as a host of the 2016 Rio Olympics, Football Night in America, The Open, and The Ryder Cup, and handled play-by-play for Notre Dame Football.
STERLING PERFORMANCE BOOSTS PEREIRA
With six wins over the last four racing days, jockey Tiago Periera and his agent, Patty Sterling, are enjoying the fruits of their labors.
Periera has leaped into the top 10 in Santa Anita's standings with eight victories. The 40-year-old native of Brazil' gained his signature win in 2010 when he captured the $10 million Dubai World Cup by a nose aboard 25-1 shot Gloria De Campeao.
"He's very easy to work for and he likes to work hard," said Sterling, whose father, the late Larry Sterling, Sr., trained 1978 Santa Anita Handicap winner, Vigors, has represented Pereira since last March. "That makes it easy. My whole family's been in racing for a long time. My Dad trained horses, my uncle (former jockey and current Santa Anita's Quick Official) Larry Gilligan used to ride, my Uncle Terry (Gilligan, former Santa Anita racing announcer) used to ride and train.
"When you win like we are now, it makes things easier, but every day's a battle. It's not much different from training horses, really. It's very competitive, just like trainers trying to get new owners and better horses.
"It's the same for an agent, trying to ride better horses, get in more barns and get more clients." So far, so good.
FINISH LINES: Congrats to trainer Gary Sherlock, who has won with four of his last five starters, including Lob City ($5.40) in Thursday's sixth race. "Just been lucky and putting them in the right spots," said Sherlock, who has 9-2 morning line chance Lookin At Mossy against 4-5 choice Vibe in today's second heat . . . Jose Cuevas was at Clockers' Corner Friday visiting with old chums. The Dominican Republic native formerly worked with the late Bobby Frankel and Ron McAnally, legendary Hall of Fame members each, and is here with Paola Queen for Venezuelan trainer Gustavo Delgado. The three-year-old daughter of Flatter won the Grade I Test at seven furlongs, the same distance as next Saturday's $1 million Filly & Mare Sprint, for which she is ticketed . . . McAnally, meanwhile, has San Juan Capistrano winner Quick Casablanca on course for the Grade II Marathon Stakes at 1 ¾ miles on dirt next Friday. "He's won on grass, but he can run on dirt," McAnally said of Quick Casablanca, who worked seven furlongs Thursday in a bullet 1:26.80. Tyler Baze rides in the Marathon . . . The Racing Officials Accreditation Program (ROAP) has announced the following winners of the 2016 Pete Pedersen Award, presented to stewards who have made important contributions to the Quarter Horse and Thoroughbred industries: Peter Kosiba Jr., Calvin Rainey, Michael Corey, Dennis Nevin and Jerry Burgess. The recipients will be recognized Tuesday, Dec. 6, at the University of Arizona Race Track Industry Program's Global Symposium on Racing and Gaming in Tucson . . . Jockey Fernando Perez has been suspended three days (Nov. 3, 4 and 5) for causing interference on Whistle Pretty in Thursday's fifth race.