• Palace Malice leads group of horses working for the G1, $1.5 million Whitney • Departing works half-mile in 48.79 seconds for Whitney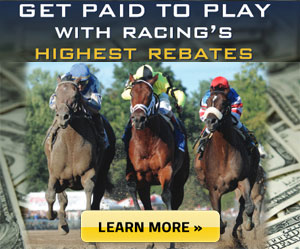 • Moreno pleases Guillot with Whitney work • 2012 Travers winner Golden Ticket breezes over Oklahoma for Whitney • Itsmyluckyday turns in move at Monmouth for Whitney • Mr Speaker works on main track; G1 Travers possible • Surface switch pays off for V.E. Day, Jerkens • Samraat on the way back to Saratoga after having surgery for stress fracture
SARATOGA SPRINGS, N.Y. - Palace Malice, the lead candidate for the Grade 1, $1.5 million Whitney on Saturday, August 2, made a surprise visit to the main track Saturday morning, working five furlongs under Hall of Fame jockey John Velazquez for trainer Todd Pletcher. Pletcher hand-timed the work in :59 4/5 and Palace Malice galloped out willingly around the clubhouse turn.
"I called an audible," Pletcher said. "He was going to work tomorrow, but I didn't like the [weather] forecast. It was a little, little dicey. It could start raining early tomorrow morning, and I didn't want to take a chance of working on a sealed racetrack or off racetrack. We moved it up one day in perfect conditions, and I'm glad I did. He worked great, and I can sleep tonight."
Palace Malice, a 4-year-old son of champion Curlin, is undefeated in four starts this year with his most recent score coming in the Grade 1 Metropolitan Handicap on June 7 at Belmont Park. The winner of the Jim Dandy last year has worked five times at Saratoga in preparation for the Whitney, the three most recent works all at five furlongs. Palace Malice has six graded stakes victories in his career, including last year's Belmont Stakes. Pletcher would love to add the Whitney, one of the most prestigious races for older horses in the country, to his resume.
"It's a huge race," Pletcher said. "The horse is doing fantastic. He's off to a great start this year, and we're just hoping for more of the same from him. He's been super consistent and impressive. We know he likes Saratoga from the way he ran here the last two years, so we're excited about the Whitney."
* * *
With jockey Robby Albarado in the irons, Claiborne Farms' Departing worked a half-mile in 48.79 seconds after the renovation break on the main track in preparation for the Grade 1 Whitney, which will mark his first start at the Spa.
"He did it the right way," said trainer Al Stall of the 4-year-old gelded son of War Front. "He got off in close to 13 [seconds], and came home in 35 and change on his own power."
Added Albarado: "I thought he went really well. It was more of a maintenance work, and he was pretty within himself. He galloped out really, really well. I think he's in the right place, mentally and physically. I think he's up for it next week."
Departing arrived in Saratoga shortly after his third-place finish behind Moonshine Mullin and Will Take Charge in the Grade 1 Stephen Foster Handicap on June 14 at Churchill Downs.
"He trained well here as a 3-year-old and went right back to his old stall and just started acting very good," said Stall. "He's always been a forward, willing, honest horse to deal with, especially up here, so he appears to be on track."
A winner of nearly $1.5 million, Departing has compiled a record of 7-0-2 in 11 career starts, including wins in the Grade 3 Illinois Derby, the Grade 2 West Virginia Derby, and the Grade 2 Super Derby. In his only other start this year, he won an optional claimer in April at Churchill.
* * *
Another Whitney-bound horse, the speedy Moreno, turned in a sizzling workout immediately after Palace Malice went out, going five furlongs in 58.91 under jockey Junior Alvarado, the best of 48 works at the distance.
After a last-place finish in the Grade 1 Metropolitan Handicap, the 4-year-old Moreno bounced back with a strong second behind Zivo in the Grade 2 Suburban Handicap on July 5 at Belmont Park. The gelded son of Ghostzapper was one of the stars of the Saratoga meet last summer, parlaying a third-place finish in the Jim Dandy to a nose defeat to eventual Champion Three-Year-Old Will Take Charge at 32-1 in the Grade 1 Travers.
Trainer Eric Guillot was thrilled with the work.
"Exactly what I wanted; not even taking a breath," Guillot said back at the barn as Moreno cooled out. "You can't outwork him in the morning."
Turning to Alvarado, Guillot said, "He's good, huh?"
Alvarado rode Moreno for the first time in the Suburban and now feels more comfortable with the horse Guillot calls a "looky-loo."
Alvarado shook the reins and showed Moreno the whip around the eighth pole to keep his mind on business.
"As soon as you fall asleep a little bit on him, he comes right back to you," Alvarado said. "He galloped out nice and started pulling up and heard horses coming, and he started picking it up and picking it up."
There's no secret Moreno will try to make the lead and take the Whitney field around the track.
"That's what he likes," Alvarado said. "After that, it's all depending on him and how much he can [handle] the pressure. I know he likes that. They're going to be coming after him, but they will have to work very hard to pass him. I know that, for sure."
* * *
Golden Ticket, who is slated to make his first at Saratoga since dead-heating for the win at the 2012 Grade 1 Travers, continued his preparations for the Grade 1 Whitney by breezing five furlongs early on Saturday in 1:01.87 over the Oklahoma training track with exercise rider Danny Ramsey aboard.
Trainer Ken McPeek said he is trying to duplicate the training regimen he used for Golden Ticket going into the 2012 Travers.
"It was just a basic breeze," said McPeek. "Danny worked him going into the Travers a couple of seasons ago, and we've emulated the same workout pattern. The horse is happy and doing well and is solid on all fronts."
In 16 starts since the 2012 Travers, Golden Ticket has three wins, with his lone stakes victory coming in the 2013 Prairie Meadows Handicap. During that span he has finished second in the 2013 Grade 1 Stephen Foster Handicap, 2013 Grade 1 Breeders' Cup Dirt Mile, 2014 Grade 2 Gulfstream Park Handicap, and 2014 Grade 2 Alysheba. In his most recent start, the 5-year-old was fourth in the Grade 3 Cornhusker Handicap, contested in the slop on June 28 at Prairie Meadows.
With Golden Ticket having won the Travers in a dead-heat in his lone previous start at Saratoga, McPeek said he wishes he had run the Magic City Thoroughbred Partners color-bearer back at Saratoga sooner.
"He's 1-for-1 over this racetrack, so we're hoping he takes to it again," said McPeek. "In hindsight, I probably should have run him here last year."
* * *
Multiple Grade 3 winner Itsmyluckyday completed his formal preparations for the Grade 1 Whitney with a half-mile work this morning at Monmouth Park.
Under regular rider Paco Lopez, the 4-year-old Lawyer Ron colt breezed four furlongs in 49.40 seconds and galloped out five-eighths in 1:02 for Eddie Plesa, who trains Itsmyluckyday for his wife, Laurie, and Trilogy Stable.
"He went perfect," said Plesa by phone from Monmouth. "It was just exactly what I was looking for."
Itsmyluckyday won the Gulfstream Park Derby and Grade 3 Holy Bull and was second in the Grade 1 Florida Derby and Preakness last year before being hurt contesting the Grade 3 Pegasus in June at Monmouth.
Diagnosed with a pelvic stress fracture, Itsmyluckyday did not race again for nearly nine months until coming back with a fourth-place finish behind Palace Malice in the Grade 2 Gulfstream Park Handicap on March 8.
Since then, Itsmyluckyday has reeled off three consecutive stakes wins, most recently taking the Grade 3 Salvator Mile on July 6 at Monmouth.
"Initially I was looking to keep him here and take advantage of the two remaining stakes we have," Plesa said, "but the more I got to thinking about it, the horse couldn't be doing any better. For him to make it in his next career as a stallion, he needs to win a Grade 1. I know we have to run against the best, but we're not scared to do that.
"We've had a plan with him all along and he's taken multiple steps to get to the position that he is in right now. He's 100 percent sound and he's 100 percent fit, so this is the time to find out where he does rate with the best."
Plesa said Itsmyluckyday is scheduled to ship to Saratoga on July 30. Lopez will come up to ride in the Whitney.
"This is one of those odd times where you come up with a game plan and everything works according to what you would like to have happen," Plesa said. "We've still got another chapter or so left in this book, and certainly the Whitney is the main part right now. We're anxious to get up there and race."
* * *
A Grade 1 winner on the grass in his most recent start, Mr Speaker breezed a half-mile over Saratoga's main track Saturday morning for Hall of Fame trainer Shug McGaughey.
The 3-year-old Pulpit colt was timed in 48.88 seconds in his second work at Saratoga since leaving Belmont Park. He also went four furlongs in 50.70 over the Oklahoma training track on July 19.
"He worked good," McGaughey said. "I thought he went very well."
McGaughey is considering the Grade 1, $1.25 million Travers on August 23 for Mr Speaker's next start. Most recently, the Phipps Stable homebred won the inaugural $1.25 million Belmont Derby Invitational on July 5 at the Travers' 1 ¼-mile distance, though it came on turf.
"I've got plenty of time," McGaughey said. "I'll watch the Jim Dandy today, and I'll do some other stuff with him and see. I'll make up my mind whether I'm going to run him in the Travers or wait and maybe run him back on the grass."
Mr Speaker was seventh in his lone dirt start, the Grade 2 Holy Bull at Gulfstream Park in January, though he was five lengths better than eventual Grade 1 TwinSpires.com winner and top Jim Dandy contender Wicked Strong.
Other stakes wins for Mr Speaker are the Grade 3 Dania Beach on turf at Gulfstream in December and the Grade 3 Lexington over the all-weather track at Keeneland on April 19.
"It's fun to have him," McGaughey said. "He'll run [1 ¼ miles]; that'd be the biggest factor [in trying the Travers]. He's trained good on the dirt. He ran once on it in Florida and didn't run any good, but it was a difficult kind of race. We'll just have to see."
* * *
Being a son of English Channel, Friday's $100,000 Curlin winner V. E. Day wasn't supposed to be a dirt horse, but the 3-year-old colt's trainer, Jimmy Jerkens, knew better.
Coming off a two-length victory in a 1 1/8-mile allowance race on turf, V. E. Day entered the Curlin with only one dirt race to his credit, an off-the-turf affair that was contested over a sloppy, sealed racetrack that V.E. Day won convincingly. When grass horses race in off-the-turf events, it is often not an accurate representation of their form. In V. E. Day's case, Jerkens had reason to believe otherwise.
"[Trainer of the runner-up, Hurricane Turn] Chad Brown said he liked the horse that V. E. Day beat in that spot," said Jerkens. "It was probably a little better than your average off-the-turf race ends up being."
In the Curlin, V. E. Day was off a beat slow and dropped back to last under jockey Jose Lezcano, and his position remained unchanged as the field rounded the far turn.
Entering the stretch, the chestnut colt began to pick off horses as he circled the field, and closed determinedly in the lane to prevail by a head over Charge Now.
"I wasn't worried that he was so far back because I knew the pace was quick," said Jerkens. "I was happy to see them all going fast into the first turn; they were stacked out wide. You know the horses stuck out wide aren't going to keep going."
Jerkens is unsure when and where V. E. Day will show up next, but the trainer has plenty of options with his versatile trainee.
* * *
Multiple Grade 3 winner Samraat, who would have been one of the top contenders in today's Grade 2, $600,000 Jim Dandy, is on his way back to Saratoga after having successful surgery to repair a stress fracture in his right shin.
Trainer Rick Violette said Samraat will rejoin his string next week to begin recuperating from the procedure, performed Friday morning by Dr. Patty Hogan at Fair Winds Farm in Cream Ridge, N.J.
"The first word out of her mouth was, 'Perfect,'" Violette said. "He's recovering well and he's going to come up here either Tuesday or Wednesday and spend the first part of his rehab here."
The injury to Samraat was discovered on July 20, the day after his final pre-Jim Dandy breeze over Saratoga's main track.
Samraat will be given a period of stall rest and follow-up X-rays to monitor his progress and healing. He will not race again this year, but Violette expects him to come back as a 4-year-old.
"Pedigree says that he could be better as a 4-year-old, but that's a muted consolation," he said.
A New York-bred son of Noble Causeway owned by Leonard Riggio's My Meadowview Farm, Samraat won the Grade 3 Withers and Grade 3 Gotham and was second in the Grade 1 TwinSpires.com Wood Memorial, fifth in the Kentucky Derby and sixth in the June 7 Belmont Stakes, his most recent race.
"It sucks," Violette said of missing the Jim Dandy. "His mile coming up to it when we breezed right before we left Aqueduct was as good a mile as I've seen. And the way he did it, he finished up very, very well. It was exceptional. I thought he had put on some weight and he was a really happy camper. It was a kick in the gut."