ELMONT, N.Y. - Triple Crown hopeful American Pharoah arrived in New York safe and sound on Tuesday afternoon, landing at Long Island's MacArthur Airport before traveling 40 miles west to take up residence in Barn 1 on the Belmont Park backstretch at approximately 3:40 p.m.



Just a short walk from where he is stabled, the Zayat Stables homebred son of Pioneerof the Nile will attempt to become racing's 12th Triple Crown winner and first since Affirmed in 1978, when he contests the 147th running of the Grade 1, $1.5 million Belmont Stakes on Saturday over the 1 ½-mile oval.

"He shipped really well," said American Pharoah's Hall of Fame trainer, Bob Baffert. "I think he looked really well for what he's been through - all of the shipping. He's keeping his weight the same; I don't think he's lost any weight. He looks like a horse that's run in two big races, but I think his energy level is good. I could tell by walking him around the barn that he still feels pretty strong. Hopefully he'll just keep that through the next few days."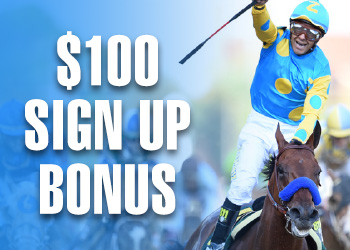 American Pharoah, who is scheduled get his first look at the Belmont main track at approximately 8:45 a.m. on Wednesday, enters the 1 ½-mile "Test of the Champion" on a six-race win streak dating back to September 7 of last year. The bay colt was workmanlike in the Kentucky Derby, winning by a hard-fought length, but dazzled in the Preakness, skipping away to a seven-length score over a sloppy track at Pimlico.
"We're really looking forward to the Belmont," said Baffert. "The Derby was really stressful, but once we got through that we really enjoyed Pimlico. As long as the horse is doing well, our body language is going to be pretty good. If the race was tomorrow, we're ready to go."
Baffert, who has had three Triple Crown bids spoiled in the Belmont (Silver Charm, Real Quiet and War Emblem), is cautiously optimistic about his colt's chances.
"He's a horse I've never had to talk people into how good he is," he said. "I've been wowed by the way he trains all winter and in the spring, and he continues to show his stuff. When I lead him over, I sort of feel like I have an edge, but coming in here and going one-and-a-half miles, it's a completely different story. We don't know how any of them are going to handle it because none of them have been that far. We just hope and dream from here on out."