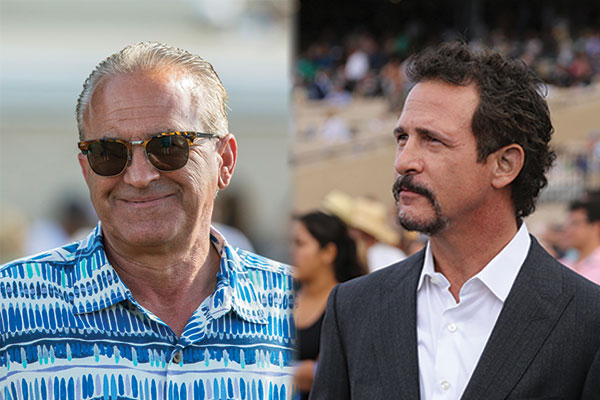 Kosta Hronis and Jim Rome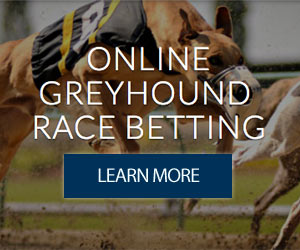 A pair of high-profile horse owners who have raced some of the nation's top Thoroughbreds in recent years, as well as having long established themselves as notable leaders in their respective fields, have agreed to join the board of directors of the Del Mar Thoroughbred Club, it has been announced.
California farming magnate Kosta Hronis and radio and television star Jim Rome became the latest members of the Southern California track's guiding council this past week bringing to 11 the number of board members who supervise the business of running one of the nation's most popular racetracks.
Hronis, 59, oversees a massive (6,000 acres) fruit farm in the fertile San Joaquin Valley, specializing in the growing, packing and shipping of table grapes and navel oranges. He has been an avid racing fan since his youth and a horse owner for the past decade. Among his stable's current stars is the $5.7-million earner and Horse of the Year candidate Accelerate.
Rome, 54, is one of the most well-known and successful sports broadcasters of all time, having garnered major market shares and shelves full of awards for his work on ESPN and CBS, doing both radio and television. He came to horse racing later in his career, but since has preached its gospel passionately to a nation-wide audience. His top runner was the multiple-stakes winner and Eclipse Award champion Shared Belief.
"We hit not one, but two, home runs when we got these fine gentlemen to join us at Del Mar," said DMTC chief executive officer and director Joe Harper. "Kosta and Jim come from different worlds, but they share a mutual love of our game and a desire to see it flourish. We could not be more pleased to add a pair of sharp minds like theirs to our leadership ranks."
Hronis says he became "a racetracker at age 5," thanks to family trips from their farm in Delano to their grandparents' home in Arcadia, where Santa Anita Park is located and the Hronis' clan would gather. In 2010, Kosta and brother Pete took the step and became horse owners, following advice from the man they'd been recommended to – veteran trainer John Sadler. Slowly but surely, the Hronis/Sadler connection began to pick up steam. Their first big hit came in 2012 with Lady of Shamrock, who went on to earn more than $950,000 and subsequently sold as a broodmare for $2.8 million. Then came million dollar winner Iotapa and $1.2-million star Hard Aces. Next was champion Stellar Wind, winner of six Grade Is and more than $2.9 million. She, too, was sold as a broodmare, this time for $6 million.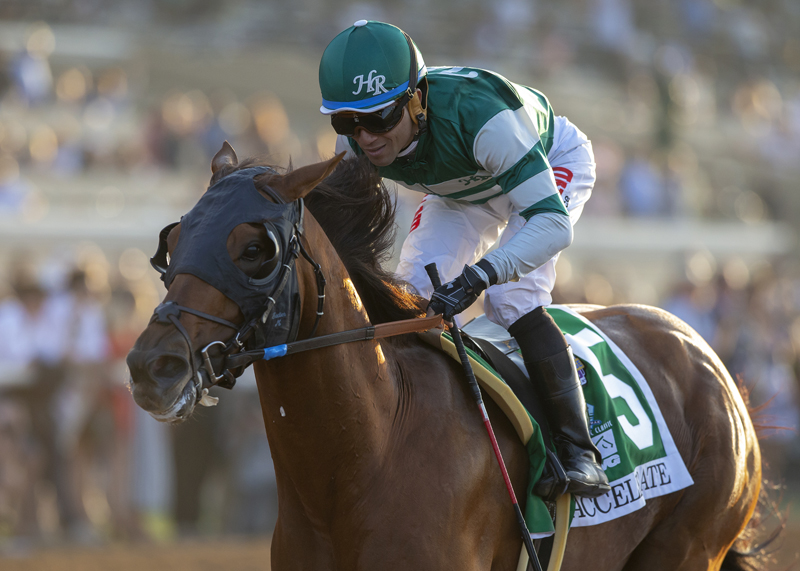 Accelerate Winning 2018 TVG Pacific Classic © Benoit Photo
Their current stable superstar is the husky 5-year-old Accelerate, a 10-time winner including four Grade Is this year, among them Del Mar's TVG Pacific Classic and the $6-million Breeders' Cup Classic. The son of Lookin At Lucky is assured an Eclipse Award as the country's top older horse and is also a solid candidate for the ultimate honor – Horse of the Year.
Hronis and his wife Stephanie have five children, two sons and three daughters.
Rome began his involvement in horse racing in 2007 as a part owner of the South American import Wing Forward, who went from 12th and last to photo-finish winner of his U.S. debut at Santa Anita. Rome called it "one of the most amazing experiences I've ever had," and he was hooked.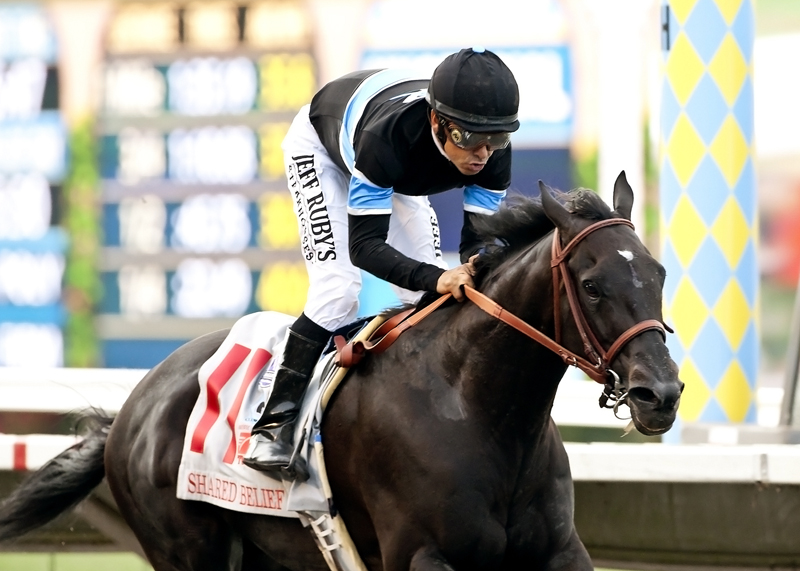 Shared Belief Winning 2014 Pacific Classic © Benoit Photo
Subsequently, two of the top horses in the nation flew his "Jungle Racing" colors in partnerships – the 2012 and 2013 Breeders' Cup Turf Sprint winner Mizdirection (a $1.7 million earner who was sold as a broodmare for $2.7 million) and the exceptional gelding Shared Belief, who won eight major stakes (including the TVG Pacific Classic and the Santa Anita Handicap), was named 2-year-old champion male and earned more than $2.9 million in purses.
Rome and his wife Janet live with their two sons in Irvine, CA.
The addition of Hronis and Rome to the Del Mar board follows the May 2018 augmentation of the leadership group by actress, horsewoman and advocate for many worth causes Bo Derek.
The current Del Mar board, listed chronologically, is as follows:
Dr. James R. Buell, V.M.D. (1970); Joe Harper (1985); Warner C. Lusardi (1988); Rollin W. Baugh (1992); Martin J. Wygod (2000); David H. Batchelder (2008); Jon S. Kelly (2008); Marie Moretti (2008); Bo Derek (2018); Kosta Hronis (2018), and Jim Rome (2018).
Del Mar's current fall racing season continues through this Sunday.