Graham Motion, winning trainer of Irish War Cry (No. 7): "I think it's so good that Rajiv [Maragh] came to the barn and has been on him the last few mornings to see how he is. He's not a difficult horse. He's not a rank horse; he's a very classy horse. We both thought it was a good idea for Rajiv to get on him in the mornings. I thought he won pretty comfortably and it doesn't seem like distance [1 ¼ miles] of the Derby will be an issue.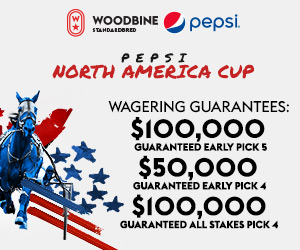 "I haven't spoken to Rajiv yet, but he looked like he was pretty confident. He probably could have waited a little longer, if he had needed to. It seemed like he had a lot of horse. I think the equipment change [to a figure 8 bridle] probably helped. It gives you a little more control. But he had the perfect trip today. I don't know what happened last time. It's just a complete puzzle to me.
"It's extremely gratifying to get this horse back on track. That was huge. I don't remember having a situation like this, when I felt so much was on the line.
"I think Rajiv must have felt like he had a lot of horse because he moved to the leaders so confidently. It's also gratifying to win this race for Mrs. de Tomaso."
Ellie Glaccum, great niece of winning owner/breeder Isabelle de Tomaso (who watched on TV from Florida) of Irish War Cry (No. 7): "This is beyond thrilling. I can barely believe it."
Hope Jones, niece of Mrs. de Tomaso, and granddaughter of Mr. Haskell: "We are unbelievably thrilled. This is the first time I've seen this horse race in person and Irish War Cry did not disappoint at all. We are so excited. I live in Queens and this is my first time at Aqueduct and the horse wins the Wood. It's amazingly exciting. I always went to Monmouth Park [because of her family]."
Rajiv Maragh, winning jockey aboard Irish War Cry (No.7): "The race went well. We had a great post. She broke good out of the gate. She was sharp into the first turn. There was a little pace in front of him, which is what we were hoping for to get in a good tracking positon. He was always in a smooth rhythm.
"He relaxed real easily. He did everything I wanted him to do without a lot of effort. He did it all in rhythm. He wasn't rank at all. He settled beautifully. By getting on him in the mornings, I didn't think I'd have a hard time getting him to settle because he goes so easy and comfortable. We ran good together today.
"When I was down and out, these are the days I dreamed about. These are the days that made me feel I wanted to ride. You never know if you'll get them again after being off so long. I can't be more thankful for everyone who has been there for my recovery and supporting me now that I'm back. I've never been so emotional after a race in my life as I was after this."
Byron Hughes, assistant to Todd Pletcher of runner-up Battalion Runner (No. 3): "Going from allowance to a Grade 2, two turns, shipping all the way up to New York, I thought he ran a good race. He was on the front end doing all the heavy lifting. I thought he dug in and according to Johnny [Velazquez], he just got a little green there. It was a big effort for his fourth start overall and first start in a graded stakes. It was his first start at a mile and an eighth, so it's not disappointing.
"We were going to let Johnny break and go to the first turn. They broke well and let him do his thing. I thought he looked comfortable on the backside. He just came up short.
"Getting the 40 points should be enough to get you in the Derby, so that'll be something Todd and owners will talk about and we'll go from there. We'll see how he comes out of it. He seems to be improving. He's talented, he's always shown that in the mornings and the afternoons."
John Velazquez, jockey to runner-up Battalion Runner (No. 3): "He broke well. We got into a good position going into the first turn. I thought that's where I was going to end up. He ran a good race. He was a little spotty during the race. I don't know why he did that. He was a little unsure whether he was going to run or not."
Irad Ortiz, Jr., jockey aboard third-place finisher Cloud Computing (No. 7): "I got a very good trip, can't complain about it. He missed the break a little bit but he got in a good position on the backside following the winner. I was waiting, waiting, waiting, they just got away from me. I got beat by two very good horses."
Winning margin: 3 ½ lengths Final time (1 1/8 miles): 1:50.91 Fractions: :23.50, :47.34, 1:11.83, 1:37.67