2023 Pegasus World Cup Filly & Mare Turf Contenders

Pegasus World Cup Press Release
Updated:
January 23, 2023
Shantisara 2-1 favorite in the Pegasus World Cup Filly & Mare Turf
When it comes to age and experience, Dalika has them all beat in the $500,000 TAA Pegasus World Cup Filly & Mare Turf Invitational (G3) at Gulfstream Park on Saturday, January 28.
Whether that translates to victory in the 1 1/16-mile turf stakes for Bal Mar Equine's 7-year-old mare remains to be seen. A field of nine is expected to line up for Saturday's grass event for older females, one of eight stakes - seven of them graded - worth $5.3 million.
Dalika is listed as the 7-2 second choice on the morning line behind Shantisara, the 2-1 favorite.
"There's not a horse in America that is more battle-tested than her," said her trainer, Albert Stall Jr. "She couldn't be more fit and couldn't be more of a warrior, so we got that going for us, too."
The German-bred mare will be making her 32nd career start in the Pegasus. No other member of the talented field of fillies and mares has as many as 20 lifetime starts, and Wakanaka tops the rest with 15 on her resume. Dalika will be ridden by Brian Hernandez Jr.
"Some of the horses in the Pegasus have just turned four," Stall said. "We just feel like we have a little bit of an edge in that department."
2023 Pegasus World Cup Filly & Mare Turf Field & Odds
Race 11 at Gulfstream Park on Saturday, January 28 - Post 4:06 PM
Entry
Horse
ML Odds
Jockey
Trainer
1
Artie's Princess
20-1
Jose Ortiz


119 Lbs

Saffie Joseph, Jr.
2
Dalika (GER)
5-2
Brian Hernandez, Jr.


123 Lbs

Albert Stall, Jr.
3
Wakanaka (IRE)
5-1
Joel Rosario


121 Lbs

William Mott
4
Sweet Enough (GB)
20-1
Junior Alvarado


119 Lbs

Roger Attfield
6
Queen Goddess
9-2
Luis Saez


121 Lbs

Michael McCarthy
7
Lady Rockstar (GB)
6-1
Tyler Gaffalione


119 Lbs

Brendan Walsh
8
Justify My Love (BRZ)
30-1
Javier Castellano


119 Lbs

Paulo Lobo
9
Shantisara (IRE)
9-5
Irad Ortiz, Jr.


119 Lbs

Chad Brown
Dalika, who made her racing debut in Germany in 2018, is one of seven expected starters that began their careers in a country other than the U.S. The others include Artie's Princess (Canada), Justify My Love (Argentina), Shantisara (France), Wakanaka (Italy), and Lady Rockstar and Sweet Enough (Great Britain). Only Bay Storm, Mona Stella, Perseverancia and Queen Goddess started out in the U.S.
But Dalika boasts 10 lifetime victories and earnings of more than $1.4 million, easily surpassing any other member of the field in both categories. She won her most recent start, the Grade 3 Cardinal at Churchill Downs. Her 2022 resume also includes wins in the Beverly D (G1) at Churchill and Ladies Turf (G3) at Kentucky Downs.
One horse that looms as a top contender in the Pegasus is Steven Parkin's Lady Rockstar, who is coming out of a close second-place finish in Gulfstream's Suwannee River (G3) on Dec. 31, a race in which she lost by one length to Stolen Holiday.
"She has done great since the race," said her trainer, Brendan Walsh. "I thought she ran great in the Suwannee River because we probably had just enough works in her. It was good to see her handle that well and I thought it was a good prep for the Pegasus."
Tyler Gaffalione will handle the riding duties on Lady Rockstar, the fifth choice at 8-1 on the morning line.
Shantisara is the program favorite in large part due to her Grade 1 victory more than a year ago for owners Madaket Stables, Michael Dubb and Robert LaPenta. She will be ridden by Irad Ortz Jr. for trainer Chad Brown.
The 5-year-old Irish-bred mare has shined since arriving in the United States from France by winning three stakes, including the Queen Elizabeth II Cup (G1) at Keeneland in 2021. But she started just twice in 2022, with her most recent outing coming on Nov. 5 at Keeneland when she ran fifth in the Fall Harvest Stakes.
The winner of that Breeders' Cup undercard event, Team Valor International and Gary Barber's Wakanaka, also returns in the Pegasus event for older turf females. The 5-year-old Irish-bred mare started her career in Italy, where she won six of her nine starts. Since arriving in North America, Wakanaka has won a pair of stakes, including the Dance Smartly Stakes (G2) at Woodbine.
Wakanaka made her U.S. debut in last year's Pegasus Filly & Mare Turf, finishing sixth of 10th horses. She followed that performance with a second-place finish in the Honey Fox Stakes (G3) at Gulfstream and a runner-up effort in Belmont Park's Just A Game (G1).
"When she first came here, she wasn't that good around two turns," said Barry Irwin, chief executive officer for Team Valor. "But as she's raced and trained, she's gotten smarter and better. She's physically improved. She's a lot better now than she was last year. She's got a really good turn of foot. She's not a very big filly, but she's got a lot of power when she turns it on."
Bridlewood Farm's Bay Storm was third in the Suwannee River at Gulfstream after setting the pace in the one-mile stakes for trainer Jonathan Thomas. Listed at odds of 10-1, the 5-year-old mare will be ridden by Frankie Dettori in quest of her first graded stakes win.
Queen Goddess is the 5-1 third choice for owners Eclipse Thoroughbred Partners and Gary Barber. The 5-year-old mare is coming off a 2 1/2-length victory Dec. 31 in the Robert J. Frankel Stakes (G3) at Santa Anita for trainer Michael McCarthny. Luis Saez is scheduled to ride.
Perseverancia (15-1) was second to Dalika in her most recent start, the Cardinal (G3) at Churchill Downs in November for owner Georg D. Morgan.
Artie's Princess (20-1) is trained by South Florida trainer Saffie Joseph Jr. for owners Kenneth and Sarah Ramsey but will be making her first-ever start at Gulfstream after racing primarily in Canada. The 6-year-old mare won a pair of stakes last year at Woodbine.
Sweet Enough (20-1) will be looking for her first U.S. stakes win for owner Trevor Harris. Trained by Roger Attfield, the 5-year-old mare recorded three of her four career wins in Great Britain before arriving in the U.S. Junior Alvarado will ride.
Justify My Love (30-1) raced exclusively in Argentina before making her U.S. debut last September at Kentucky Downs for trainer Paulo Lobo while the Florida-bred Mona Stella (30-1) will be aiming for her first stakes win for owners Reeves Thoroughbred Racing and Patrick Biancone, who trains the horse. She will be ridden by Mike Smith.
OffTrackBetting.com - US Legal Pegasus World Cup betting is a great way to wager on horse racing online. Available to customers across the United States, OTB features both Thoroughbred and Standardbred racing from major racing venues in the US as well as top international racing from Europe, Japan, Australia and Hong Kong.
Pegasus Filly & Mare Turf Start a `Bonus' for G1 Winner Dalika
With trainer Al Stall hailing from New Orleans, it's appropriate that he uses the term `lagniappe' when he discusses the 7-year-old German-bred mare Dalika running in Gulfstream Park's $500,000 TAA Pegasus Filly & Mare Turf Invitational (G3) presented by Pepsi. After all, the Cajun-French-inspired word, pronounced LAN-yap, means a gift or something extra.
The 1 1/16-mile grass stakes will mark the last race of Dalika's career, which started out with three races in Europe as a 2-year-old before she was purchased by Paul Varga's Bal Mar Equine LLC and sent to Stall. In America, Dalika has won nine of 28 races, with six seconds and nearly all of her $1.44 million in earnings.
Dalika's key race came in the Beverly D. Stakes last July at Churchill Downs, giving her the Grade 1 victory for which she was kept in training in 2022. The Beverly D. was held at Dalika's home track after the closing of Chicago's Arlington Park. With the switch, the distance was shortened to 1 1/8 miles over a course playing to speed, with the race having only five starters.
"The whole year was house money," Stall said by phone from New Orleans. "We stumbled on the Beverly D. Everything was just lagniappe, as we say. [But] we wouldn't be doing this if she wasn't just perfectly sound and very happy with herself right now."
Varga said via text that Dalika's stallion mating should be finalized in the next couple of weeks and that he'll be keep his options open whether to keep her or sell.
Dalika has rewarded Varga and Stall well for their patience and gambling on another season of racing after she won her first graded stakes in 2021 at Delaware Park. The result was winning three more graded-stakes - the Kentucky Downs Ladies Turf (G3) following the Beverly D. and Cardinal (G3) Nov. 25 in her last start - and just a few bucks shy of $850,000.
"She's been an enigma for most of the time," Stall said. "This last season has been unbelievably gratifying for everybody. We made the conscious decision to keep her in training one more year to take some shots at Grade 1 races and things like that. We gave her a good freshening during the winter and she came back really, really good. To win the Beverly D. was really a fortunate thing for us. And to be able to knock out these big, fat purses since then, it's just been a great year for her. It makes you feel good about treating a horse properly, giving them a nice break and having them come back and deliver."
Dalika, who will be ridden for the fifth straight race by Brian Hernandez Jr., has proven most effective racing on the lead.
"The ones they've added on to this field, it does seem like there's some speed in there, horses literally coming out of six-furlong races to go around two turns at this level," Stall said of the Pegasus F&M Turf. "We're a front-running type of horse, so that's going to be interesting to see how that shakes out.
"She just needs to be comfortable. She's come from off the pace before and won. A lot of races, she's been rank, and now she's quite a bit kinder. I just want her to be comfortable, break well," he added. "You can tell early whether she's getting over the ground like you'd want a horse to. If it goes that way, that's all we can ask for - she'll give it herself the best chance to win. If she's not comfortable at a new course like Gulfstream, if she gets trapped on the fence with some outside speed, things might not go well."
Keeping Dalika comfortable is why the mare has spent the last month at an Ocala training center. That not only makes for a much shorter ship to Gulfstream Park the Wednesday before the race, but it's a quieter environment than Stall's main winter base of the Fair Grounds. It's the same reason that when Dalika was in Kentucky, she trained at the Skylight Training Center about 40 minutes from Churchill Downs.
Because she does so much in her daily training, Dalika only sporadically has timed workouts.
"She's just a horse that's tough to train," Stall said. "She's very, very strong all the time. The gallop person earns their keep every time they get on her. That's just the way she's always been. That's why we keep her in the most tranquil, serene place you could possibly be. Just training on a day-to-day basis, we felt like she'd do herself more harm than good being in all the traffic on a narrow racetrack. We basically keep her all by herself.
"Once she gets fit, there's not a whole lot to do with her. The Beverly D was her third race off a freshening. All we've done literally since is just piddle around," he added. "She seems to like that, so we're not changing anything."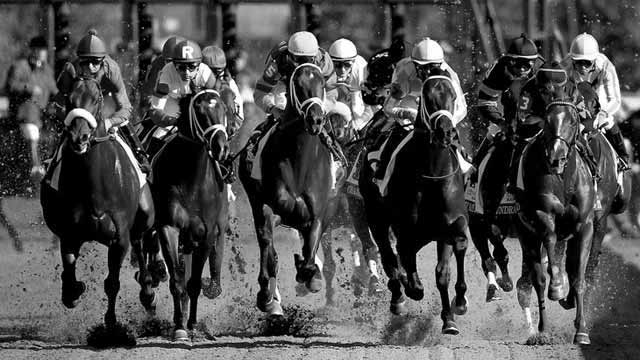 Bet Horse Racing with OTB