2018 PREAKNESS STAKES CONTENDERS & ODDS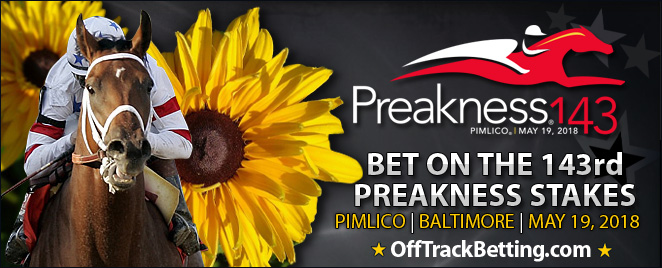 Preakness 2018 Updates
My Boy Jack To Skip Preakness, but will run in 2018 Belmont Stakes
Givemeaminit will bypass the Preakness and target the June 9 Woody Stephens at Belmont Park.
Bolt d'Oro, who finished 12th in the Run for the Roses will not run in Baltimore May 19.
Pony Up will bypass the Preakness and run in the Sir Barton on that day's undercard instead.
---
Quip (Odds 12-1) - PP 1
CONFIRMED - WinStar Farm president and CEO Elliott Walden said Tuesday that Quip is officially headed to the Preakness Stakes for a clash with Kentucky Derby winner Justify, who is also co-owned by WinStar.
Quip, winner of the Tampa Bay Derby (G2) and second in the Arkansas Derby (G1), was kept out of the Kentucky Derby to point for the Preakness after Keeneland-based trainer Rodolphe Brisset thought the colt needed extra time.
"He deserves the opportunity," Walden said. "We purposely skipped the Derby pointing for the Preakness. We looked at it at that time and asked the question, if we did win the Derby, would we still run Quip in the Preakness? We all kind of answered, `Yes.' But I wanted to take a fresh look at it after the race and make sure."
Quip and Kentucky Derby winner Justify share ownership through WinStar and China Horse Club. SF Bloodstock is a partner in Quip but sold its racing rights for Justify to Starlight Racing while retaining breeding rights. Quip will race with jockey Florent Geroux wearing WinStar's silks.
"Justify is going to be the prohibitive favorite," Walden said. "If you're looking at it with a Quip hat on, you would think he would be a very difficult horse to beat but that you're as live as anybody else."
Preakness Stakes 143 Post Position Draw Quote:
Rodolphe Brisset (Trainer) - "The No. 1 post can be very tricky. We know we have some tactical speed, so we are good with that. He's doing really good. He shipped well and he's going right through his feed tub. We are pretty upbeat about everything."
Lone Sailor (Odds 15-1) - PP 2
CONFIRMED - Five straight Preakness editions have seen a horse rally from last in the field to finish second or third, including 31-1 Senior Investment in the show spot a year ago. That's good news for this deep closer who figures to get plenty of pace to run. The Tom Amoss-trained Lone Sailor, its Louisiana Derby (G2) runner-up and Kentucky Derby eighth-place finisher, will run in the Preakness and Irad Ortiz Jr. has the mount.
But he's lost 7 straight and hasn't registered a stakes victory in 6 tries, so the middle jewel of the Triple Crown would be an unabashed success if he could merely light the board. He had a clear rail run for the most part in Louisville with little excuse, but ran on well enough to gain some measure of respect.
His pedigree leans shorter - even if he's a deep closer - so this 1-3/16 miles distance in Baltimore would suit him better than the Belmont Stakes. If he's to get some classics black-type, May 19 rates his best chance. Consider for exactas and trifectas.
Irad Ortiz Jr. has picked up the mount aboard Lone Sailor, who was ridden by James Graham in the Derby.
"We called on Irad Ortiz here. No disrespect to James Graham. We love James Graham; he's been great to us. But we're going to try something a little different here and take our chance," Bensel said. "We've got a horse with a big engine, who is healthy, who's sound, who's full of energy. And why not?"
Lone Sailor galloped Sunday morning at Churchill Downs and will fly to Baltimore Wednesday. Amoss said the colt definitely deserves another chance with the cards reshuffled.
"The caveat here is that it was a very sloppy track Derby Day," Amoss said. "But having said that, it's hard to not want to take a chance against a group that didn't come home very fast in the Kentucky Derby. Our horse, like many others, got in trouble in the race and we'd like another shot at this group. I have great respect for the group, and I thought going into the Kentucky Derby that the race went through California - which it turned out to do. But I'm looking forward to getting another chance at what hopefully is a fast track, although looking at the weather ahead, it looks like more rain."
Preakness Stakes 143 Post Position Draw Quote:
Tom Amoss (Trainer) - "With an eight-horse field and a long run to the first turn, there's really no disadvantage to where anyone drew. The one curious thing about the draw is that Justify's stablemate, Quip, drew all the way down the rail. In that sense, he almost has to go to get some kind of position, which is kind of his style. I'm wondering how that will play out for those two horses.
"For our horse, he doesn't break well and he's going to drop behind horses. The fact that theres only one horse inside him, and that horse has speed, that's good for us."
"No. 7 is an awesome post for Justify. It's always great to have tactical speed and a position where the jockey can just look over and watch the race unfold and decide how you want to ride. He certainly didn't lose anything at the draw, that's for darn sure."
Sporting Chance (Odds 30-1) - PP 3
CONFIRMED - Sporting Chance, winner of last summer's Hopeful Stakes (G1) at Saratoga, rallied late to get fourth in the Pat Day Mile (G3) on the 144th Kentucky Derby undercard.
Hall of Fame trainer D. Wayne Lukas explained "We're looking forward to it. Sporting Chance got roughed up pretty good about the half-mile pole. A horse came over and hit him in the hip and spun him around and the rider darn near came off. But then he recovered and finished well. It is what it is. We all ran over the same surface," Lukas added.
Sporting Chance, a $575,000 Keeneland September yearling purchase by owners Robert Baker and William Mack, finished second in his debut at Churchill Downs on June 15, 2017. Shipped to Saratoga for his next start, he drew clear to win by 2 ¼ lengths on July 22.
Sporting Chance then was entered in the Grade 1 Hopeful Stakes going seven furlongs on Labor Day, the closing card of Saratoga's meet. After settling into a good staking trip behind early leader National Flag, Sporting Chance took command at the top of the stretch and appeared to be en route to an easy victory under Luis Saez. The Tiznow colt ducked out sharply into the center of the stretch in the final yards but still managed to hold on and win by a neck over Free Drop Billy.
Sporting Chance did not race again for over five months, returning to make his 3-year-old debut in the Southwest Stakes at Oaklawn Park on Feb. 19. In that prep for the Kentucky Derby Presented by Woodford Reserve, he endured a rough stretch run when bumped but still ran on to finish third, earning two qualifying points for the Derby. In his final prep for the Kentucky Derby in the Toyota Blue Grass Stakes, Sporting Chance was in contention in deep stretch but ducked in near the sixteenth pole before veering out into the path of Free Drop Billy. He held on for third but subsequently was disqualified and placed fourth for interference. Sporting Chance missed out on the Kentucky Derby, but he ran on the first Saturday in May in the Grade 3 Pat Day Mile Stakes and ran fourth on the sloppy main track.
Diamond King (Odds 30-1) - PP 4
CONFIRMED - Trainer John Servis confirmed May 10 that Cash is King, D.J. Stable, and LC Racing's Diamond King will make his next start in the May 19 Preakness Stakes (G1).
With a strong surge in the final furlong of the $125,000 Federico Tesio Stakes April 21 at Laurel Park, Cash is King, D. J. Stable, and LC Racing's Diamond King secured a place in the second leg of the Triple Crown.
For the third year in a row, the Federico Tesio for 3-year-olds offered a "Win and You're In" opportunity for Triple Crown-nominated sophomores to punch an early ticket to the May 19 Preakness Stakes (G1) at Pimlico Race Course.
Off a third-place finish in the seven-furlong Swale Stakes (G3) Feb. 3 at Gulfstream Park, the son of Quality Road broke second from post 5 in a field of nine and held close behind early leader Noble Commander. Florida-bred Noble Commander set fractions of :23.93, :48.33, and 1:13.27 through the first six furlongs.
As the top pair rounded for home, Diamond King dug in to move away for a clear lead with a sixteenth remaining. Godolphin's Holland Park sped past the tiring Noble Commander on the outside in a last-ditch effort but could not get past Diamond King.
"He did it very nicely," Pennington said. "He settled in nice going the mile and an eighth, which was fantastic. When it was time to go, I asked him and he gave it to me."
Diamond King, who will seek his first graded victory in the Preakness, finished in 1:50.31. Lincoln Stable's American Lincoln came in fourth, 3 1/4 lengths behind third-place finisher Noble Commander.
Diamond King won three of his four races as a 2-year-old, when he lost his jockey in the first turn of his biggest race, the Grade 2 Kentucky Jockey Club Stakes. He's raced only twice as a 3-year-old, running third in the Grade 3 Swale Stakes on Feb. 3.
Preakness Stakes 143 Post Position Draw Quote:
Chuck Zacney (co-owner, Diamond King) - "I'm very happy. I was talking to (trainer) John (Servis) earlier and I wanted more of an inside post. He said, `Let's go for the middle.' We can kind of sit off the pace of Justify and, I have to believe, Quip. He's pretty much all speed and he's got to go, as well. It's going to be interesting to see how the early pace shakes out. We've got a top jockey (Javier Castellano) and the horse is doing really well. Hopefully, the track's in decent shape. I know they're calling for rain the next couple days. That's the only concern. He did train on a sloppy track Sunday and loved it, so we're going in giving it our best shot. We'll see if it's good enough."
Good Magic (Odds 3-1) - PP 5
CONFIRMED - Twenty minutes after the Derby, Chad Brown, trainer of runner-up Good Magic, said it was unlikely that last year's 2-year-old champion would go on to Pimlico. However, he said this morning (May 13) that Kentucky Derby runner-up Good Magic would enter Saturday's Preakness Stakes.
Brown, who took Good Magic back to Belmont Park in Elmont, N.Y., to recuperate from the Derby, wanted to see how the colt reacted this week before making a decision.
After watching Good Magic's workout this morning, Brown confirmed that his horse will face Justify again. Brown won the 2017 Preakness with Cloud Computing.
"I think it's a great opportunity for the horse," he said. "I really don't have anything else planned for him before, say, either the Haskell or the Jim Dandy anyway. That said, I wouldn't do it just because he's going to get a bit of a freshening. He has to be doing well, and he's doing exceptionally well.
"He's doing far better than I expected exiting the Derby. It's remarkable to see how well the horse is moving and his energy level. He already has his weight back. He just looks great. I'm excited about it."
In the Derby, Good Magic and jockey Jose Ortiz stalked the 5-2 favorite Justify and made a run toward the front in the second turn. Justify responded to the challenge at the top of the stretch and posted a 2½-length victory.
This will be the fourth consecutive year that the top two finishers in the Kentucky Derby have a rematch in the Preakness. In each of the last two years, the Derby runner-up finished ahead of the Derby winner in the Preakness. Brown acknowledged that Justify presents an imposing challenge for his colt.
"It's a tall order," he said. "The horse is unbeaten and to a degree untested. He ran a great race in the Derby and he is clearly the horse to beat. We're going to need to close the gap on him somehow. We're going to need to improve. Even though our horse ran an excellent race in the Derby and earned a lot of respect from everybody, he needs to again move forward and we need to have Justify come back to us a little bit. I think that the margin that I saw between the two horses is not out of the question that we'll be able to make up that difference."
Preakness Stakes 143 Post Position Draw Quote:
Chad Brown (Trainer) - "I'm fine with the draw. We should be close early."
Tenfold (Odds 20-1) - PP 6
CONFIRMED - Another Curlin colt, this one trained by Steve Asmussen, this one has raced just three times, opening his career with two wins before finishing fifth in the Grade 1 Arkansas Derby. Tenfold streaked to a 5 3/4-length runaway win in his career debut on Feb. 9, 2018, at Oaklawn Park. He followed with a hard-fought victory in the an allowance race in March at Oaklawn that gave trainer Steve Asmussen the confidence to enter Tenfold in the Grade 1 Arkansas Derby. In the Arkansas Derby, Tenfold stalked the pace from third and came up a little short in the stretch, fading to finish fifth of nine.
The good news is that he's talented, lightly raced, and has plenty of upside. The bad is that the three horses from the Arkansas Derby to try the Kentucky Derby - Solomini, Combatant, and Magnum Moon - finished 10th, 18th, and 19th, respectively.
Tenfold is out of the winning Tapit mare Temptress, a half-sister to graded stakes winner Donegal Moon. His third dam (maternal great-grandmother) is 1995 champion turf female Possibly Perfect.
"He's a beautiful-traveling horse," said Scott Blasi, trainer Steve Asmussen's assistant at Churchill Downs. "He has a very physical look to him. I don't think we got the trip we wanted in the Arkansas Derby (G1), and we'll take another shot."
"It's a big step up, but it's a good opportunity to see where you fit with these horses," Blasi said of the Preakness. "Everybody is looking for the 3-year-olds to start stepping up this time of the year. He deserves the chance."
Ricardo Santana Jr., aboard for Tenfold's two victories, regains the mount for the Preakness after Victor Espinoza rode the colt in the Arkansas Derby.
Preakness Stakes 143 Post Position Draw Quote:
Scott Blasi (assistant to trainer Steve Asmussen) - "I think that's a good draw for us. I think it's great. You're in the middle of Good Magic and Justify. I think they're the horses to beat in the race." (Asmussen texted Blasi with a single word, "Perfect.")
Justify (Odds 1-2) - PP 7 - Kentucky Derby Winner
CONFIRMED - Hall of Fame trainer Bob Baffert said that Kentucky Derby (G1) winner Justify was all but shouting to him that he was ready to go on to the 143rd Preakness Stakes (G1) - the Middle Jewel of the Triple Crown - at Pimlico on May 19.
In just the fourth start of his career, Justify handled a very strong Derby field, setting a fast early pace on the sloppy track at Churchill Downs, then holding off Good Magic to win by 2½ lengths to stay unbeaten. Justify, the 1-2 favorite, is co-owned by China Horse Club, Head of Plains Partners, Starlight Racing and WinStar Farm.
Baffert, who will try for his record-equaling seventh Preakness victory, said he will follow his usual policy heading into the Preakness of leaving the colt at Churchill Downs and shipping to Pimlico the week of the race. Baffert's four previous Derby winners, all went on to win the Preakness.
As he often does the morning after a winning a major race, Baffert brought Justify out his barn to show off the chestnut to the media and fans. Justify had so much energy that Baffert had trouble holding him. The show-and-tell session was promptly changed to a short show and then a long tell after Justify was returned to his stall.
"He's pretty wild," Baffert said. "He came out of it really well. He's full of himself. He came back and he wasn't really that tired and ate up last night. Today he's been a handful."
Having bucked history while winning the May 5 Kentucky Derby (G1) in only his fourth start and without the benefit of racing as a 2-year-old, the lightly raced Justify could well hold an advantage heading into the 143rd Preakness Stakes (G1) May 19 at Pimlico Race Course.
"Could be," said WinStar Farm president and CEO Elliott Walden after watching the Bob Baffert-trained colt gallop Saturday morning at Churchill Downs. "And the horse is a big, strong horse. That plays in your favor. You see a lot of horses get sucked up with the run to the Derby. And I think the points thing makes people run a little harder in those races. You can't miss, so you really have to have your horse ready and honed in for those points races. By the time you get to the Derby, you're honed in pretty hard.
"So when you have a horse like Justify, who is 1,280 pounds going into the race, he's got a little more in reserve than a lot of horses," he added. "I don't know what he weighs now, because they weigh them in California when they go to the races. When they walk to the paddock, they walk on a scale. That's why Bob knows what he is. I don't think Bob has a scale in his barn. He did say that at the same point, (2015 Triple Crown winner) American Pharoah was 1,180 in the spring."
There aren't too many Thoroughbreds who push 1,300 pounds, with a much smaller pool of such big horses who are so fast.
"That's a good combination," Walden said.
Jimmy Barnes, the chief assistant overseeing Justify's training in Kentucky, said, "Justify couldn't be looking any better. Going into Baltimore this next week, I couldn't be happier with how he looks. The next seven days it's just keeping him healthy and happy. He had a hard race in the Derby, and the Preakness comes up quick. You just want to go in there with a happy, healthy horse."
Barnes said the minor foot bruise that surfaced that day after the Derby "looks like it's completely behind us. Those things take sometimes 48 hours to resolve themselves, so now we just march forward to Baltimore."
Preakness Stakes 143 Post Position Draw Quote:
Bob Baffert (Trainer) - "I'm fine. I'll never forget the sickening feeling when I drew the 1-2 (posts) with American Pharoah and Dortmund. I think the break is still very essential, so I'm fine with it."
Elliott Walden (President and co-owner CEO WinStar Farm) - "We were pleased with that. I don't think Bob wanted to be the `1,' and I think anything else would have been fine. To come out of the `7' like he did at Churchill, I think is good. One thing, (Baffert) said he didn't want Quip to his outside, because he might be speed, too."
Bravazo (Odds 20-1) - PP 8
CONFIRMED - Hall of Fame trainer D. Wayne Lukas will have two chances to get a record-tying seventh Preakness victory, with both Bravazo and Sporting Chance on target for the 1 3/16-mile classic.
After a disappointing debut in August 2017 at Saratoga Race Course, Bravazo improved when stretching out to a mile at Churchill Downs in September, surging clear to win by 4 3/4 lengths.
The dark bay or brown colt made his stakes debut in the Grade 1 Claiborne Breeders' Futurity and finished second to highly regarded Free Drop Billy. He followed with a third-place finish in the Street Sense Stakes at Churchill before a head-scratching 10th-place finish in the Grade 2 Kentucky Jockey Club Stakes.
Bravazo finished sixth in the Kentucky Derby after making a big move around the far turn to the sixteenth pole before weakening.
Use the links below to learn more about the second leg of the `Triple Crown of Horse Racing'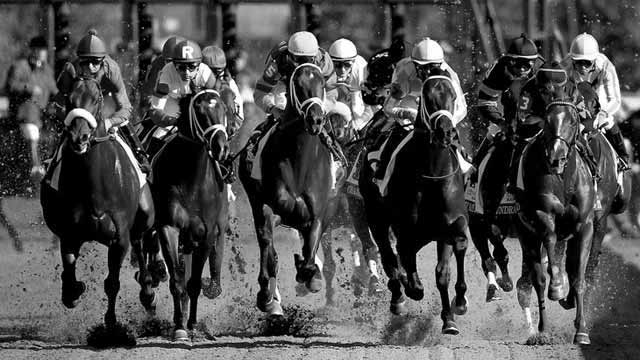 Bet Horse Racing with OTB