Preakness Stakes 2022 Contenders & Odds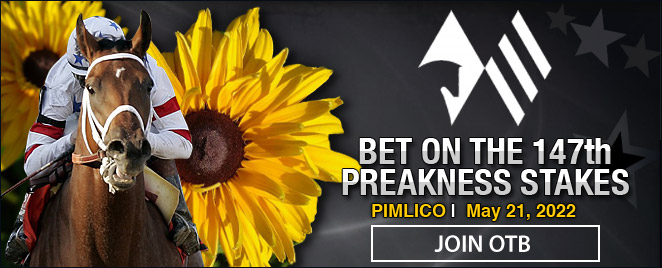 Maryland Jockey Club Press Release
Favored Epicenter Draws Post 8 for Preakness 2022
Epicenter (Winchell Thoroughbreds LLC) was installed as the 6-5 morning-line favorite for the 147th Preakness Stakes (G1), the Middle Jewel of the Triple Crown, at Pimlico Race Course on Saturday, May 21.
The Steve Asmussen-trained colt, who finished second in the 2022 Kentucky Derby (G1) at Churchill Downs, drew Post #8 in a field of nine 3-year-olds during the official draw at nearby Citron Restaurant.
Asmussen, a two-time Eclipse Award winner, has saddled a pair of Preakness Stakes winners during his Hall of Fame career: Curlin (2007) and filly Rachel Alexandra (2009).
Epicenter made a powerful move in the Kentucky Derby to take the lead on the turn into the homestretch but was unable to hold off Rich Strike, the 80-1 upsetter who is bypassing the 1 3/16-mile Preakness.
Joel Rosario has the return mount aboard the son of Not This Time, who entered the Derby off impressive victories in the Risen Star (G2) and Louisiana Derby (G2) at Fair Grounds.
2022 Preakness Stakes Field & Odds
Race 13 at Pimlico on Saturday, May 21 - Post 7:01 PM
Entry
Horse
ML Odds
Jockey
Trainer
1
Simplification
6-1
John Velazquez


126 Lbs

Antonio Sano
2
Creative Minister
10-1
Brian Hernandez, Jr.


126 Lbs

Kenneth McPeek
3
Fenwick
50-1
Florent Geroux


126 Lbs

Kevin McKathan
4
Secret Oath
9-2
Luis Saez


121 Lbs

D. Lukas
5
Early Voting
7-2
Jose Ortiz


126 Lbs

Chad Brown
6
Happy Jack
30-1
Tyler Gaffalione


126 Lbs

Doug O'Neill
7
Armagnac
12-1
Irad Ortiz, Jr.


126 Lbs

Tim Yakteen
8
Epicenter
6-5
Joel Rosario


126 Lbs

Steven Asmussen
9
Skippylongstocking
20-1
Junior Alvarado


126 Lbs

Saffie Joseph, Jr.
Klaravich Stables Inc.'s Early Voting was rated second at 7-2 in the morning line after drawing Post #5. The Chad Brown trainee most recently finished second in the April 9 Wood Memorial (G2) at Aqueduct, losing by a neck to Mo Donegal after setting the pace.
The son of Gun Runner, who will be ridden by Jose Ortiz, entered the Wood off a debut maiden score and a 4 ½-length triumph in the Withers (G3) at Aqueduct in his first two career starts.
Briland Farm's Secret Oath, who captured the May 6 Kentucky Oaks (G1) at Churchill Downs by two lengths, was rated third at 9-2 in the morning line after drawing Post #4 for her attempt to become the seventh filly to capture the Preakness.
Secret Oath arrived at Pimlico shortly before 3:30 p.m. Monday following a van ride from Churchill Downs, accompanied by her Hall of Fame trainer, D. Wayne Lukas, who reported that the Oaks winner handled the trip well.
The daughter of Arrogate finished third against males in the Arkansas Derby (G1) at Oaklawn prior to impressing in the Oaks on Derby eve.
Luis Saez, who was aboard for the Oaks, has been awarded the return call by Lukas, a six-time winner of the Preakness.
Tami Bobo and Tristan De Meric's Simplification, who closed from 15th to fourth with a very wide rally in the Kentucky Derby, was set at 6-1 after drawing Post #1.
Hall of Fame jockey John Velazquez will seek his first Preakness success aboard the Antonio Sano-trained son of Not This Time, who captured the Fountain of Youth (G2) and finished third in the Florida Derby (G1) at Gulfstream Park.
Fern Circle Stables and Back Racing LLC's Creative Minister [Post #2; 10-1; Brian Hernandez Jr.], SF Racing and partners' Armagnac [Post #7; 12-1; Irad Ortiz Jr.], Daniel Alonso's Skippylongstocking [Post #9; 20-1; Junior Alvarado], Calumet Farm's Happy Jack [Post #6; 30-1; Tyler Gaffalione], and Villa Rosa Farm and Harlo Stable's Fenwick [Post #3; 50-1; Florent Geroux] are also entered in the Preakness.
Preakness Stakes Draw Quotes
Trainer Antonio Sano [Simplification, Post #1]: "I saw speed to the outside. It doesn't change our strategy. At first, I thought no good, but Johnny V [John Velazquez] is so smart. He will make the decision if he has to go outside."
Trainer Kenny McPeek [Creative Minister, Post #2]: "I like him inside. We will leave it up to Brian (Hernandez Jr.). Really, it's not the post position as much as it is the horse. It would not have bothered me if we drew the rail."
Trainer Kevin McKathan [Fenwick, 50-1; Post #3]: "The draw was perfect. I wanted to be right in the middle. My horse is going to the front. I deserve to be 50-1 how we ran last time. I deserve to be that, maybe 60-1. He has to go to the front - we got cut off, shut off in the Blue Grass - once that happens then anything can happen. He's a free-running horse. You put him on the lead and let him go at 50-1, they might never see him again.
Owner Rob Mitchell [Secret Oath, Post #4]: "I think it's fine. ... I mean, I'm happier with that than I was after the post position for the Oaks (Post #1), but I'd really like to hear what Wayne [Lukas] has to say about it."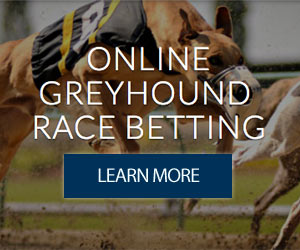 Trainer Chad Brown [Early Voting, Post #5]: "Terrific. I wanted to be somewhere in the middle, so that will work. I'm happy with the draw."
Trainer Doug O'Neill [Happy Jack, Post #6]: "Six out of nine - I like it. I think it's a good draw. With the three outside us, we have some wiggle room. This is a tough group. We like that there are nine rather than 20. We are happy right where we are."
Trainer Tim Yakteen [Armagnac, Post #7]: "I like it. The post should suit him fine. It's a good draw for him. In any race, yes, the post is key, but it depends on the horse. He just needs to get out and get in a good rhythm."
Trainer Steve Asmussen [Epicenter, Post #8]: "I thought it was ideal. It's a nine-horse field, plenty of run-up to the first turn. Several fresh horses and us coming back in two weeks, I think it's absolutely ideal. You could say we're half as nervous as the draw for the Derby, when you go from 20 runners to nine. I think that makes it that much more beneficial to everybody as far as post-position draw goes. With that being said, it's exciting to run against Early Voting, me being a huge fan of Gun Runner (whom he trained). So I'm very excited to see him, but obviously anxious for Epicenter's opportunity in the Preakness."
Trainer Saffie Joseph Jr. [Skippylongstocking, Post #9]: "It's fine. I don't think the posts are going to compromise anybody, so I'm fine with it. It's only a nine-horse field."
OffTrackBetting.com - US Legal Preakness Stakes OTB is a great way to bet Preakness Stakes online. Available to customers across the United States, OTB features both Thoroughbred and Standardbred racing from major racing venues in the US as well as top international racing from Europe, Japan, Australia and Hong Kong.
2022 Preakness Pre-Draw News
Rich Strike Will NOT Run in 147th Preakness Stakes
UPDATE MAY 12 - Rich Strike, winner of the 2022 Kentucky Derby (G1) at 80-1 odds, will NOT run in the 147th Preakness (G1) at historic Pimlico Race Course according to a statement released on May 12th from owner, Rick Dawson. He will rest up and run in the upcoming Belmont Stakes on Saturday, June 11.
Statement from Rick Dawson, owner of Rich Strike
Our original plan for Rich Strike was contingent on the KY Derby, should we not run in the Derby we would point toward the Preakness, should we run in the Derby, subject to the race outcome & the condition of our horse, we would give him more recovery time & rest and run in the Belmont, or another race and stay on course to run with 5 or 6 weeks rest between races.
Obviously, with our tremendous effort & win in the Derby it's very, very tempting to alter our course & run in the Preakness at Pimlico, which would be a great honor for all our group, however, after much discussion & consideration with my trainer, Eric Reed & a few others, we are going to stay with our plan of what's best for Ritchie is what's best for our group, and pass on running in the Preakness, and point toward the Belmont in approximately 5 weeks.
We thank the wonderful Preakness & Pimlico folks that have reached out to us & very much appreciate the invite.
We wish you all a great race!!!!
Rick Dawson, Owner
Rich Strike (Ritchie)
Winner Derby #148
May 9 - Rich Strike, winner of Saturday's Kentucky Derby (G1) at 80-1 odds, will run in the 147th Preakness (G1) at historic Pimlico Race Course as long as the colt is doing well, trainer Eric Reed said Sunday morning.
The Lexington-based Reed spoke with the media a little more than 12 hours after RED TR-Racing LLC's Rich Strike and Ohio-based jockey Sonny Leon ran down favored Epicenter to triumph by three-quarters of a length. It was the second-biggest upset in the Derby's 148 runnings, the $163.60 payoff topped only by Donerail's $184.90 in 1913.
Rich Strike also became only the second horse to win the Derby out of Post 20 since the utilization of the starting gate in 1930, the first being Big Brown in 2008.
"If Richie is ready to go and I think it's the right thing for him, we're going to go," Reed said of the May 21 Preakness. "I want to go; that's naturally what we want to do. But I have to do what I've done from Day One with this horse, and that's manage him and take care of him. Because he'll take care of the rest if I do."
So far, so good. Reed reported that Rich Strike ate up all his post-race meal.
"By 10 o'clock last night, he was wanting more," he said. "He's walking sound. His legs look great. No issues, no bumps, no bruises that we can see right now. I don't think he's dropped much weight either. He came out of the race in really good shape, thank the Lord."
Rich Strike was scheduled to van later Sunday morning to Reed's Mercury Training Center near Lexington, where he'll resume training. Reed said he could ship to Baltimore "probably toward the weekend."
"He's a real good shipper," he said. "He takes everything in stride. He's very calm and relaxed about his training, so we won't do a whole lot of anything. Go up there, give him a few days on the track, maybe give him a strong gallop. I've never been hard on him. I space my workouts 10, 12 days instead of seven. I don't like to run him [back] quick. This will be the first time we've had to do that, if this is where it goes. That's why he's been so fresh and getting better each race. We haven't pushed on him.
"I don't get these horses 10, 12 a year like him. I get one in a lifetime," he added, "so I've got to protect him. I'd like him to be here a couple of years."
Reed said he has about 100 horses at Mercury Equine Center, where he has a private training track, with about 20 horses in Ohio and some more at Keeneland. But he said he's never run at horse at Pimlico.
"I've raced every track in New York, California, Florida, but I've never been to Pimlico," he said.
A lot of things had to happen for Rich Strike to win the Derby, starting with getting into the overflow field. It wasn't until late Friday morning that Kentucky chief state steward Barbara Borden called Reed to say that there had been a scratch [Ethereal Road] and Rich Strike could draw in off the also-eligible list if they wanted. The late-runner also was aided by a torrid early pace, including the fastest first quarter-mile [21.78 seconds] in Derby history.
Reed, who returned to Lexington Saturday night and then came back to Churchill Downs Sunday morning, said he didn't sleep all night.
"It's sinking in now," he said of his second career graded-stakes victory coming in the Kentucky Derby. "I'm so proud of this horse and all of my guys, my jockey. It was a team effort from a long time ago. We were just trying to get here."
It's rare enough for a Derby winner to have been in a claiming race earlier in his career, but the fact that Rich Strike was taken out of a $30,000 maiden claiming race in his second start could be unprecedented. Reed said he liked Rich Strike's works at Ellis Park leading up to the colt's debut in a mile turf race. He said he was undeterred when Rich Strike finished 10th, figuring he didn't like the turf.
Rich Strike won by 17 lengths the day he was claimed at Churchill Downs last September. That was his only victory until the Derby, though he ran respectably in four of five prior races for Reed and owner Rick Dawson of Oklahoma, accumulating a trio of thirds and a fourth. His only poor effort came in the Gun Runner Dec. 26 at Fair Grounds, when Epicenter beat him by 14 lengths.
The start that got Rich Strike into the Derby was his third-place finish in the Jeff Ruby Steaks (G3) over Turfway Park's Tapeta surface.
"When he got back on the dirt from the Tapeta [following three races at Turfway], his stride got better," Reed said. "His started getting stronger. He was getting more cocky ... I knew he'd show them he belonged. I never dreamed he'd be able to pass all the horses."
Reed said he did not see the finish of the Derby until watching a replay.
"When I saw that move at the quarter pole, I told my dad that might get us on the board," he said, referring to former trainer Herbert Reed. "Then, I don't really remember what happened except my back gave out on me. I ended up on the ground before the horse even crossed the wire. All my friends and family just piled on top of me. They were shaking me and screaming, `You won the Derby! You won the Derby!' When they got me back on my feet - a couple of guys knew my back was bad, they helped me get up gently. They patted me on the back, wanting to carry me down the tunnel. I said, `I can walk now. Just get me back up.'"
Reed said he'd had such media attention only once before, in the wake of a tragic barn fire that killed 23 of his horses in 2016.
"It wasn't under these good circumstances," said the 57-year-old Reed. "I'm so happy to be here with a bright sunny day and everybody happy. When I started training at 18, I never thought I'd be in the Derby. I watched it every year. I was never envious or jealous. I rooted for all the local guys that tried to win it, that I grew up with training. We were all the same age, and they all got here [to the Derby] and had horses run well. I was so happy for those guys.
"Just getting into the Derby, to me, was like a win. I can't put into words how it feels. "But, I was so happy for my wife [Kay], my crew and to have my dad beside me. That was the best part for me," he added. "... I truthfully thought the day after the fire that all the stuff I had done over the years - and I'd been very successful for what we had started with - that maybe it was time to take a break, or telling me maybe it wasn't meant to be anymore. I had some big-time trainers - the guys who get talked to [by the media] every day - send me texts and kind words, and offer money, clients and horses to keep me in this. There's one - I'm not going to mention the name, but he's in California - who said, `Do not let this take you out.' Between that and the kindness from everybody and my help - who the day after that tragedy, cleaned the stalls and fed the horses and went back to the track with the horses that needed to train - that let me know that I wasn't going to go out that way. That I would go out on my own terms."
Trainer Steve Asmussen said he couldn't comment on Epicenter's status until conferring with owner Ron Winchell, saying, "I need to hear from the boss." Asmussen is a two-time Preakness winner with Curlin in 2007 and the filly Rachel Alexandra in 2009, and has heavily supported the entire stakes program that on Preakness weekend.
Trainer D. Wayne Lukas, a six-time Preakness winner, said Kentucky Oaks (G1) winner Secret Oath and Ethereal Road will be considered for the 1 3/16-mile classic, with a decision to be made later in the week.
"I'm going to wait a couple of days and study this whole thing, look at it," he said. "I was just talking to Steve, [saying] if I don't scratch, he wins it."
Chad Brown, who trained 2017 Preakness winner Cloud Computing, plans to run Wood Memorial (G2) runner-up Early Voting in the second leg of the Triple Crown.
"He's in New York right now and been working super up there," Brown said. "We feel pretty good about that decision [to skip the Derby], especially the way the pace worked out."
The Brown-trained Zandon, winner of Keeneland's Blue Grass (G1), made a run at Epicenter before finishing another three-quarters of a length back in third.
"I felt really good turning for home," Brown said. "He drew outside of [Epicenter] but could never get by him."
Of the Preakness, Brown said, "I'm going to think about it, talk to the owner and take a look at him."
Trainer Antonio Sano was pleased Sunday morning with the manner in which Simplification exited his fourth-place Derby effort, in which he rallied from 15th while racing extremely wide.
"I'm very happy with the race. With less traffic, the horse could have won the race," said Sano, whose Fountain of Youth (G2) winner finished 3 ½ lengths behind Rich Strike.
Maryland Jockey Club officials expect Simplification to be on the grounds Tuesday.
Trainer Saffie Joseph reported that White Abarrio came out of his 16th-place Derby finish "very well." The Florida Derby (G1) winner, who had a very wide trip throughout the Derby, will not run in the Preakness, but Joseph said Skippylongstocking, who finished third in the Wood Memorial last time out, is being pointed to the Middle Jewel.
Trainer Kenny McPeek said via text that Creative Minister is possible for the Preakness after his impressive victory in a 1 1/16-mile allowance race on the Derby undercard. McPeek, who won the COVID-delayed 2020 Preakness with the filly Swiss Skydiver, said he'd watch Derby eighth-place finisher Smile Happy this week before making a decision. Grade 1 winner Rattle N Roll, who was on the Derby also-eligible list, is also under consideration. Tiz the Bomb, who beat Rich Strike in both the John Battaglia Memorial and the Jeff Ruby Steaks, will not run in the Preakness, he said.
Santa Anita Derby winner Taiba, who finished 12th in only his third career start, could run back in the Preakness. "That decision will be made in the next 48 hours," said trainer Tim Yakteen.
Non-Derby starters In Due Time, Morello, Fenwick, and Un Ojo are also under Preakness consideration.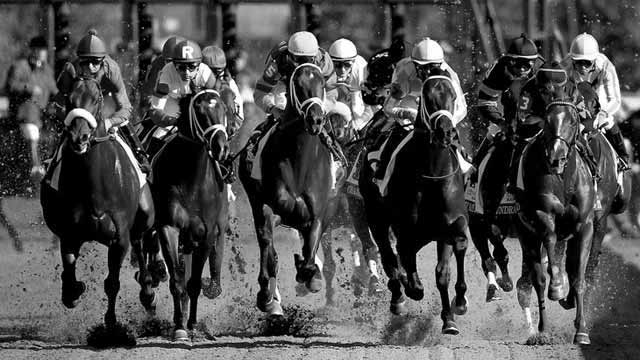 Bet Belmont Stakes with OTB