2023 Belmont Stakes Contest at OffTrackBetting.com

FREE CHANCE TO WIN $50 IN WAGERING CREDITS
OffTrackBetting.com is offering a free contest for a chance to win up to $50 in wagering credits by picking the top 3 finishers (in order) for the 2023 Belmont Stakes on Saturday, June 10, 2023. Show off your Handicapping skills and pick up a free $50 in wagering credits.
OTB is also offering a consolation prize if you don't get all 3 correct. We'll give you $10 if you only get the top 2 finishers correct (in order), and a free bet ($2 in wagering credits) if you only pick the correct Belmont Stakes winner.
Pick the top 3 finishers in order and get $50 in wagering credits
Pick the top 2 finishers in order and get $10 in wagering credits
Pick the winner and get a free bet ($2 in wagering credits)
The OffTrackBetting.com Belmont Stakes contest is closed - winners will be notified by email within 72 hours - good luck!
By submitting your entry, you agree to the OffTrackBetting.com 2023 Belmont Stakes contest terms and conditions:
Entrants must have an active OffTrackBetting.com account in order to participate in the contest and in order to receive any contest winnings. Not a member - click here to join
Accounts are considered active only if there has been a successful deposit or wager within 30 days prior to post-time of the 2023 Belmont Stakes.
If a horse is scratched, it will be replaced with the post-time favorite. If you have chosen the post-time favorite elsewhere in your entry, then the next-highest favorite will be substituted. The Win pool totals will be used as a tiebreaker in the event the final odds are tied among replacement runners.
Prizes will be issued to entrant's OffTrackBetting.com account in the form of wagering credits to use for betting. Wagering credits are subject to a 1x rollover requirement, meaning you must wager the full amount of the credit before being able to withdraw funds.
Wagering credits will be issued to winners' OffTrackBetting.com account no later than 2pm Eastern, Friday, June 16, 2023.
All wagering credits that are not used within 30 days of issuance will be forfeit, and removed from entrant's OTB account.
One entry per account holder.
All entries will be time-stamped. Entries submitted after the official post-time will be discarded.
Entrants must pick the finishing order correctly in order to win any prizes. If an entrant fails to pick the Belmont Stakes Winner, there will be no prize awarded, even if entrant successfully picks the 2nd and 3rd place finishers.
OffTrackBetting.com reserves the right to discontinue this promotion at any time without notice.
You must provide a valid email address during the entry process.
OffTrackBetting.com also reserves the right to verify the identity and eligibility of any Player participating in the promotion and to disqualify anyone from receiving any prize if it is determined that the Player has not complied with the rules of the promotion, and/or has provided false or misleading information about his or her identity.
OffTrackBetting.com reserves the right to refuse issuing any credit to anyone at anytime for reasons that OffTrackBetting.com deems relevant.
Patrons residing in jurisdictions where applicable law prohibits account wagering are not eligible for the promotion. Proof may be required from the Player to verify age and residency requirements. All federal, state and local laws and regulations apply.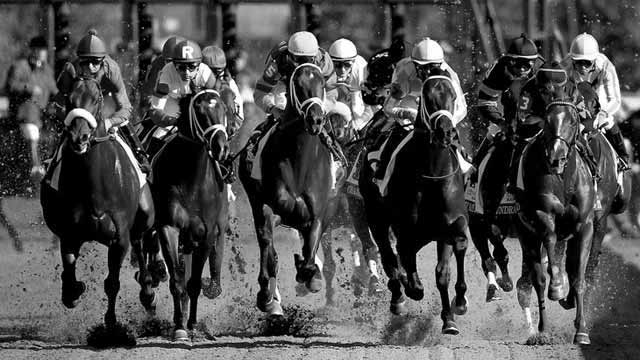 Bet Horse Racing with OTB