Fraser Downs

Fraser Downs Racetrack and Casino is a 5/8's mile harness racing track and casino in Surrey, British Columbia, Canada. The track is just east of 176th Street (Pacific Highway) on 60th Avenue, in Surrey, BC.
---
Fraser Downs History
The history of modern harness racing goes back to colonial America, when roads were improved enough so that a light carriage could be driven with some speed. This early means of transportation grew into the sport of harness racing, which gained status as a major North American sporting event. The earliest competitions were between ordinary farmers, who had a natural curiosity about whose farm horse could go faster.
Jim H. Keeling Sr., is credited for bringing modern harness racing to British Columbia. Keeling was a natural sportsman, with his roots in hockey. In the 1950s a friend talked him into buying a harness horse, and from there Keeling went on to operate a stable in Ontario with Hall of Fame trainer and driver Keith Waples.
Keeling and Waples along with a third partner, Doug Gillespie, formed their parent company, Orangeville Raceway, northwest of Toronto. In 1969, he ventured west at an age when most men would have retired, to give the Fraser Valley Fair Board some help with a harness meet at Cloverdale. From this endeavor evolved Keeling's ownership and operation of Cloverdale Raceway, which became the cornerstone of harness racing on the west coast when it opened in 1976. Four years later, Keeling and his partners also opened Sandown Raceway, just outside of Victoria. Because of Keeling's industriousness, BC had two harness racing establishments and although both started modestly, they soon transformed standardbred racing into major spectator attractions.
In the early 1990s Jim Sr. eventually passed the torch of running the business to his son Jim Jr. Tragically, Jim Jr. died suddenly in 1996, and his son Chuck was put at the helm.
In 1996, Cloverdale Raceway underwent renovation and was renamed Fraser Downs.
What began as a research project in 1996 became a reality in 2003, when the province abandoned its policy of banning slot machines from BC horse racing tracks. Fraser Downs began an endless consultation and meeting process to receive proper licensing to operate the slots.
In December, 2003, Surrey City Council approved the addition of slot machines to Fraser Downs. Construction began later that month and the opening of a permanent Casino with over 400 slots opened in November 2004. The grand opening of the completely remodeled facility was held in October 2005, with hope the casino would stimulate harness racing on the west coast and help revitalize the Fraser Valley to one of the premier entertainment destination in the Lower Mainland.
Keeling had a vision, "The slot machines will win for us an opportunity to arrest our sport's decline, attract many new people and substantially improve purses. All of us who love horse racing - operators, staff, fans and horse people - should be judged in the future by what we are now able to achieve." Keeling has already proven that Fraser Downs will be judged for its visionary thinking and spirit, not unlike its founder was almost 40 years ago.
Jim Keeling Sr. who will be remembered as a pioneer of harness racing in BC was inducted into the Canadian Harness Racing Hall of Fame in 2001 and BC Harness Racing Hall of Fame in 2007. Had it not been for Keeling's courage and vision, harness racing would likely have ceased to exist in BC.
Today Fraser Downs is a proud part of Great Canadian Gaming Corporation, British Columbia's foremost casino and gaming operator, and the largest community-based gaming management company in Western Canada.
Situated on 60th Avenue in Surrey, British Columbia, Fraser Downs offers excellent harness racing and casino gambling. This great track features live standardbred horse racing for nine months of the year as well as great casino gambling and simulcast racing all year long. The track, which has been completely remodeled recently, is fast becoming one of the top entertainment destinations in the Lower Mainland.
So what can you expect to find at Fraser Downs Racetrack & Casino? Well, to start with, plenty of live racing action. The track may be fairly normal in terms of size and other dimensions but the fare is top-notch and the purses are steadily increasing in size. The track hosts live standardbred harness racing from the month of September all the way through to May, and you can be sure that the racing facilities provide everything you need at one place. Add to this a casino facility which is open 365 days a year and you have non-stop horse racing and gambling entertainment. The facility is generally open from 9am to 4am on weekdays and a full 24 hours a day on weekends. There are 420 different machines to choose from - all of which are top of the line, the very latest in gaming fun. The machines, among other things, offer Touch Bet Roulette and electronic blackjack.
Once you've worked up an appetite there are six different eateries to choose from, including the Clubhouse Buffet Restaurant which is only open during live racing events and which offers excellent track-side dining. For those looking for a change of pace, the Longshots Show Lounge often features live entertainment on Fridays and Saturdays while coffee, tea and soft drinks is available for all players. Of course, the racing doesn't have to stop when the season ends and you can also enjoys a state-of-the-art Race Book and great simulcast coverage. So come to the Fraser Downs Racetrack & Casino and enjoy some great live harness racing action!
---
Fraser Downs Live Horse Racing Schedule
August - May

---
Post Time at Fraser Downs
Sunday: 12:45pm
Friday & Saturday: 7:00pm

---
Fraser Downs Track Code
FRD
Fraser Downs Contact Information
Mailing Address:

Fraser Downs Racetrack & Casino
17755 60 Avenue
Surrey, BC V3S 1V3
Canada

Website: www.fraserdowns.com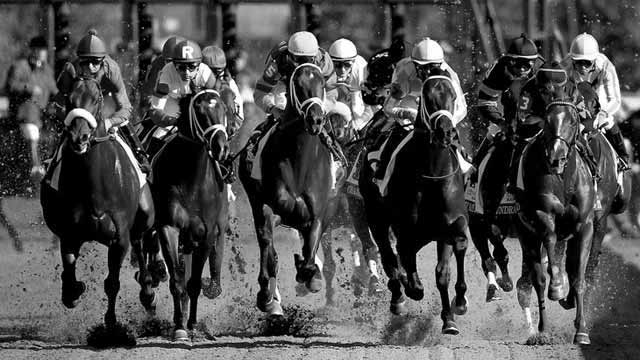 Bet Horse Racing with OTB