Palm Beach Kennel Club

The Palm Beach Kennel Club offers year-round greyhound racing betting and simulcast action. It is located in West Palm Beach Florida and hosts daily races along with poker and dining facilities.
---
Palm Beach Kennel Club History
The year was 1932... bread was 7 cents a loaf, a newspaper 10 cents and gas just 11 cents a gallon. Elizabeth Taylor and Johnny Cash were born that year. Duke Ellington's "It Don't Mean A Thing..." was a big hit and Grand Hotel won the best picture Academy Award. The New York Yankees swept the Chicago Cubs in four straight to PB Kennel Club win the World Series (featuring Babe Ruth's famous called shot). The Summer Olympics were held in Southern California and the Winter Games in Lake Placid, NY. Herbert Hoover was President and the country's population was 124 million.
On a Wednesday night that year, (February 17 to be exact), the Palm Beach Kennel Club introduced greyhound racing and pari-mutuel wagering to Palm Beach County. An estimated crowd of 4,000 attended opening night and 24 mutuel windows were opened to accommodate the jam-packed grandstands. Broom Boy won the first race returning $38.60, Dr. Harry captured the Inaugural and in one race, favorite Harley Blitz caught the mechanical lure.
The O.M. Carmichael Family built the original facility, which lasted until the mid-1950's.Agroup headed by Phil Bryan purchased the track from Carmichael and later sold it to a corporation headed by Bernie Griffin. John Boggiano owned the track for 18 years from 1953 to 1970 and he built the current grandstands in 1962. In 1970, Boggiano sold the track to Arthur J. Rooney, Sr. and his five sons: Dan, Art Jr., Tim, John and Pat. The Rooney Family also owns The Pittsburgh Steelers, six-time NFLChampions, Yonkers Raceway and Empire Casino in New York.
Today, Palm Beach Kennel Club is recognized as a premier entertainment complex and Palm Beach County's #1 spectator sport. The Kennel Club features: the thrill of live Greyhound racing; simulcasts from top facilities in the country; a beautiful and newly renovated facility; the 64-table Poker room with tournaments; a wide variety of dining options; millions of dollars in winnings paid out and a busy schedule of stakes events, special promotions and giveaways.
The Kennel Club, a fan-favorite for locals and visitors, celebrated its 81st Birthday on February 17, 2013 with lots of fun and festivities. Throughout the years, an estimated 36 million have come through the turnstiles wagering billions of dollars. The first year, with 38 racing dates, attendance was 72,585 and the parimutuel handle $614,538. In 2012, there were 363 racing days - 463 live performances and over $104 million bet on track. Some 604,000 visited the track in 2012. PBKC was granted year-round racing in 1987 and in 1991 simulcast wagering was introduced.
In 1997, The Poker Room became the latest form of entertainment at the Kennel Club. Since that time, the Poker Room has become Florida's largest Poker Room with 64 tables of action. July 1, 2011 was a big day, as the poker limits were lifted in terms of buy-ins for poker tournaments. In February, 2011, the Poker Room made history as the first non-casino to host World Series of Poker Circuit Events. In 2012, multiple WSOPC records were broken with 8,177 participants, $3.7 million in prize money awarded and the first ever WSOPC $1 Million Guarantee. This resulted in over 2,000 hotel room nights and close to $1 million in event impact.
In 2012, with the support of the Palm Beach County Commission, PBKC was successful in getting the "Vote Yes for Slots" initiative on the November ballot. The ballot item, asking PBC citizens if they wanted slot machines in licensed pari-mutuel facilities within the county, passed overwhelmingly.
PBKC is one of the oldest and most competitive tracks in the country and has been the home of some of the best greyhounds ever in the history of the sport. In the 1960's - WestyWhizzer, a threetime All American and Hall of Fame Greyhound...1970's - IzzAChamp, 21 in a row, AllAmerican Captain, Rural Rube Award... 1980's - He's My Man, North American Win Champ, All American Captain, Rural Rube Award... 1990's - Pat C Rendezvous, 36 consecutive victories - the current World Record for Three-Eighths of a Mile - North American Win Champ, All American Captain, Flashy Sir...2003 - Jawa Leonas Best becomes the first Greyhound in track history to win the He's My Man Classic, the Three-Eighths Mile Derby and the St. Patrick's Invitational...2005 - Ozzie The Man, North American Win Champ, All American Captain, Rural Rube, winner of 26 races in a row, the tenth longest win streak in the sport's history.
Albeit, this is a short list of some of the amazing talent that has graced our oval. There are many more names that can be mentioned and each and everyone of them will always have a special place in Palm Beach Kennel Club history.
---
Palm Beach Kennel Club Live Greyhound Racing Schedule
Jan 01 to Dec 31
---
Post Time at Palm Beach Kennel Club
Evenings: 7:00pm Friday and Saturday
Matinees: 1:00pm daily
---
Palm Beach Kennel Club Track Code
PBMAT
---
Exotic Wagering at Palm Beach Kennel Club
$2.00 EXACTA
$2.00 QUINELLA
$2.00 TRIFECTA

---
Current Weather Conditions at Palm Beach Kennel Club
Palm Beach Kennel Club Contact Information
Palm Beach Kennel Club
1111 North Congress Avenue
West Palm Beach, FL 33409
Website: www.pbkennelclub.com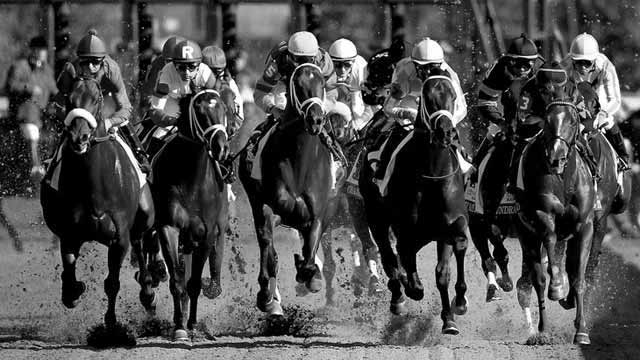 Bet Horse Racing with OTB