Plainridge Racecourse

Plainridge Racecourse is a harness racing track in Plainville, Massachusetts. Plainridge Racecourse normally holds races from April to December. The racetrack is a 5/8 mile oval with Euro-style spiral turns. The surface is a gravel base with stone dust composition and a stone dust screening top layer.
---
Plainridge Racecourse History
Plainridge Racecourse is a harness horse racing track in Plainville, Massachusetts. A relatively new racing establishment, Plainridge was officially opened on March 17, 1999. Offering racegoers excellent facilities both for live racing and simulcast racing, Plainridge Racecourse has a calendar full of exciting events. The track features world class standard bred racing featuring some of North America's top-ranked trotters and pacers, as well as the best drivers and trainers.
Plainridge Racecourse has an impressive track measuring in at 5/8 mile with a homestretch of 600' and breadth of 80'. Some 102 race programs are hosted at Plainridge every season between April and November. Amongst these popular harness races, both trotting and pacing, are the Bill Doyle Memorial, Mike McCusker, Whitey Kropa Memorial, Hank Fenno Memorial, Bert Beckwith Memorial, Baystate, Art Attack and New England Classic, to mention a few. A number of excellent records have been set at Plainridge, which has hosted some of the greatest names in harness racing. Marced Card set the record for pacing as a 2 year old colt in 2004 and in 2005 as a 3 year old. Admiral's Valet holds the fastest time for the 1 1/4 mile pacing race. Trotting champion filly, Penny Dream set the record as a 2 year old in 2005 and as a 3 year old in 2006.
Plainridge Racecourse has exceptional facilities including a grandstand capacity of 3,000 and clubhouse capacity of 1,000. Two high-tech simulcast theaters enable around 344 racegoers to view a variety of racing from around the country on large 80" television screens. Every seat also has a 13" color television and good lighting. The "21 Club" is Massachusetts number one simulcast venue, providing only the best in convenience and comfort. In the room you will find granite top carrels, leather chairs, 15" LCD televisions and a large screen HD plasma television mounted on the wall. New to Plainridge Racecourse are 8 VIP rooms, providing all the necessary privacy. The rooms can take up to 20 people and all contain self-service betting stations. Patrons can satisfy their hunger at one of the two restaurants at Plainridge.
The signature event of the meet at Plainridge Racecourse is the $50,000 Bert Beckwith Memorial which usually forms part of a big Labor Day program. The Invitational race features some of North America's finest pacers, and has been a highlight in each of the track's previous meets. Other notable races held at Plainridge Racecourse include: The Stan Bergstein Pace, an Open for sophomore pacers - The $25,000 Guy Smith Memorial Series Final, for $20,000 claiming pacers - The $20,000 New England Classic.
Harness racing fans will certainly find Plainridge Racecourse a brilliant venue, offering a world-class experience.


---
Plainridge Racecourse Live Horse Racing Schedule
April - November

---
Post Time at Plainridge Racecourse
4:00pm: April - August

1:00pm: September - November

Monday, Tuesday, and Thursday
---
Plainridge Racecourse Track Code
PRC
---
Plainridge Racecourse Wagering
Takeout

WPS: 17%


---
Current Weather Conditions at Plainridge Racecourse
Plainridge Racecourse Contact Information
Mailing Address:

Plainridge Racecourse
301 Washington Street
Plainville, MA 02762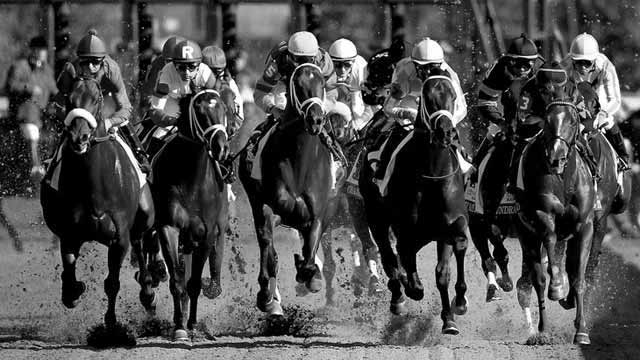 Bet Horse Racing with OTB