Tri State Greyhound Park

Mardi Gras Casino and Resort ( Tri State Greyhound Park ) is a casino located in the city of Cross Lanes, West Virginia. It is located just off the Cross Lanes exit of I-64, 14 miles west of Charleston, West Virginia and 36 miles east of Huntington, West Virginia.
The casino was known previously as Tri-State Racetrack and Gaming Center before the addition of table games, and Tri-State Casino and Resort until the name was changed to reflect its Mardi Gras theme in July 2010.
It features table games, slot machines, live greyhound racing betting, and off-track betting for both greyhound and horse racing. It also features several restaurants, food operations and a 150-room luxury hotel. The facility has a Mardi Gras theme, similar to that used by the Harrah's chain of casinos, but is not affiliated with that corporation.
---
Tri State Greyhound Park History
Cross Lanes Dog Track is the premier location for live greyhound racing. It's where the all the action is. Greyhound racing fans can feel good about coming to the Cross Lanes dog track is because the greyhounds are nurtured and cared for by leading dog racing experts and specialists. The greyhounds are also given the finest medical and nutritional attention so when they are ready to retire, they can become the perfect pet or companion.
The track expanded its casino offerings in 2008, as casino gambling was legalized in 2007. It currently has a large poker room, and offers the table games of blackjack, roulette, craps, three card poker, four card poker, Mississippi stud, Double-Up Blackjack, Double Draw Poker, Big 6, Let It Ride and sic bo.
Capture the thrill of breathtaking Greyhound racing excitement at the Mardi Gras Casino & Resort. Dine on succulent steak or seafood at the Grill at First Turn while watching the races or as you eagerly wait for the final Greyhound racing results to be announced. Mardi Gras Casino is one of the only West Virginia racing establishment that allows you to bet, dine and win-all in one place.
Witness LIVE dog track racing Monday, Wednesday - Sunday at 7:00pm and a special performance matinee at 1:00pm on Saturday-don't forget about the 10 cent superfecta
What sets Mardi Gras Casino & Resort apart from other dog tracks is that Mardi Gras offers ongoing dining and drink service along with both live and simulcast racing-right at your table. There's never a lull in excitement; after watching a few races you can hit the slots or try your hand at poker in the Big Easy Poker Room. You can wager, play, win, dine and even stay at the Mardi Gras Casino & Resort.
---
Tri State Greyhound Park Live Greyhound Racing Schedule
Jan 01 to Dec 31
---
Post Time at Tri State Greyhound Park
7:00pm Monday and Thursday, Friday, Saturday, and Sunday
1:00pm Saturday
---
Tri State Greyhound Park Track Code
TSM
---
Exotic Wagering at Tri State Greyhound Park
$2.00 WPS, Daily Double
$1.00 Quiniela
$3.00 Exacta
$0.10 Superfecta

---
Current Weather Conditions at Tri State Greyhound Park
Tri State Greyhound Park Contact Information
Tri State Greyhound Park
1 Greyhound Drive
Cross Lanes, WV 25313
Mailing Address:
P.O. Box 7118
Cross Lanes, WV 25356
Website: www.mardigrascasinowv.com/racing.html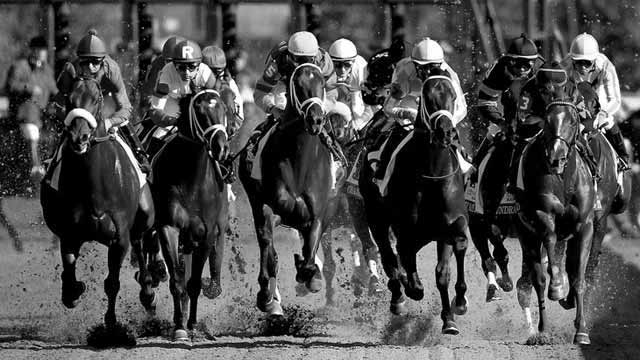 Bet Horse Racing with OTB