Kentucky Downs Results - September 07, 2020
< Kentucky Downs Results for September 12, 2019
Kentucky Downs Results for September 09, 2020 >
Latest Results
---
Kentucky Downs Race Results
September 14, 2022
September 13, 2022
September 11, 2022
September 10, 2022
September 08, 2022
September 05, 2022
September 03, 2022
September 01, 2022
September 12, 2021
September 11, 2021
September 09, 2021
September 08, 2021
September 06, 2021
September 05, 2021
September 16, 2020
September 15, 2020
September 12, 2020
September 10, 2020
September 09, 2020
September 12, 2019
September 08, 2019
September 07, 2019
September 05, 2019
August 31, 2019
September 13, 2018
September 12, 2018
September 09, 2018
September 08, 2018
September 06, 2018
Instant access for Kentucky Downs Race Results, Entries, Post Positions, Payouts, Jockeys, Scratches, Conditions & Purses for September 07, 2020.
Kentucky Downs Information
Kentucky Downs is a Thoroughbred horse racing track located on the border between Kentucky and Tennessee, in the city of Franklin, Kentucky, just off Interstate 65. It is unique among American tracks in that it is a European-style course - its surface is all turf (grass) instead of dirt, and it is not oval in shape. In 2009, the Horseplayers Association of North America ranked Kentucky Downs #2 out of 65 Thoroughbred racetracks in North America.
Kentucky Downs Information Thoroughbred Racing
5629 Nashville Road, Franklin, KY US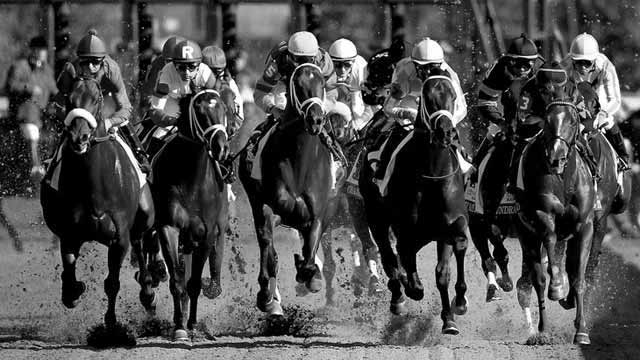 Bet Horse Racing with OTB