Del Mar Live Horse Racing Rebates
Las Vegas, NV - Del Mar racetrack will present 43 stakes races worth $7,800,000 during its 2013 summer race meeting, as well as record overnight purses that will be California's highest and among America's richest at well over $650,000 per day. The seaside track's 74th summer season will startn Wednesday, July 17th and go through Wednesday, September 4th for a total of 37 live racing days.
Headlining the 33 stakes on the shore oval's ledger will be the $1,000,000 Pacific Classic, a mile and one-quarter test that carries Grade I status and will anchor a stakes tripleheader on Sunday, August 25. (Dullahan edged out favorite Game On Dude in the 2012 Pacific Stakes)
Leading the way on the track's best-ever overnight purse schedule is the $85,000 prize for a moneyed allowance race, a $75,000 pot for straight maidens and a $68,000 purse for $62,500 claimers.
Besides its 33 major stakes, Del Mar also will offer 10 overnight stakes with purses boosted to a record level of $90,000 each.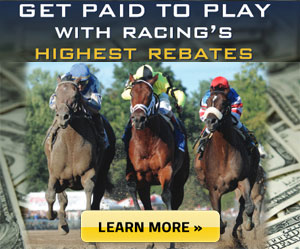 2013 Del Mar Horse Wagering & Live Racing Video
"Good racing makes for good business which makes for good purses," noted Del Mar Thoroughbred Club's president and CEO Joe Harper. "We had such a wonderful meet in 2012 I don't know how we're going to be able to better it this time around. But with the purses we've got as a starting point, I give us a better than average chance to swing for the fences again."
All told, the track will offer seven Grade I stakes bookended by the Eddie Read Stakes on the grass on its opening Saturday (July 20) and the Del Mar Futurity at seven furlongs on closing day. The other top-of-the-line offerings are the Bing Crosby Stakes at six furlongs (July 28), the Clement L. Hirsch Stakes at a mile and one-sixteenth (August 3), the Del Mar Oaks at nine panels on the lawn (August 17) and the Del Mar Debutante at seven eighths (August 31).
With the exception of the rich TVG Pacific Classic, all of Del Mar's Grade I races carry purses of $300,000.
The racing headquarters founded by Bing Crosby and his Hollywood pals back in 1937 will present two or more stakes on nine different days throughout the meet topped by the TVG Pacific Classic Day tripleheader that also will spotlight a pair of Grade II confrontations - the $250,000 Pat O'Brien Stakes at seven furlongs and the $200,000 Del Mar Mile on the Jimmy Durante turf course.
Leading the stakes parade will be the popular opening-day Oceanside Stakes at a mile on grass for 3-year-olds. In its 32 runnings since 1981, the Oceanside has been split no fewer than 26 times as it serves as a key prep for the track's sophomore championship event, the $300,000 Del Mar Derby slated for September 1 this year.
Five of the stakes have been deemed Breeders' Cup "Win and You're In" races, meaning fees for designated Breeders' Cup races will be paid. They are the Bing Crosby, Clement L. Hirsch, Del Mar Handicap, Pat O'Brien and Pacific Classic.
Two of the track's stakes have been enhanced by $50,000 this season, while a third has been reduced. The added stakes money goes to a pair of California-bred grass races - the California Dreamin' Handicap (July 21) and the Solana Beach Handicap (August 18) - each now increased from $100,000 to $150,000 as part of the statewide breeding commitment to a more lucrative stakes program for homegrown runners. The Yellow Ribbon Handicap (September 2), which prior to last year was run as the Palomar Handicap, had its purse reduced from a one-year level of $250,000 to its original prize of $150,000 for its 2013 renewal.
"It's special to win a race at Del Mar," said Thoroughbred Owners of California board chairman Mike Pegram. "And with the notably lucrative overnight purse structure now in place at the track, we're delighted to work in partnership with the folks at DMTC to put on one of the best shows in all of the sport."
The overnight schedule offers large prizes at its top end, but also healthy rewards across the board. Whereas top-level allowance horses run for $85,000 pots, those at the "non-winners other than" end are offered $77,000. And while straight maidens run for a remarkable $75,000 prize, lesser maidens also are well-rewarded for their efforts. A maiden $50,000 claimer can race for $38,000 and a low-rung maiden $20,000 claimer has a $25,000 prize to chase. Even at the bottom end in the claiming ranks the purses prove ample. Runners in the $12,500 bracket race for $28,000 and $8,000 stock is offered $20,000.
"When you look at what we used to run for not that long ago and what we're running for now, it is rather amazing," noted Del Mar's executive vice president for racing and racing secretary Tom Robbins. "If you've got a runner, Del Mar is most certainly the place to be."
Online Del Mar Horse Racing Account Wagering
OffTrackBetting.com online racebook is proud to offer Del Mar live horse racing streaming video, Del Mar video race replays & horse racing results to all of our customers. Setting up an online Del Mar horse betting account takes just a few minutes. JOIN OTB NOW!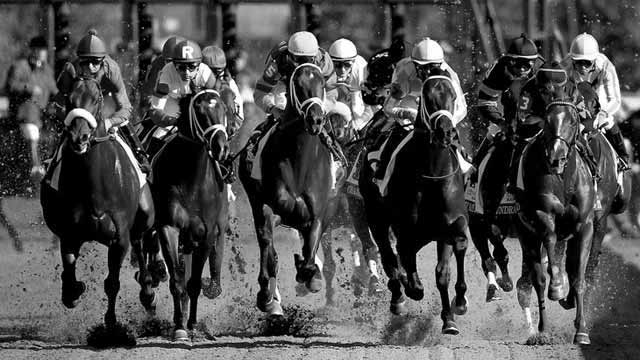 Bet Horse Racing with OTB