Clement L. Hirsch Stakes
The Clement L. Hirsch Stakes is an American Thoroughbred horse race run each year at Del Mar Race Track in Del Mar, California. The race is open to filles and mares, age three and up, willing to race one and one-sixteenth miles on Polytrack synthetic dirt. The race is no longer run under handicap conditions.
It was first run as the Chula Vista Handicap in 1937 as a five and one-half furlong race for two-year-olds bred in California and was won by a horse owned by singer, Bing Crosby. In 2000 it was renamed to honor Clement L. Hirsch (1914-2000) a Thoroughbred owner whose horse won this race in 1993. A Newport Beach, California businessman, Hirsch was responsible for the creation of the Oak Tree Racing Association.
The race was not run again until 1967 when it was run at a distance of one mile. In 1973, the race was brought back permanently as a contest for fillies and mares, age three -and older. It was run at 1 1�,,8 miles on turf, 1 mile in 1974-1975, and seven and one-half furlongs from 1976-1980 after which it was set at its current distance of 11/16 miles (8.5 furlongs). The race was run in two divisions in 1977 and again in 1980. In 2009, it became a Grade I event and renamed from Handicap to Stakes
Del Mar Race Track Graded Stakes Races
| Stakes Race | Grade | Purse |
| --- | --- | --- |
| Eddie Read Stakes | I | $300,000 |
| San Clemente Handicap | II | $150,000 |
| Cougar II Handicap | III | $125,000 |
| San Diego Handicap | II | $200,000 |
| Bing Crosby Stakes | I | $250,000 |
| Sorrento Stakes | III | $150,000 |
| Clement L. Hirsch Stakes | I | $300,000 |
| Best Pal Stakes | II | $150,000 |
| La Jolla Handicap | II | $150,000 |
| John C. Mabee Stakes | II | $250,000 |
| Del Mar Oaks | I | $250,000 |
| Rancho Bernardo Handicap | III | $150,000 |
| Del Mar Mile | II | $200,000 |
| Del Mar Handicap | II | $200,000 |
| Pacific Classic Stakes | I | $1,000,000 |
| Pat O'Brien Stakes | I | $250,000 |
| Del Mar Debutante | I | $250,000 |
| Del Mar Derby | II | $250,000 |
| Palomar Handicap | II | $150,000 |
| Del Mar Futurity | I | $250,000 |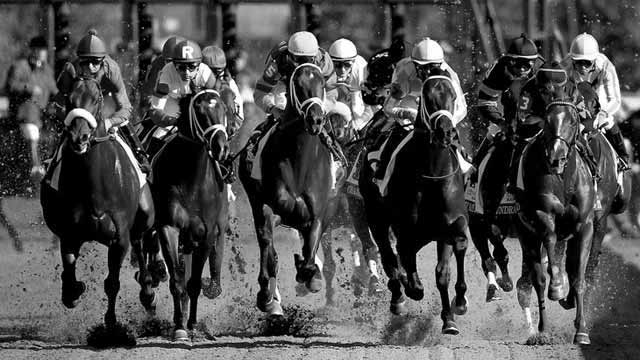 Bet Horse Racing with OTB