Las Vegas, NV - Los Alamitos Race Course, Home of the Kentucky Derby, Preakness Stakes, and Santa Anita Derby Winner, California Chrome, is proud to be a part of a new and exciting era in California horse racing this upcoming July when world-class Thoroughbred racing comes to the Orange County market. If you cannot make it to the track, all horseplayers will be able to bet Los Alamitos races online at OffTrackBetting.com.
The Los Alamitos Summer Thoroughbred Festival will open on Thursday, July 3rd with racing conducted through July 13th on a Thursday through Sunday afternoon basis. First post is set for 2 p.m.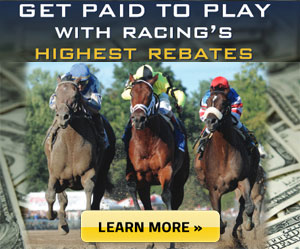 Los Alamitos Thoroughbred Racing Betting Online at OffTrackBetting.com
The first Thoroughbred meet at Los Alamitos will also be the racing debut of the track's beautiful, new one-mile oval. The track has drawn rave reviews from Thoroughbred trainers who have been using Los Alamitos as a training center since the end of January.
Leading southern California trainers now stabled at Los Alamitos include Bob Baffert, Mike Harrington, Marty Jones, Mike Puype and Art Sherman. Sherman, 77, became the oldest trainer to win the Kentucky Derby when California Chrome won the classic at 1 1/4 miles on May 3, 2014. "California Chrome loves Los Alamitos Race Course," Sherman said. "The track surface at Los Alamitos is as good a racetrack as you will find anywhere in the country."
The first Los Alamitos Summer Thoroughbred Festival will feature eight days of racing headlined by the $500,000 Los Alamitos Derby (GII) on Saturday, July 5, and the $200,000 Great Lady M (GII) on Sunday, July 6. California Chrome, Eclipse Award winner Shared Belief and the Baffert-trained runners Bayern, Hoppertunity and Chitu are among the horses nominated to the Los Alamitos Derby.
In addition to the July summer meeting, Los Alamitos will also host a three-week winter Thoroughbred meeting opening on Thursday, December 4. The winter meet will feature the $500,000 Los Alamitos Futurity (GI) and the $350,000 Starlet (GI).
CHAMPION SHARED BELIEF EYES JULY 5th LOS ALAMITOS DERBY
Trainer Jerry Hollendorfer confirmed earlier this week that the unbeaten Shared Belief is being "seriously considered" for the July 5th, $500,000 Grade II Los Alamitos derby.
The mile and one-eight Derby is the highlight of the eight-day Los Alamitos summer thoroughbred meeting that will run from July 3rd through July 13th.
Shared Belief is a son of Candy Ride and the Storm cat mare Common Ridge and was named last year's Eclipse Award-winning male after winning all three of his starts, including the Grade I Cash Call Futurity at Hollywood Park in December.
The dark-hued runner made his 3-year old debut in a 6-furlong allowance race at Golden Gate on May 26th and romped home that afternoon. According to Hollendorfer, "He came out of the race well and has been doing very nicely. We're seriously considering the Los Alamitos Derby for his next start."
Candy Boy, who was under consideration for the Belmont, passed that fixture and is being readied for the Los Alamitos Derby by trainer John Sadler. Another son of Candy Ride, candy Boy captured the Robert B. Lewis in February at Santa Anita, was third in the Santa Anita Derby and then had a troubled journey in the Kentucky Derby at most recent asking.
---