Garden City Stakes - Belmont Park Notes
Belmont Park Race Track Press Release
ELMONT, N.Y. - Winter Memories turned in her final workout in preparation for her Grade 1 debut in next Saturday's Garden City Stakes, breezing five furlongs in 1:03.48 Sunday morning over the inner turf course at Belmont Park, labeled good with the dogs out.
"She went really nice and finished up her breeze good," said trainer Jimmy Toner. "She came back good and we are ready to go, right where we want to be."
The 3-year-old daughter of El Prado rattled off three consecutive graded victories to start her sophomore campaign - the Grade 3 Appalachian at Keeneland in April, the Grade 2 Sands Point at Belmont in May, and the Grade 2 Lake George Stakes at Saratoga in July - before finishing fourth as the 1-5 favorite in the Grade 2 Woodford Reserve Lake Placid at Saratoga on August 21.
Garden City Stakes betting from Belmont Park at Off Track Betting
Following the Woodford Reserve Lake Placid, the decision was made to switch her rider from Jose Lezcano - who has been aboard for all seven of her lifetime starts - to Javier Castellano, second leading rider at the 2011 Saratoga meet.
"Javier has been aboard for her last two breezes," Toner said. "Both times she went off nice and easy, like 13 and 26. The main thing to try and get across with her is to try and get her to relax early and then let her finish."
In the Garden City, Winter Memories, owned by Phillips Racing Partnership, will look to turn the tables on Hungry Island and Kathmanblu, who finished first and second, respectively in the Woodford Reserve Lake Placid.
One of the reasons Toner cited for his filly's performance in her most recent race was that she may not have relished being on the inside of the yielding Saratoga turf course.
"The last time, the turf was [yielding], and she didn't handle it as good as we would have liked to because she went down onto the inside where it was a bit boggy," Toner said "When she won on the [yielding] ground here [Grade 3 Miss Grillo in 2010], she was outside on the crest. That's where you have to be when you're running on the soft ground. She will handle it as long as she is on the right part of the track."
GARDEN CITY STAKES - GRADE 1 - $250,000 Girls rule the grass next weekend at Belmont Park, with 3-year-old fillies set to line up in Saturday's Grade 1, $250,000 Garden City Stakes race, and older fillies and mares to contest the Grade 3, $100,000 Noble Damsel on Sunday.
In the Garden City Stakes race, 1 1/8 miles over the inner turf course, four-time graded stakes victress Winter Memories will look for a return to winner's circle following her fourth-place finish in the Grade 2 Woodford Reserve Lake Placid at Saratoga on August 21. Expected to challenge her, according to NYRA stakes coordinator Andrew Byrnes, are Arch Support, Lake Placid winner Hungry Island, Kathmanblu, Limonar, 2010 Juvenile Fillies Turf winner More Than Real, Pinch Pie, most recently third in the Grade 1 Alabama Stakes on the main track at Saratoga, as well as Salary Drive and Theyskin's Theory.
Strike the Bell will attempt to defend her title in the Noble Damsel and is expected to be challenged by Aviate, Denomination, Spring Party, Stormy Dixie, Thai Haku, Timezone, Unbridled Humor, and possibly La Cloche.
BELMONT PARK NOTES: Hungry Island Hungry Island, upset winner of the Grade 2 Woodford Reserve Lake Placid on August 21 at Saratoga Race Course, turned in her second work since the 1 1/8-mile turf race, covering a half-mile over the main track in 47.43 on Sunday morning at Belmont Park.
"She went like clockwork," said Buzz Tenney, assistant to Shug McGaughey, who trains the filly for Emory Hamilton. "I think that last race was obviously her best race. All summer long we've seen improvement and I think there's room for more improvement, too."
The 3-year-old daughter of More Than Ready is headed for a rematch with Lake Placid favorite and fourth-place finisher Winter Memories in the Grade 1 Garden City Stakes at Belmont Park on Saturday, September 17. Hungry Island started her career against Winter Memories, finishing third behind the gray filly in a turf maiden race at Belmont last September, and is undefeated in her four most recent starts.
BELMONT PARK NOTES: Tizway Tizway, probable favorite for the Grade 1, $750,000 Jockey Club Gold Cup on October 1, continued his preparations for the race, breezing five furlongs in 1:01.26 this past Friday over the Oklahoma training track at Saratoga Race Course, the fastest of five works at the distance.
"He's doing great right now," said trainer Jim Bond. "He had a good five furlong workout and galloped out strong. The current plan is to work him next Thursday or Friday, weather permitting. In a perfect world he will have two more workouts prior to the Gold Cup." Bond, who trains the 6-year-old son of Tiznow for owner William Clifton, said that he will ship to Belmont Park the day of the race, as Tizway, "likes to sleep in his own backyard."
After going 1-for-8 in graded stakes, taking last year's Grade 2 Kelso Handicap at Belmont, Tizway has put together consecutive Grade 1 victories: a 2 3/4-length triumph in the Metropolitan Handicap at Belmont on May 30, and a tour-de-force three-length score in the Whitney Invitational Handicap at Saratoga on August 6.
Bond has repeatedly cited the fact that Tizway is finally healthy as a key factor in his recent success, along with his ability to train him on the Oklahoma track for most of the year
"When he's healthy and you can train him hard like I can now, that's the key," Bond said. "This horse is a really good training horse in general, but the Oklahoma track is a bit easier on him. He fits here very well and I know what to look for. After 25-plus years of training horses here I also know what the weather will do."
He also credited NYRA's track maintenance team for keeping the surface in great condition.
"The track maintenance people up here do an incredible job," Bond said. "There was so much rain last week, but the track was awesome on Friday. I have total faith in the people taking care of the track."
With his victories in the Met Mile and Whitney, Tizway has vaulted to the top of the list of Horse of the Year contenders. Bond, however, remains realistic about how quickly things can change in racing.
"Winning Horse of the Year would be fantastic, but one thing about this game is that you never know," Bond said. "It's a game of inches and any day can be devastating. I just hope we make it that far. That's the bottom line. As long as I can keep training him hard I think he will show up and do his thing."
Although Tizway ran third, beaten 5 1/2 lengths in the 2009 Jockey Club Gold Cup, his only career attempt going 1 1/4 miles, Bond is confident the distance won't be a hindrance.
"The 2009 Jockey Club Gold Cup was against Summer Bird and Quality Road, two very good horses," Bond said. "It poured before the race, and he was stuck down on the fence with a lot of water. I'm sold on his ability to get the distance, and someone will have to prove me wrong."
Belmont Park horse racing betting at Off Track Betting
BELMONT PARK NOTES: Uncle Mo Trainer Todd Pletcher sent out both of his star Mike Repole-owned 3-year-olds for Sunday workouts as they prepare for their next assignments.
Uncle Mo, nosed out by Caleb's Posse in the Grade 1 Foxwoods King's Bishop Stakes, worked four furlongs in 48.36 at Saratoga Sunday morning in preparation for his next start on Super Saturday, October 1, at Belmont Park.
Last year's 2-year-old champion will likely run in the Grade 2 Kelso at a mile, in which he could face Grade 1 Forego winner Jackson Bend and Jersey Town, winner of the Grade 1 Cigar Mile in 2010.
Stablemate Stay Thirsty, winner of the Grade 1 Travers Stakes, also worked Sunday morning at the Spa, covering a half-mile in 50.60 as he targets the Grade 1 Jockey Club Gold Cup at 1 1/4 miles, also on Super Saturday.
BELMONT PARK NOTES: Boys At Tosconova Boys At Tosconova - a promising juvenile of 2010 who has not raced since a runner-up finish in the Grade 1 Breeders' Cup Juvenile behind last year's 2-year-old champion Uncle Mo - is nearing a return to the races despite a quarter crack that sidelined him briefly, trainer Rick Dutrow, Jr. said.
"The quarter crack is all fixed," said Dutrow, who trains the colt for Jay Em Ess Stable et al, "He's the same horse he was last year; we were able to bring him back the right way." The winner of last year's Grade 1 Three Chimneys Hopeful at Saratoga, Boys At Tosconova suffered an ankle injury this year which required 60 days of stall rest, but no surgery. He has turned in four workouts toward his 3-year-old debut, most recently covering a half-mile in 49.99 on August 29. Dutrow said he would keep an eye on the quarter crack before scheduling Boys At Tosconova's next breeze.
BELMONT PARK NOTES: Mabou Mabou, who came off a $30,000 claim by trainer David Jacobson to win the Grade 1 New York Turf Writers Cup at Saratoga Race Course, continues to gallop at Aqueduct Racetrack as he prepares for his next jumping engagement, the Grade 1, $250,000 Grand National at Far Hills, N.J. on October 22.
"He came out of the race fine and he's doing very well here," said Jacobson, who owns the 7-year-old Dynaformer gelding with Drawing Away Stable.
Jacobson said he was hoping to get a race into Mabou at Belmont Park prior to the Grand National, which is 2 5/8 miles over national fences.
"Hopefully there will be a race for him in late September or early October," said Jacobson. "The only trouble is, a 1 1/2-mile race would be like a sprint for him."
BELMONT PARK NOTES: Banrock Nyala Farm's Banrock, voted New York-bred champion turf male and older male in 2009, will be retired from racing, trainer Tom Bush said this week. Banrock was scratched from the West Point Handicap presented by Trustco Bank at Saratoga on August 18 when he presented with jaundice and elevated bilirubin levels the morning of the race. Shipped to Mid-Atlantic Equine Medical Center in Lambertville, N.J., for further evaluation, he was treated successfully with anti-viral medication, but no specific diagnosis was ever made.
"He looks really good and he's real happy in the barn," Bush said. "I want to just watch him here for maybe another week or so and then we'll look for a van for him."
Banrock will winter at the Camden Training Center in Camden, S.C., where he has spent off seasons in the past, while his connections search for a new home where the 8-year-old gelding can transition to a second career as a riding horse.
"He's always been very sound and we want to find someone who will ride him, not just turn him out," Bush said. "He's a nice ride."
Banrock retires with a record of 12-5-4 and earnings of $830,815. A fixture on the New York turf for the last five years, Banrock is a two-time winner of the Kingston, West Point, and Ashley T. Cole, and also won the Thunder Puddles and Mohawk Stakes. The 2009 Mohawk was the most recent victory for the homebred son of Go for Gin out of It's a Gherkin, a mare also bred and campaigned by Nyala Farm.
"Hopefully there will be a race for him in late September or early October," said Jacobson. "The only trouble is, a 1 1/2-mile race would be like a sprint for him."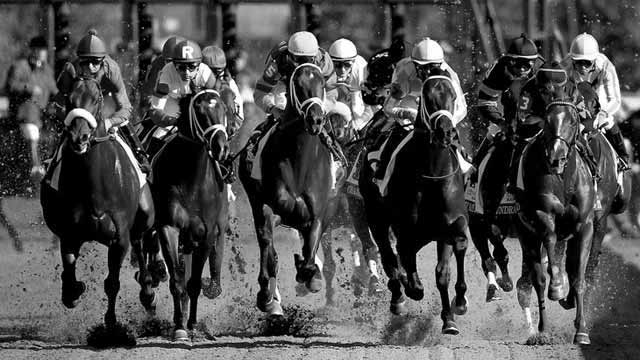 Bet Horse Racing with OTB
OTB Deposit Options

Click to learn more about OffTrackBetting.com deposit options for betting horse racing & greyhound racing online.