Jockey Club Gold Cup
The Jockey Club Gold Cup, established in 1919, is a prestigious thoroughbred flat race open to horses of either gender three-years-old and up. It is typically the main event of the fall meeting at Belmont Park, just as the Belmont Stakes is of the spring meeting and the Travers Stakes is of the summer meeting at Saratoga. Part of the Breeders' Cup Challenge series, the winner of the 2008 Jockey Club Gold Cup automatically qualified for the Breeders' Cup Classic.
The Jockey Club Gold Cup has often been the event in which horses who have done well in a year's U.S. Triple Crown races first face older opponents on a weight-for-age basis. Before it was known as the Jockey Club Gold Cup it began as the Jockey Club Stakes. This was its name when Man o' War won it against the only horse willing to race him. Damask, owned by Harry Payne Whitney, was entered as a sporting gesture and to keep "Red" from having to run alone in a "walkover." Damask finished 15 lengths behind with Red held under strong restraint in order not to humiliate his rival. Even so, Red broke the American record for a mile and a half.
Despite its $750,000 purse and Grade 1 status, the stature of the race has suffered somewhat in recent years thanks to the emergence of the Breeders' Cup held not long afterward, as well as the race's having been shortened to the more common distance of 1-1/4 miles in 1990, reducing its distinctiveness.
The race was once run (1976 through 1989) at 1-1/2 miles, but from 1921 through 1975 it was two miles (3 km) long, second in distance only to the less prestigious, 2-1/4-mile Display Handicap. From 1958 through 1974, except for 1962 and 1968, the race was held at Aqueduct Racetrack instead of Belmont.
The past winners of the Gold Cup is a veritable who's who of award winning Hall of Fame horses. Seven horses have won the race twice (including Triple Tiara winner, Shuvee). Only one horse in history has won the Cup five times, and that was the great gelding Kelso.
Perhaps the most memorable renewal was that of 1978, when Exceller defeated the previous year's Triple Crown winner, Seattle Slew, by a nose, with the 1978 Triple Crown winner, Affirmed, finishing fifth.
Belmont Park Graded Stakes Races
| Stakes Race | Grade | Purse |
| --- | --- | --- |
| Westchester Handicap | III | $150,000 |
| Beaugay Stakes | III | $150,000 |
| Fort Marcy Stakes | III | $100,000 |
| Peter Pan Stakes | II | $200,000 |
| Sheepshead Bay Stakes | II | $250,000 |
| Metropolitan Handicap | I | $750,000 |
| Sands Point Stakes | II | $200,000 |
| Acorn Stakes | I | $300,000 |
| Ogden Phipps Handicap | I | $400,000 |
| Vagrancy Handicap | II | $200,000 |
| Brooklyn Handicap | II | $200,000 |
| Jaipur Stakes | III | $150,000 |
| Belmont Stakes | I | $1000,000 |
| Just A Game Stakes | I | $500,000 |
| Manhattan Handicap | I | $500,000 |
| True North Handicap | II | $400,000 |
| Woody Stephens Stakes | II | $400,000 |
| Hill Prince Stakes | III | $150,000 |
| Mother Goose Stakes | I | $300,000 |
| New York Stakes | II | $200,000 |
| Dwyer Stakes | II | $200,000 |
| Bed O'Roses Handicap | III | $150,000 |
| Poker Stakes | III | $150,000 |
| Suburban Handicap | II | $350,000 |
| Victory Ride Stakes | III | $150,000 |
| Man O'War Stakes | I | $600,000 |
| Bowling Green Handicap | II | $150,000 |
| Garden City Stakes | I | $250,000 |
| Noble Damsel Stakes | III | $100,000 |
| Gallant Bloom Handicap | II | $150,000 |
| Kelso Handicap | II | $200,000 |
| Flower Bowl Invitational Stakes | I | $500,000 |
| Beldame Invitational Stakes | I | $350,000 |
| Joe Hirsch Turf Classic Invitational Stakes | I | $500,000 |
| Jockey Club Gold Cup | I | $750,000 |
| Vosburgh Invitational Stakes | I | $350,000 |
| Miss Grillo Stakes | III | $100,000 |
| Pilgrim Stakes | III | $100,000 |
| Tempted Stakes | III | $100,000 |
| Nashua Stakes | II | $150,000 |
| Frizette Stakes | I | $300,000 |
| Jamaica Handicap | I | $250,000 |
| Champagne Stakes | I | $300,000 |
| Athenia Stakes | III | $100,000 |
| Knickerbocker Stakes | III | $100,000 |
| Turnback The Alarm Handicap | III | $100,000 |
| Bold Ruler Handicap | III | $100,000 |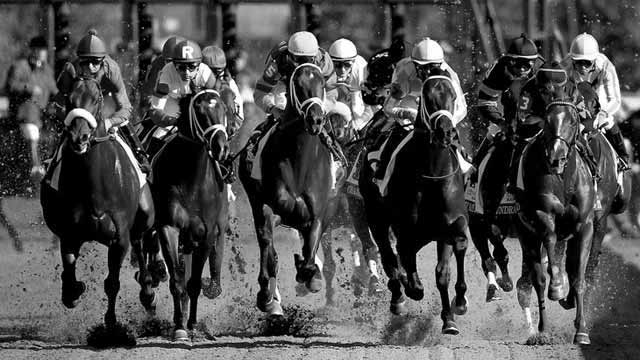 Bet Horse Racing with OTB