Tizway Works Mile At Belmont In Preperation For Breeders' Cup Classic
Belmont Park Press Release
ELMONT, N.Y. - Tizway, who missed the October 1 Jockey Club Gold Cup with a fever, shipped from his Saratoga barn and worked a mile in 1:38.47 over the Belmont Park main track on Wednesday morning as he continues preparations for a start in the November 5 Breeders' Cup Classic.
"It was a tremendous work with a great gallop out," said trainer Jim Bond. "He did it so easily and the best part is that he was not even breathing hard afterwards. I am ecstatic."
Tizway, winner of this year's Grade 1 Metropolitan Handicap at Belmont on May 30 and the Grade 1 Whitney Invitational at Saratoga on August 6, does most of his training over Saratoga's Oklahoma training track.
However, Bond wanted the horse, owned by William Clifton Jr., to have a mile workout and preferred to do it at Belmont.
"I made my up my mind about ten days ago that I wanted to get a good mile workout into him, and I wanted to do it on a track that was faster than the Oklahoma," said Bond. "He is going into a mile-and-a-quarter race, one of the richest in the world, and I needed to make sure I had him where I wanted him physically. I want to give him the best chance to prove to everyone that he is the best horse in America. I couldn't be happier with him right now."
Andres Catalano, the regular rider for the 6-year-old son of two-time Breeders' Cup Classic winner Tiznow, was on board for the work, while Bond and Rajiv Maragh looked on. Maragh has ridden Tizway in his most recent 14 starts.
"Andres knows Tizway like a book, so I wanted him on board for this work," said Bond. "Andres actually had a Bluetooth head set on, so I was able to tell him exactly what I wanted throughout the work."
Bond said that Tizway will remain at Belmont overnight, and will ship back to Saratoga Race Course on Thursday. He will remain on an eight day workout schedule at Saratoga, with his next work likely coming next Thursday. He will probably ship to Churchill Downs on Monday, October 31, six days in advance of the Breeders' Cup Classic.
The Classic will be his first start in three months, most recently winning the Whitney by three lengths over Flat Out, who went on to take the Jockey Club Gold Cup in convincing fashion.
However, Tizway won last October's Grade 2 Kelso Handicap at Belmont by five lengths coming off a four-month layoff.
"He runs huge off layoffs," said Bond. "He is better suited to bring his 'A+' race when he has plenty of spacing between races."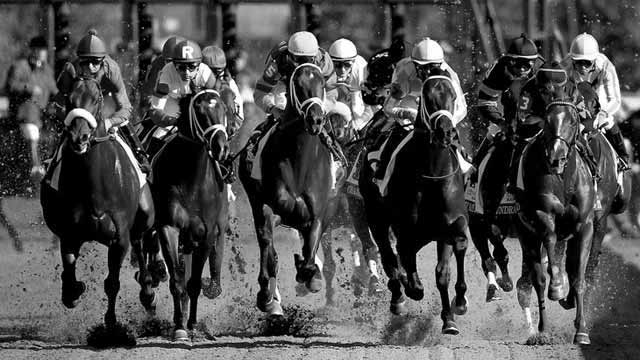 Bet Horse Racing with OTB