Saratoga Race Course

Saratoga Race Course is a horse-racing track in Saratoga Springs, New York, United States. It opened on August 3, 1863, and is the oldest organized sporting venue of any kind in the United States. It is typically open for racing from late July through early September.
---
Saratoga Race Course History
John Hunter, who became the first chairman of The Jockey Club, and William R. Travers built Saratoga Race Course. The original track was built across Union Avenue from the present Saratoga Race Course at the current location of the Oklahoma Track (training track), which opened the following year. Since 1864 the track has been the site of the Travers Stakes, the oldest major thoroughbred horse race in the United States, which is the main draw of the annual summer race meeting. The Saratoga meet originally consisted of only four days, but over time was lengthened, and for many years, the meet lasted for four weeks. In the 1990's it was lengthened to five weeks. Today it is a six-week meeting ending on Labor Day. In 2009, NYRA extended the 2010 racing meet by 4 days. From 1943 to 1945, racing was not held at Saratoga Race Course due to travel restrictions during the war. During those years, the stakes races that would have been run at Saratoga Race Course were contested at Belmont Park instead.
Saratoga Race Course has two well-known nicknames -- The Spa (for the nearby mineral springs), and the "Graveyard of Champions" (for the upsets that have occurred there). Man o' War suffered his only defeat in 21 starts while racing at Saratoga Race Course; Secretariat was defeated at Saratoga Race Course by Onion after winning the Triple Crown; and Gallant Fox was beaten by 100-1 long shot Jim Dandy in the 1930 Travers Stakes. In 1999, Saratoga Race Course was rated as Sports Illustrated's #10 sports venue of the 20th Century.
The track was closed on August 2, 2006 due to a heat wave which had hit the Eastern Seaboard. This was only the fourth time in the history of the track that it closed, Previously it closed for three entire seasons during World War II and in 1911 and 1912 when it was not economically viable following New York State legislation enacted by the administration of Governor Charles Evans Hughes which outlawed all forms of wagering on horse racing.
As is the case with the other two tracks operated by the New York Racing Association - Aqueduct and Belmont Park - there are three separate tracks in the main course at Saratoga Race Course.
---
Saratoga Race Course Live Horse Racing Schedule
Dark Tuesdays
---
Saratoga Race Course Layout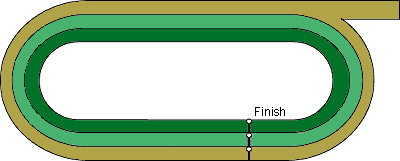 Main Track:One and one-eight Mile, oval.

Mellon Turf:One mile, 98 Feet.


Turf Course:Seven Furlongs, 304 feet.
Distance from last turn to finish line: 1,144 Feet.

---
Post Time at Saratoga Race Course
1:00 p.m.
---
Saratoga Race Course Track Code
SAR
---
Current Weather Conditions at Saratoga Race Course
Saratoga Race Course Graded Stakes Races
| Stakes Race | Grade | Purse |
| --- | --- | --- |
| Schuylerville Stakes | III | $100,000 |
| Coaching Club American Oaks | I | $250,000 |
| Sanford Stakes | II | $150,000 |
| Lake George Stakes | II | $150,000 |
| Jim Dandy Stakes | II | $500,000 |
| Diana Stakes | I | $500,000 |
| Fourstardave Handicap | II | $150,000 |
| Ruffian Handicap | I | $250,000 |
| Amsterdam Stakes | II | $150,000 |
| Test Stakes | I | $250,000 |
| Whitney Handicap | I | $750,000 |
| Honorable Miss Handicap | II | $150,000 |
| Alfred G. Vanderbilt Handicap | I | $250,000 |
| National Museum of Racing HOF Stakes | II | $150,000 |
| Sword Dancer Invitational Handicap | I | $500,000 |
| Adirondack Stakes | II | $150,000 |
| Saratoga Special Stakes | II | $150,000 |
| Alabama Stakes | I | $500,000 |
| Lake Placid Stakes | II | $150,000 |
| Bernard Baruch Handicap | II | $200,000 |
| Victory Ride Stakes | III | $100,000 |
| Ballston Spa Handicap | II | $200,000 |
| Ballerina Stakes | I | $250,000 |
| King's Bishop Stakes | I | $250,000 |
| Travers Stakes | I | $1,000,000 |
| Personal Ensign Stakes | I | $300,000 |
| With Anticipation Stakes | II | $150,000 |
| Forego Handicap | I | $250,000 |
| Woodward Stakes | I | $750,000 |
| Saranac Stakes | III | $100,000 |
| Spinaway Stakes | I | $250,000 |
| Glens Falls Handicap | III | $100,000 |
| Hopeful Stakes | I | $250,000 |
Saratoga Race Course Contact Information
Mailing Address:
NYRA
P.O. Box 90
Jamaica, New York 11417
Street Address:
Saratoga Race Course
267 Union Avenue
Saratoga Springs, New York 12866
Website: https://www.nyra.com/saratoga