Woodward Stakes Highlights Long Weekend at Saratoga
Rob Gregorka
Las Vegas, NV -- The place to be for horse betting this weekend is Saratoga Park in New York with stakes races on Saturday, Sunday and Monday. The highlight of the weekend is Saturday's $750,000 Woodward Stakes which will feature superstar filly Havre de Grace.
Woodward Stakes betting at Saratoga Park at Off Track Betting
Super Saturday at Saratoga There are three Grade 1 races on Saturday at Saratoga. The $750,000 Woodward Stakes will get the off track betting spotlight with Havre de Grace battling it out against Convocation, Flat Out, Giant Oak, Ice Box, Mambo Meister, Mission Impazible and Rule.
The $250,000 Forego Handicap is expected to feature Sidney's Candy against a field that should include Aikenite, Escrow Kid, Golddigger's Boy, Jackson Bend, Jersey Town and Regal Ransom. The Forego and the Woodward will be shown live on the Versus television network on Saturday afternoon.
The other Grade 1 race at Saratoga on Saturday is the $300,000 Personal Ensign which was moved from last Sunday. It is expected to be a field of six with Acronym, Ask the Moon, Pachattack, Protesting, Super Espresso and Tiz Miz Sue.
Sunday's Featured Races Sunday's Grade 1 feature is the $250,000 Spinaway Stakes for juvenile fillies. Expected to run are And Why Not, Baffle Me, Born Bullish, Georgie's Angel, Grace Hall, Lady Pecan, Stopshoppingmaria and Vukovar.
There is also a Grade 3 for Sunday as the $100,000 Saranac Stakes will be run at a mile and an eighth on the turf. The horse wagering field is expected to include Adirondack Summer, Breathless Storm, Brilliant Speed, Chinglish, Clear Attempt, Clement Rock, King Congie, Live in Joy, Perregaux and Seal Cove.
Labor Day Stakes Races Monday's closing day at Saratoga will have two stakes races including the Grade 1 $250,000 Three Chimneys Hopeful. That is a key race since it is a part of the "Win and You're In" for the Breeders' Cup in November. The winner will get an automatic spot in the Breeders' Cup Juvenile. The field should be large with Currency Swap, Hunt Crossing, J C's Pride, Jagati, Laurie's Rocket, Power World, Scallion, Trinniberg, and Vexor as definite with Basmati, Big Blue Nation, I'll Have Another and Jack's in the Deck all possible.
The other stakes race on Monday is the Grade 3, $100,000 Glens Falls Handicap. The expected horse betting field should include Belle Watling, Bubbly Jane, Dyani, Emerald Beech, Giants Play, Gold d'Oro and Prize Catch.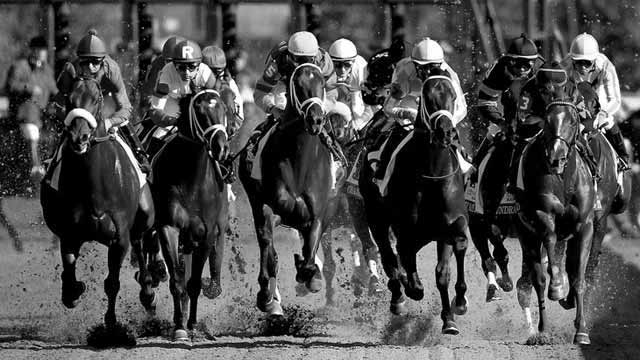 Bet Horse Racing with OTB