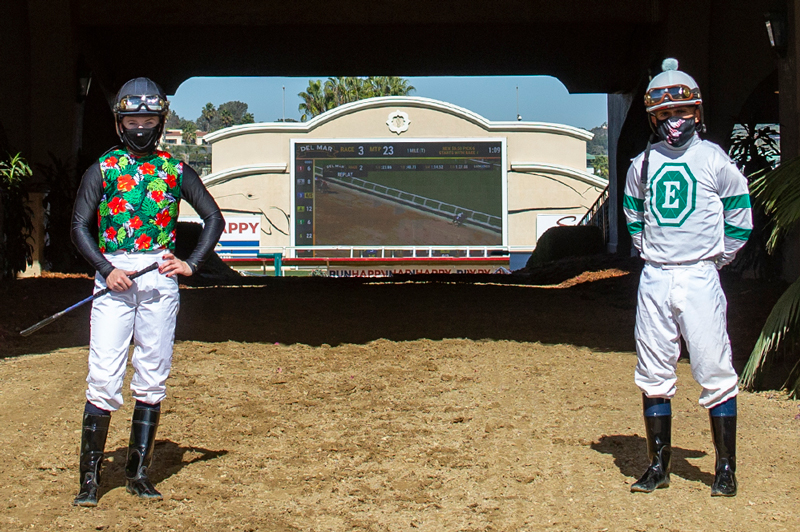 Jessica Pyfer & Alexis Centeno © Benoit Photo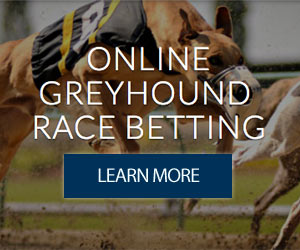 By Mac McBride
Del Mar has a pair of young and game apprentice riders in its colony this season – Jessica Pyfer and Alexis Centeno.
In many ways they're like all apprentices: feeling their way in the game, up for trying most anything, wanting to please those around them and chock full of energy and enthusiasm. But on the other hand, their stories are day and night different.
Pyfer, a female born in Denver, CO, is 22 and a college (Azusa Pacific) graduate who has spent her whole life on or near horses. Centeno, a male born in Caguas, Puerto Rico, is 27, worked a series of jobs after high school and didn't find the racetrack and horses until age 25.
They both began race riding in California earlier this year and have had some success. Pyfer, who is 5' 2" and weighs in at 110 pounds, has won four races (from 23 mounts) so far, thus she carries the 10-pound "bug" (a term taken from the asterisks apprentices have next to their names on overnight sheets and newspaper entries - three asterisks for a 10-pounder, two for a seven and one for a five). Centeno, who is 5' 0" and goes 107, has won 19 races (from 176 mounts) so he carries a 7-pound "bug."
(The rules on apprentice weight allowances go like this: until your fifth winner, you get a 10-pound advantage; then until your 40th winner, you get a 7-pound edge; after that you get 5 pounds off all your mounts until you've finished your apprenticeship, which starts immediately after your fifth winner and (with some exceptions) goes until one year after that date. The centuries-old apprentice system gives owners and trainers weight incentives to ride apprentices over journeymen on their horses, providing a built-in way for the newcomers to gain experience.)
Pyfer's mom, Sherri Alexander, has been a horsewoman and exercise rider since her youth. She was seven months pregnant with Jessica and galloping horses in California before going to Denver to give birth. Subsequently, she had her daughter on the backs of ponies and horses right from the git-go and Jessica competed in her first riding event as a 4-year-old. Yes, that's right, 4-year-old.
Sherri returned to California when Jessica was five for an opportunity to gallop horses for trainer Mark Glatt in Southern California. That led to a further galloping opportunity with the late trainer Mike Mitchell where she and his then assistant, Phil D'Amato, met and became friendly. In due course, D'Amato took over training many of Mitchell's horses after he passed, while his friendship with Sherri evolved to the point where it led to marriage and Jessica acquiring a "dad" ("He is my dad," Jessica states firmly).
Growing up, Jessica became a regular at the D'Amato barn and, when she wasn't in school, also was riding horses in events whenever and wherever she could. When she turned 16, she got a racetrack license and began galloping horses for D'Amato as well as other trainers, something she delighted in around her book work for the next six years.
Her mom and dad encouraged her to go on with her schooling and she even took the law school entrance test (LSAT) and did well enough on it that that door was open to her. But still her passion for the horses was strong and growing stronger and then -- it led to a "moment" for her.
"I was at home with my family at dinner one night," she recalled. "I'd finished college and I'd been galloping lots of horses. I even got asked by (Hall of Fame trainer) Richard Mandella to gallop some of his horses. That really got me to thinking about what I wanted to do. And then out of the blue my dad says: 'Go ahead and do it. If you're going to be a rider, this is the time for you to try. Go ahead.'"
The skyrockets went off for Pyfer and the next thing you knew she was named on horses at Santa Anita. Her sixth career mount on a longshot named Indy Jones on October 9 proved the charm, with her winning by better than a length and getting the requisite dousing from the other jocks for that first triumph. "It was just an amazing feeling," she said.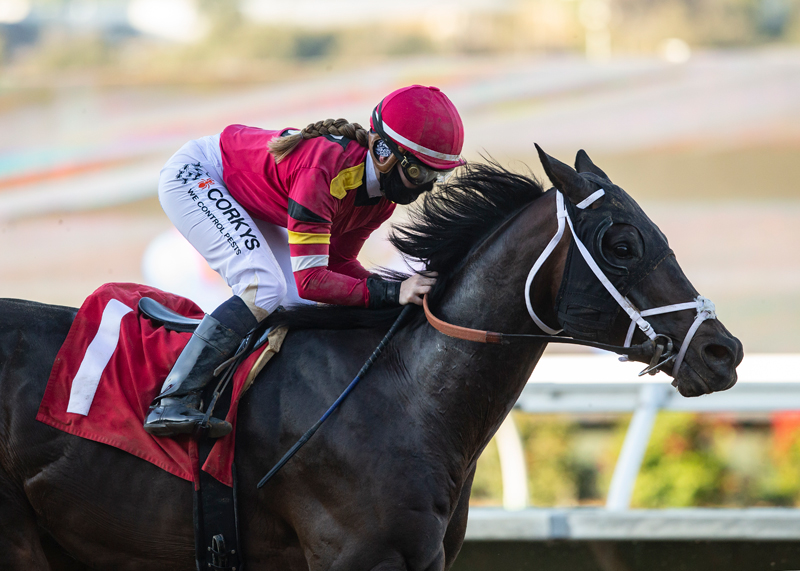 Jessica Pyfer © Benoit Photo
For her current venture down at Del Mar she not only got to ride horses in the afternoon, she picked up a sponsorship. The highly promoted local exterminating outfit – Corky's Pest Control (run by big racing fan Corky Mizer) – signed her on to carry its name on her riding pants – along with a trail of ants alongside. Now how's that for a young rider making a splash on the scene?
Centeno, meanwhile, didn't find his road to race riding as readily obvious. In fact, at the age of 25, the small but solid youngster knew nothing about racing, hadn't even seen a racetrack and had never been on the back of a horse. No one in his family had anything to do with racing either.
But one day when he was working in a supermarket in the town of Comerio about 20 miles south of San Juan an "older man" who worked at Puerto Rico's only racetrack – Hipodromo Camareno – approached him and said, simply, "You should be a jockey."
"He saw my size and my fitness and he thought I could be a rider," Centeno said. "I wasn't sure at all about that, but he approached me again another time, so this time I went and checked into it. The officials at the track told me I might be able to do it, but that I'd have to go to the jockeys' school (Escuela Vocacional Hipica located at the track) if I wanted to be a rider."
There was a class starting soon, but school officials told Centeno that they already had 60 students signed on and that he'd have to wait. But, fortunately, the next day he got a call and was told there was an opening, so he went.
"My first day at school we were around horses and I have to admit I was afraid of them," he said. "But I'd decided I was going to give this my best try so I watched what the other students did when they got on a horse and I did the same thing. It worked."
Despite great economic and geographic adversity (he lived an hour and a half away from the school and didn't have a car; he had to bum rides and get there anyway he could), Centeno persevered and completed the two-year school at the end of 2019. After winning a "practice" race he rode his first winner at Hipodromo Camarero on January 6, 2020. He won two more races, too ("All longshots," he remembered) and then was told he was being considered to go to the United States and ride there.
"I always want to be the best at whatever I do, so the thought of going to the U.S. and riding with the best was exciting for me," he stated. "There were supposed to be two other riders ahead of me, but then it turned out I was the one they wanted. I came over in February with help from my agent."
His agent was the veteran Nelson Arroyo, a Puerto Rican and former jockey as well as the brother of rider Noberto Arroyo, Jr. He brought Centeno to the States and schooled him some on what to do and what to expect. Then he sent him west.
Brought to Southern California, Centeno had the great misfortune of trying to start his U.S. career just as the COVID-19 pandemic hit full force. He initially attempted to find his way around the all-new-to-him backstretch at Santa Anita to get up on horses, but even that went away when riders were banned from the backside. It was looking grim for the young man who just wanted a chance to show what he could do.
He did catch one break during that period, however, in the person of Don August, a Southern California racing official (and former jockey agent) who had an extra bedroom in his apartment in Monrovia near Santa Anita and agreed to take in the young man for a couple of weeks at the request of his agent, Erick "Goldy" Arroyo, Nelson's son.
"I could see right off that he was a good kid," August recalled. "He was in extremely difficult circumstances, but he had this wonderful mix – humble and hungry. He wanted to do it and was willing to do anything it took to make it happen."
They got a treadmill for him and he was on it for miles and hours every day. He got a weight bar and began a weight routine in the apartment. He put a pull-up bar in a doorway and did hundreds of them as part of his routine. He got a 10-pound weight and mimicked riding a horse with it. There was a pool in the apartment complex and he swam laps daily.
"He worked like a demon to stay fit," said August. In the process the young rider won over the official with his determination and they now happily share the apartment with Centeno paying a fair rent from his earnings at the racetrack.
When racing shifted from Santa Anita to the short meet at Los Alamitos, Centeno won a race. Then he came to Del Mar this past summer and won six more. From there he went up to Santa Anita for their fall meet and scored seven times. On opening day of the current Del Mar session, he clicked with a pair of runners.
"He can ride, there's no doubt," said No. 1 booster August, "and now he's getting into the big barns – Sadler rides him; O'Neill, Baltas. Craig Lewis was one of his first big supporters. He put him on horses in the morning and in the afternoon. He saw early what he could do."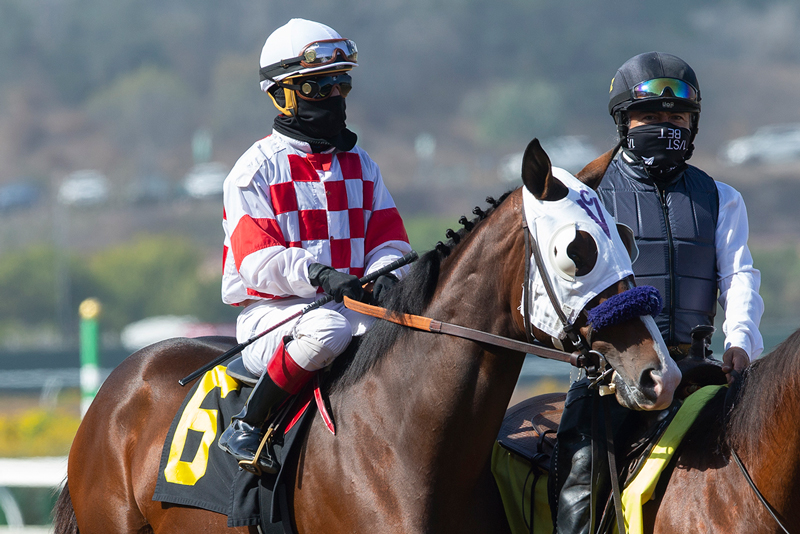 Alexis Centeno © Benoit Photo
Centeno, fulfilling his humble and hungry role, says he's honored to be given the opportunities he's earned. He says he works hard every day to make sure he can fulfill the faith put in him.
"I love getting on horses in the mornings," he says. "I can't get enough of that. If they tell me I'm galloping two tomorrow morning I say 'That's all?' I want more to get more business and because it feels good. When I can't get on horses in the morning, my body just doesn't feel right."
The two apprentices were asked what they thought they did best on a horse.
Pyfer said she thinks her best strength was to get them out of the gate fast, take them to the lead, then get them to relax. "I love doing that," she says. "Before a race, I can be a little nervous. But once we go in the gate, everything slows down; it gets real quiet for me. I don't hear a thing; I'm just there with my horse."
Centeno offered that he believes his best attribute with a horse is exactly what he's shown with his personal life so far – total resolve.
"I never give up on any of my horses," the rider states. "I give them every chance to win. I don't stop riding ever; that's not what I do."
So different, so the same. Two young riders off and running on promising racetrack careers.
---
The Del Mar Thoroughbred Club is committed to ensuring the safety and welfare of our human and equine athletes. Due to the proactive implementation of industry-leading reforms and the vigilance of the Del Mar team, the track has been recognized as the safest major horse racing venue in North America since 2018 per The Jockey Club's Equine Injury Database. For more on Del Mar's commitment to safety, please visit https://www.dmtc.com/media/safety.