• Clement pleased with Tonalist's breeze for G1 Belmont Stakes • Wicked Strong goes a mile in preparation for the "Test of the Champion"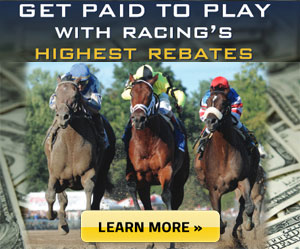 • Samraat ships to Belmont Park, tunes up for Belmont Stakes with one-mile breeze • Intense Holiday to miss Belmont with injury after work in company with Commissioner; Palace Malice, Princess of Sylmar breeze for Belmont Stakes Day races • Social Inclusion arrives at Belmont for either Belmont Stakes or G2 Woody Stephens; G1 Met Mile ruled out
ELMONT, N.Y. - Belmont Stakes contender Tonalist put in his penultimate work for the June 7 "Test of the Champion" at 6 a.m. on a resplendent morning at Belmont Park.
Trained by Christophe Clement for Robert Evans, the 3-year-old colt went an easy five furlongs in 1:01.63. The son of Tapit broke from the half pole, commencing the breeze at a leisurely pace of 25.19 seconds for the opening quarter-mile. Entering the stretch, the Clement trainee picked up the pace, finishing in 36.44 for his final three furlongs and galloped out well.
"Nice work," said Clement. "He looked good, was willing, and came back in good order. It was not the most aggressive work, but it was what we wanted. He galloped out in :13 and 3/5 this morning, so it was a strong gallop out."
The move is planned to set up Tonalist for his final work, which will transpire next weekend.
"The plan is to bring him back this coming Saturday or Sunday and work him in company with Life In Shambles," said Clement. "It will probably be a touch more aggressive. I just hope we can keep him sound and life is good."
* * *
Looking to put additional stamina into Grade 1 TwinSpires.com Wood Memorial winner Wicked Strong, trainer Jimmy Jerkens had the colt breeze one mile on Sunday with exercise rider Kelvin Pahal aboard.
Wicked Strong, who started and finished at the half-mile pole on the Belmont training track, completed one mile in 1:39.59 and galloped out 1 1/8 miles in 1:55.22.
"I thought it was good. A nice, good stamina work," said Jerkens, who trains the son of Hard Spun Centennial Farm.
Jerkens had Wicked Strong breeze seven furlongs 10 days before the Wood Memorial and eight days before his fourth-place finish in the Kentucky Derby. The colt also blew out two days before the Wood and two days before the Derby. He returned to the worktab last week for the first time since the Derby by turning in a 1:01.84 five-furlong breeze on the training track.
The trainer added that Wicked Strong will work again next weekend and then could have a blow out the week of the Belmont Stakes.
"It's what got him here, so we figured we wouldn't change the format," said Jerkens. "He worked last week; he worked faster than I wanted. He was a little too edgy [last week], so we decided we'd keep him [on the training track] and work him two turns just to simmer him down a little bit. He worked [on the training track last week], but he was really on the muscle. If you're on the muscle [on the training track] you'll be doubly on the muscle [on the main track]. He went nice and easy the first part and finished up nicely [today], I thought."
* * *
The New York-bred Samraat, fifth-place finisher in the Kentucky Derby, logged a solid move of 1:41.28 seconds for a mile for trainer Rick Violette and owner Len Riggio. The son of Noble Causeway was undefeated through his first five starts before finishing second to Wicked Strong in the Grade 1 TwinSpires.com Wood Memorial before contesting the Derby. Samraat shipped from Rick Violette's base at Aqueduct Racetrack for the breeze.
"It was terrific, exactly what we wanted," said Violette. "He made a long sustained run around the turn and straight through the wire. He ran his last three-eighths in 36 flat and cooled out like he was King Kong."
The breeze was intended to be his final serious piece of work before the June 7 Belmont Stakes, according to Violette.
"Saturday would be the right day, or Sunday, we'll watch the weather next week," said the trainer. "It will just be an exercise to blow off a little steam and let him feel really good."
* * *
Intense Holiday, most recently 12th in the Kentucky Derby, will miss the June 7 Belmont Stakes after being pulled up with an injury following a five-furlong breeze this morning in company with Belmont contender Commissioner. According to trainer Todd Pletcher, Intense Holiday suffered a condylar fracture of the right foreleg and will undergo surgery to repair the injury.
"It's not life-threatening, and I don't think it's career-ending," said Pletcher. "It's particularly frustrating because after the Derby we ran [all the tests] and everything indicated he was healthy and ready to move forward. It's unfortunate."
Both Intense Holiday and Commissioner, who had jockey Javier Castellano aboard, were timed in 1:00.77 for five furlongs.
"I thought Commissioner breezed very well," said Pletcher of the Grade 2 Peter Pan runner-up. "He was traveling well throughout and was willing; he seemed to be getting over the surface well and wrapped up good. He did everything you hoped he would do."
Pletcher said he thought Commissioner, a 1 1/8-mile maiden winner last summer at Saratoga Race Course, would not have difficulty negotiating the 1 ½-mile Belmont.
"I think the longer he goes, the better he will get," he said. "We've always felt he was all A.P. Indy and the further he goes, the better. We're looking forward to the distance."
Also breezing Sunday morning for Pletcher were last year's Belmont winner Palace Malice, who went a half-mile in 48.66 in company with Capo Bastone for the Grade 1, $1.25 Metropolitan Handicap, and Princess of Sylmar, who is being pointed to the Grade 1 Ogden Phipps, both on the Belmont Stakes undercard.
"Palace Malice breezed super," said Pletcher. "He seems to be in great form and we're excited about the race. Princess went in company with Percussion and she also went very well [five furlongs in 1:01.31]."
* * *
Social Inclusion was scheduled to arrive in barn 5 at Belmont Park on Sunday afternoon, with his connections eyeing either a start in the Grade 1, 1 ½-mile Belmont Stakes or the Grade 2, seven-furlong Woody Stephens on June 7. Both the Belmont Stakes and the Woody Stephens are restricted to 3-year-olds.
Previously, Social Inclusion was under consideration for the Grade 1, one mile Metropolitan Handicap for 3-year-olds and up, but owner Ronald Sanchez revealed via text message today that the Met Mile is no longer a possibility.
"[Trainer Manuel Azpurua] wants breeze the horse before we make a decision," said Sanchez, who added that the breeze likely will be on Saturday.
Social Inclusion easily won his first two starts at Gulfstream Park before finishing second in the Grade 1 TwinSpires.com Wood Memorial in April at Aqueduct Racetrack. Making only his fourth start in the Grade 1 Preakness on May 17 at Pimlico, he raced in midpack early and tired in the stretch but battled to the wire to finish third, eight lengths behind the winner California Chrome and a head in front of fourth-place finisher General a Rod.