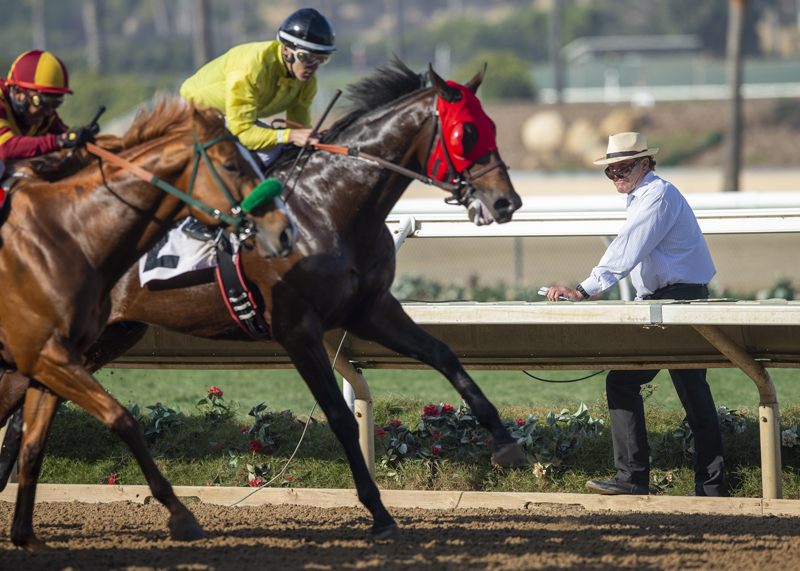 Starter Jay Slender sends another field out of the gate. © Benoit Photo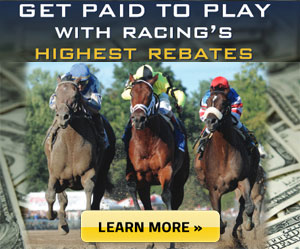 By Hank Wesch
"If everybody had an ocean, across the USA, then everybody'd be surfin' like Californi-a…"
-The Beach Boys, Surfin' USA
Jay Slender has an ocean, the Pacific one.
It's only a few furlongs away from Del Mar, where he works as the starter during the seven-week summer meeting that ends on Labor Day and the currently running one-month Bing Crosby Season meet which will conclude with its final four days starting on Thanksgiving Day next week.
So it shouldn't be any surprise that the first line of the initial chorus of Surfin' USA fits him like a wetsuit:
"You'd catch 'em surfin' at Del Mar."
He might be 59 and have daughters in college, but the opportunity to indulge in a sport that has been part of his life since junior high school is too good to pass up. So Slender avails himself in the morning hours before he springs open the gate for eight or nine races in the afternoon.
"I actually go surfing here more during this (fall) meet than I do in the summer," Slender said recently. "In the summer the beach is crowded and there's more to deal with around it. I still try to get there most every day, but it could be for a swim or a run that ends up in the water."
As an avocation, Slender is also an equine dentist. And with upwards of 1,800 horses on the Del Mar grounds from July to September, calls for that duty can keep him away from the waves he has ridden for decades.
"I was living in Arcadia (near Santa Anita racetrack), but one of my friends' grandmother had a house right on the sand in Newport Beach," Slender said of his introduction as a youth. "I'd seen it (surfing) on Wide World of Sports and it was something I wanted to do. And I'm still doing it to this day."
Slender never achieved Beach Bum status. Early on, he said, he'd go surfing once a week, twice if he was lucky. Age, maturity and responsibility inevitably cut into time on the water. But the powerful initial feelings have never faded.
"When you paddle out into that ocean, you forget about everything else that's going on. It's a great way to clear your head and keep you fresh," Slender said. "It's like a lot of guys go to the gym, play cards or a lot of things that they might like to do. But it's what I like to do. It's pretty humbling every time you paddle out.
"You're dealing with that ocean and the crowds. And now the crowds are a lot younger. I was out this morning battling all the young guys. But it's a great way, and a great motivation, to stay in shape."
Slender estimates he has 20 surfboards. "Way too many. I need to sell a lot of them. But I just got a new one I really like. It's like a new car if you like the ride in it."
Asked for his favorite surfing spots, Slender cites ones in Portugal where he once traveled on a wintertime safari, adding it to an international list that includes Indonesia and Mexico. "It blew me away how good the surf was there," Slender said.
"Sometimes we'll get some great days right here," Slender said. "And it's hard to beat, being right here and getting to work right here. But there's also a place near Santa Barbara where I like to go, Hollister Ranch. It's hard to get to, you can only go by boat. But once you're there, it's like you're on a trip somewhere, but you're right here in California."
Oh, yes, and then there's the matter of him being a starter for a living.
There are many jockeys and trainers who can be said to have been "born to the business" and destined to follow in the family profession. The same is true of Slender, whose father, Tucker, was the main starter on the Southern California circuit for many years and at Del Mar from 1985-1997.
"For sure," Slender said, of the thought of following in his daddy's footprints.
In his youth, when school let out for the summer, his mother would load up the station wagon and they'd head for Northern California where his grandparents were trainers and farriers on the fair circuit. "We'd be two weeks at one place and two weeks at another," Slender said. "My dad was working on the gate crew as an assistant starter and I'd be at the gate all day long.
"All the guys treated me like I was their kid, showing me what they did and telling me all their stories. And I could just roam the fairs. Nowadays you'd be scared to death turning a kid loose, but I could be gone all day long, by myself. I'd hang around the carnival booths some of the time and then head to my grandparents and hang around the horses.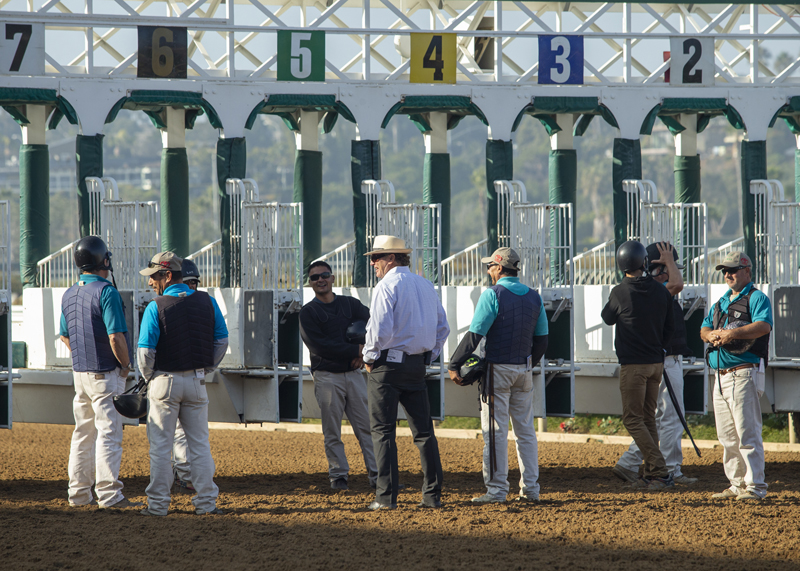 Slender and his crew in the calm before the starting storm. © Benoit Photo
"I loved surfing and the beach, but I realized I couldn't make any money at the beach and I just loved being around the horses and the whole atmosphere."
He attended Pasadena City College briefly, but when a report card indicated that academics were not his forte, his father offered an alternative.
"He looked at my grades and told me there was an opening on his gate crew," Slender recalled. "He said, 'Show up or I'm hiring someone else.' I kind of got thrown to the wolves and learned the hard way, but it all worked out."
He's proud that his two daughters have shown the college aptitude he lacked. One just graduated from UC Santa Barbara. Another is a junior at Cal Berkeley.
From working with, and then succeeding, his father, Slender has a developed a philosophy about the job.
"The best advice he gave me was that you can only do the job the best you can and you've got to leave it when you go home," Slender said. "Every race is different. No matter what happens, you've got to move along."
Working with and being around horses and horsemen, as an assistant starter, starter and equine dentist, has provided Slender with a database of experience few could match.
"I learned a lot of things being around horses in the morning and learned how you've got to get along with trainers and owners," Slender said. "Sometimes you've got to take a stand, but in the long term, you've got to get along."
His father, and others of his era, took up an elevated observation point in a starters' stand. Jay, like many of his modern contemporaries, prefers to hit the start button from ground level, a few yards in front of and to the side of the gate.
"I just like the view from the ground," he said. "Everyone has a preferred angle, but once I kicked that ladder away I decided I wasn't going to get up on it again."
There are a few things he looks for in the seconds before he springs the gate.
"It's mainly just movement," Slender said. "You're looking at their heads to see if they're moving around, and then you look at their legs and hooves and how they're standing. The assistant starters and jockeys will holler at me if something's not right, so you're aware of sound, too. We're all trying to help each other out. There's a lot of teamwork.
"When the last one goes in the gate you look for that split second when they're all standing straight and looking straight ahead. Then you've got to pull that trigger and you can't take it back."
For a starter, like officials in most sports, a job unnoticed is a job well done.
"You try and stay under the radar at all times," Slender said. "It gives me a good feeling every time I hit the trigger and the horses all come out even and fair for the jockeys, the trainers and the public.
"It's all about giving every horse a fair shot and then let the best horse win."