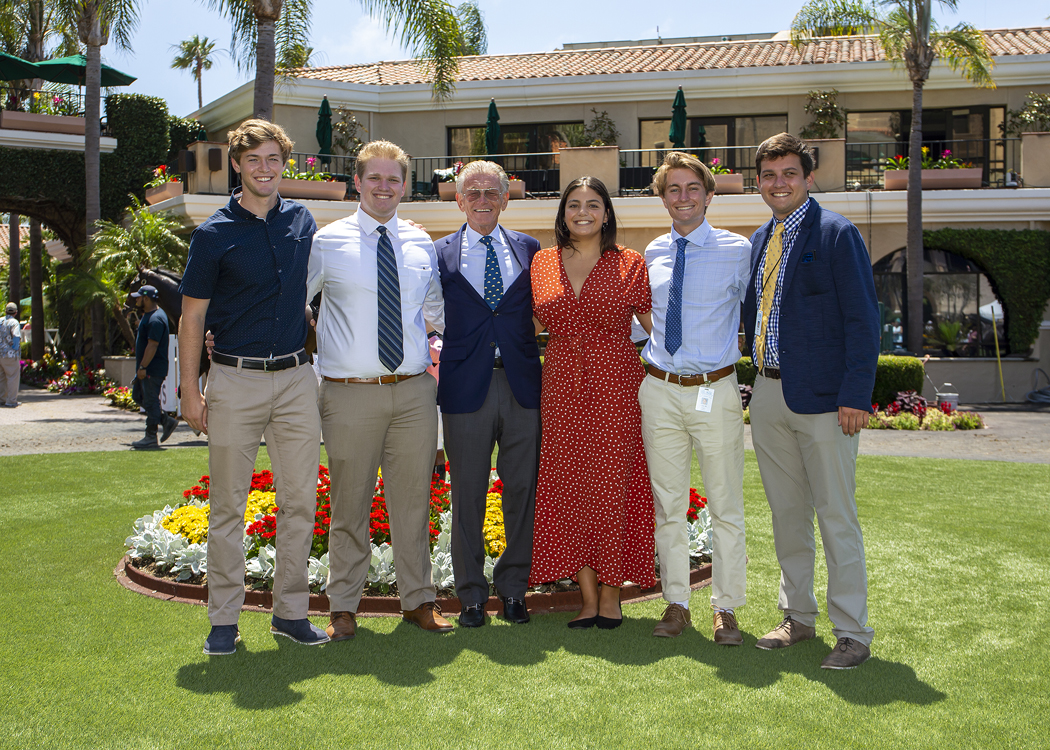 Del Mar's Intern class of 2019 with the track's CEO Joe Harper: (L to R) Ryan Cesari, Spencer Dalton, Harper, Sofia Perris, Liam Maxwell, John St. Marie.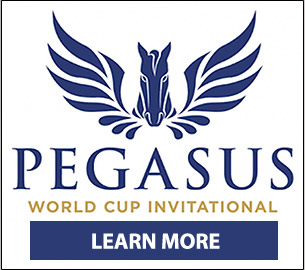 By Hank Wesch
The five members of the Del Mar Thoroughbred Club intern Class of 2019 all grew up locally.
They all have, or are about to, scatter to various parts of the country for collegiate matriculation -- two in the Pacific Northwest, two in the Midwest and one about 150 miles up the 405 freeway. Two will cheer for Pac-12 schools, two for Big 10 representatives and one for the national basketball power from the West Coast Conference.
What they have in common, this summer and throughout their young lives, is a connection to Thoroughbred racing at Del Mar. For all five, the internship program represents both a homecoming and a potential point of embarkation on a racing industry career.
In alphabetical order:
Ryan Cesari, 19, is a sophomore economics major at Gonzaga University. The Torrey Pines High graduate comes into the program a year after his brother Jack, whose experience provided inspiration.
"My brother loved his internship and he got hired to work here in the accounting department," Cesari said. "I've been coming to this racetrack since I was about 10 years old and I've loved the horses and the whole sport. I'm friends with Craig Dado (a DMTC executive vice president and its chief marketing officer), so I know a pretty good amount about the place."
He intends to parlay that knowledge, and this summer's experience, to good advantage.
"I'm hoping to gain experience in the sports management department that will help me in some future job around sports," Cesari said. "I'm majoring in econ and minoring in sports management, so I'm thinking it will be a good fit in some way some time. I know there's been controversy about racing lately, but I'm coming in with an open mind, and want to see behind the scenes for myself."
Spencer Dalton, 21, attends Oregon State University where he's a Forestry major. The San Dieguito Academy grad and Cardiff by the Sea resident has worked at Del Mar in two of the last three summers in the department that maintains and services the automated betting machines.
"The summer after I graduated high school I was looking for a summer job, but I was a little late getting into it," Dalton said. "I saw they were hiring here in the SAM department and got a job there."
Dalton said he's looking forward to different experiences this summer and learning about what goes on outside the SAM department and working with people more than machines. The quarter system at Oregon State necessitates a late break for summer work candidates, but with school starting in late September, it means for Dalton: "I'll be able to stay for the whole meeting."
Liam Maxwell, 20, a San Diego resident, is about to enter his junior year as an Environmental Science major at UCLA. A four-year varsity starter in soccer at University City High, he plays on the Bruins' club team as a left defender.
Growing up locally, trips to Del Mar and – on the other coast -- Monmouth Park in New Jersey were annually on the summer schedule for Liam and his father, Bill, a software engineer for S.D.G&E and a racing fan. Monmouth Park, an East Coast counterpart to Del Mar, was the track where Bill was introduced to racing and had a friend in management.
"That was cool and I got to really like racing," Liam said. He learned about the Del Mar intern program through a soccer friend.
"I don't really know the ins and outs of running a business, so I'm interested in seeing the operation here and learning how it works," Maxwell said.
Sofia Perris, 18, is a recent graduate of Canyon Crest Academy bound for the University of Michigan where she is considering pursuing courses in sports management and trying out for the Wolverines' soccer team to continue a sport she enjoyed through her high school years.
Perris moved to San Diego when she was about to enter sixth grade. Days at Del Mar with her family have been a part of every summer since, she said, and "I fell in love with it."
Perris said she considers the internship an outstanding opportunity to be part of a major sports operation for a female interested in a career in the realm of sports. "To have a place like this practically in your back yard isn't something that a lot of people have," Perris said. "I've been really impressed to see the number of females in the executive offices and as the one female intern, along with four great guys, I'm glad to be part of a company that values women."
John St. Marie, 22, a graduate of Cathedral Catholic High in San Diego, is a senior communications major at Pennsylvania State University.
St. Marie says that he can't recall his first memory of Del Mar because it has been a place he's wanted to be, and has frequented, for longer than he can remember. Sometimes with family members. Sometimes on his own after being dropped off to be picked up later.
"It's a beautiful place," said St. Marie. He holds it above the other tracks in California he's been to - Golden Gate Fields, Santa Anita and, before its demise, Hollywood Park. A decade ago, he was avidly following the career of the mighty mare Zenyatta.
At 18, he became part of an ownership syndicate. He finished second in a Del Mar handicapping tournament that would have brought him a place in the World Championships in Las Vegas, but was too young to qualify.
St. Marie said his goal would be to try pass along his interest and enthusiasm for racing to as many members of younger generations as possible.
He, and his four comrades, have come to the right place.