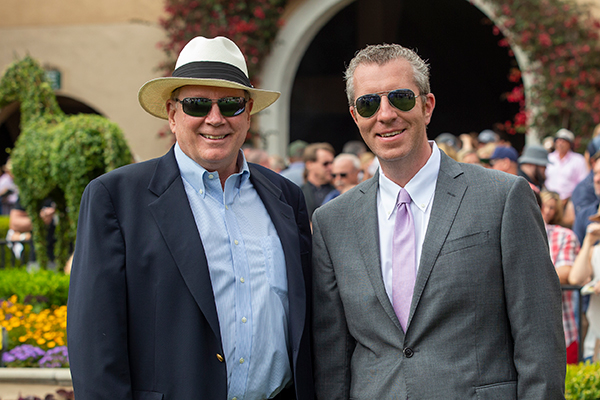 Tom Robbins (left) and David Jerkens © Benoit Photo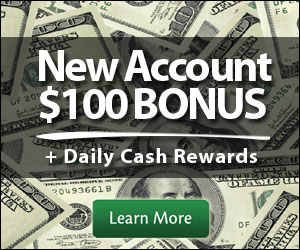 By Hank Wesch
The Santa Anita winter/spring meeting lost 24 racing days either in the name of safety or not having enough horses to race four days a week.
Los Alamitos cancelled three racing days during its three-week meeting due to a lack of entries.
That was the situation facing Del Mar Thoroughbred Club executive vice president, racing and industry relations Tom Robbins and racing secretary David Jerkens as the start of the track's 80th racing season approached in mid-July.
Their assignment, should they choose to accept it: put together and run 36 racing programs; keep Del Mar going five days a week through the first six weeks of the season, and then do six days for the finale, concluding on Labor Day.
Given their job descriptions, of course, they had no choice but to accept it. And with the midpoint of the meeting here, it looks as if the two scions of renowned racing families, 25 years apart in age, might just pull off something that looked like it might require a miracle.
Cards have been completed for the first 20 days and, while the numbers are not Del Mar-like compared to the past, they're close to astonishing, all things considered. Average field size of 7.8 overall for the first three weeks of the meeting, 7.18 for dirt races and 8.73 for turf. Both numbers within a horse or two of corresponding 2018 dates with nine fewer races than during the much-more-normal 2018.
"Nobody had been through the situation that we've been through the last six months," Robbins said. "We planned and designed as best we could using the data we had. But given the circumstances, we couldn't go in with a high level of confidence.
"Now that we've hit the halfway point, I for one am extremely pleased at what we've been able to accomplish."
Robbins, Jerkens and several members of the DMTC racing office became proactive in March when it became abundantly clear that the downward spiral of circumstances at Santa Anita was irreversible.
"David and I went to our team in March, because we were seeing how things were starting to develop," Robbins said. "There were threats of closure and all kinds of things we thought couldn't happen at Santa Anita and we were having meetings and saying 'If this goes this direction, what are we going to do?'"
Jerkens and Robbins received monthly reports on Santa Anita with statistics on things like the number of horses on the grounds, the number being put through workouts and all starters categorized according to age, sex and other factors.
"After March, we started seeing a significant decrease in activity from the Southern California horse population," Jerkens said. "So we took note of that each month and formulated a game plan for this meet with the overall goal being 36 racing days and keeping the schedule as it is."
The decision was made to reduce the number of races on cards a few days a week in order to keep from depleting the inventory. Wednesday and Thursday programs, eight-races long in years past, were trimmed to seven. Occasionally, even weekend offerings were a race fewer than the norm.
"We had more contact with racing interests in Southern California in March and April than I can ever remember," Jerkens said. "Trying to calm the waters and instill confidence the best we could."
As racing secretary, Jerkens' most important job is writing the condition books, which come out three times during the meeting. Knowing the inventory of horses, on site and those with potential to ship in and run from San Luis Rey Downs and Los Alamitos, is crucial. Jerkens' radar also has been expanded to Northern California in that regard.
"The job of the racing secretary is really to try and accommodate the owners and trainers and write races that will best serve their individual horses," Jerkens said. "You try to serve the industry stakeholders as best you can."
In the darkness surrounding Santa Anita, Jerkens could still see some light for Del Mar.
"There were some indicators before the meeting where I could kind of gauge how we were going to do," Jerkens said. "One was the demand for the first condition book. Owners want to see their horses run at Del Mar, Opening Day and the first week especially."
Robbins and Jerkens knew that there were some things working in Del Mar's favor.
"Santa Anita and Del Mar are like comparing apples and oranges even though it is the same circuit," Jerkens said. "Del Mar being in the summer, just because of the timing we get an influx of 2-year-olds and an influx of horses shipping in for the "Ship and Win" program. We get roughly 100 horses from those factors and also around another 100 from Northern California.
"Those are horses that typically perform at our meet that you don't see on the Santa Anita inventory. And when we got word that some trainers, who had shipped horses from Santa Anita to Churchill Downs, were coming back, there was a sense of relief for me as well. But everything has to fall into place to fill a five-day meet, even when times are good."
Like modern baseball managers, Robbins and Jerkens have to do their best to blend analytics with good, old-fashioned people skills.
"The data is the real indicator of what types of races will fill here," Jerkens said. "The horse population has declined 10 to 12 percent. And when you delve into 2-year-olds, which is obviously a big part of our meet, activity was down 20 percent. That was a challenge and something you have to be aware of."
But both emphasize that there is no replacement for direct communication with the stakeholders – owners and trainers.
"I walk the backstretch and talk to trainers at least twice a week," Jerkens said. "I've had more interaction with owners, who will call, text or e-mail me in the last few years than I've ever had before.
"My dad was a trainer, so I've seen the highs and lows of what they go through and I kind of know what makes a trainer tick," Jerkens said. "It's important that people trust your word, know that you'll be a straight shooter and realize that there are some things you can do, and some things you can't."
Robbins is the youngest of four sons of legendary Southern California veterinarian Jack Robbins, who was one of the founders of the Oak Tree Racing Association. Tom spent summers at Del Mar while in high school and served as the racing secretary for many years until being given his present title and time to spend on a number of the national and international committees in the sport.
"As this game has changed and evolved and I've gotten involved in other things, it became apparent, especially with the advent of the fall meet in 2014, that we needed to bring somebody new into the fold," Robbins said. "David was up in Northern California, I asked him to come down here and it's been the smartest thing I've ever done."
Jerkens is the son of Steve Jerkens, a New York-based trainer, and also the grandson of Hall of Fame trainer H. Allen Jerkens. He had been racing secretary at Golden Gate Fields for several years when Robbins came calling six years ago.
Robbins is 66, Jerkens 41. But when it comes to their jobs, obviously, there is no generation gap.
"He's looking younger and I'm looking older every day," Jerkens said. "I call Tom 'The Professor.' I don't want to let him down. When he goes over the condition book, I don't want him to take out the red pen too much. As far as a mentor, and somebody to work with, I think we make a good team."
It's not, as they point out, just the two of them deserving credit for what's happened so far. Their racing office staff, a group that includes assistant racing secretary Zachary Soto and stakes coordinator Ed Reese, puts in long hours of time and effort.
And the cooperation of the horsemen has been exceptional.
"I think they were ready to hit the reset button and ready for Del Mar," Jerkens said. "But the owners and trainers have given great support at the entry box. And as we're bringing out the (final) condition book, I can tell there's a lot of interest carrying over towards the end of the meet."
The goal has only been halfway met. But the cause for concern that was omnipresent before the meeting has been largely replaced with cause for optimism.
"We think it was critical to us, and to the industry, to get back to five days a week," Robbins said. "So many people rely upon this industry to move along at a steady pace or they're out of work. Would we like to run fuller fields and more races? Of course, but we had to be realistic."