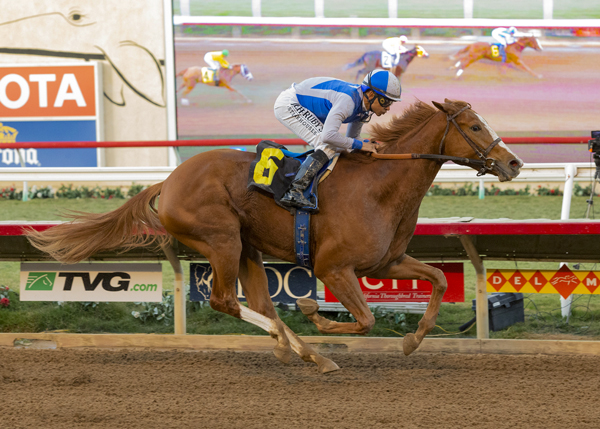 The 3-year-old filly Proud Emma was one of Del Mar's successful "Ship and Win" horses in 2018. © Benoit Photo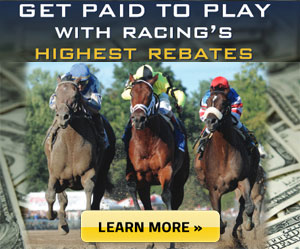 "Ship and Win," the simple horse recruitment program that has proven highly effective over the past eight years at Del Mar, will be in place once more when Del Mar opens its upcoming four-week fall racing stand, known as the Bing Crosby Season and presented between November 8 and December 1.
Just as it DID last fall, the "S & W" program will offer an automatic check for $2,000 to each starter from out-of-state, as well as a 30% across-the-board bonus on top of all purse monies won in that initial start.
An example of how the program works would be the case of a $25,000 claiming race, which at Del Mar carries a $30,000 purse. If your horse wins the race, he/she earns a first prize of $18,000. But if that winner is a "S & W" horse, they also realize an additional $2,000 (for the start), along with an extra $5,400 (the 30% first-race bonus) besides, meaning the winning "S & W" owner collects a total of $25,400.
"And," notes the track's racing secretary, David Jerkens, "the first race, 30% bonus applies to any placing – first through fifth – in any "S & W" race. Suppose you ran third in that theoretical $25,000 claimer, you'd normally collect a purse of $3,600. But with the automatic $2,000 starter check and an additional $1,080 (the 30% bonus), you'd instead earn $6,080."
Other yardsticks for measuring the effect that "Ship and Win" has on purses are reflected in the following random fall samplings: a straight maiden special weight race carries a purse of $52,000, but with the "S & W" starter and bonus fees added, it is enhanced by $15,600 for a total purse of $67,600. A $12,500 claiming race carries a regular purse of $21,000, but with the boosts that pot rises to $27,300 for "S & W" runners. Also, a $20,000 maiden-claiming race has a standard purse of $18,000, but jumps to $23,400 in light of the "S & W" incentives.
Since its 2011 beginnings, "Ship and Win" has been responsible for drawing more than 1,200 horses to Del Mar from outside the state with those horses having made more than 1,900 starts locally and nearly 3,900 additional starts in the state at its other tracks, such as Santa Anita Park, Los Alamitos and Golden Gate Fields. With California's substantial distance to other large racing centers, most of the "S & W" horses that come here to race stay on and become regular runners on the circuit.
This past summer, 123 "Ship and Win" horses participated in races at the seaside oval, making a total of 177 starts. That was up from the previous summer when 107 "S & W" horses made 154 starts.
While the program provides encouragement for outside owners and trainers to bring horses to California, it also offers strong incentive for local horsemen to obtain fresh stock and race them at Del Mar. The new horses help fill fields on racing cards throughout a meet, a plus as the racing product statewide competes for wagering dollars nationally. Further, it signals to horsemen across the country that one of the best racing circuits in the world is open and encouraging of their participation.
There are just a few basic rules for "S & W" horses: An eligible horse must have made his/her last start outside California and cannot have raced in the state within the past 12 months. First-time starters are not eligible. All stakes runners are eligible to receive the $2,000 starter fee, but no stakes runners – including overnight stakes – are eligible for the 30% first-race bonus.
Those with questions concerning the program are encouraged to contact Jerkens, or Del Mar's executive vice president for racing, Tom Robbins, at (858) 792-4230.
This will be Del Mar's sixth consecutive fall meet, a session that has grown incrementally in stature and acceptance year by year. Opening week will be on a Friday to Sunday schedule, while the remaining three weeks will go from Thursday through Sunday. With the exception of Thanksgiving Day, Thursday, November 28, when there will be an early first post of 11 a.m., all days during the stand will have a first post of 12:30 p.m.